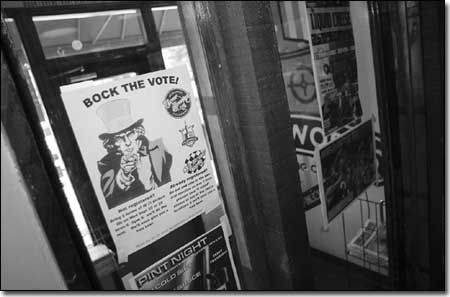 A sign advertising the Four Corners Mug Club's efforts to recruit voters hangs in the window at Steamworks Brewing on Tuesday. Steamworks, along with Carvers Brewing Co. and Ska Brewery, will be offering a free beer to anyone of legal age coming in with an "I Voted" sticker. The effort is one of many nonpartisan local pushes to get residents registered and to the polls./Photo by Todd Newcomer
W ith one of the closest presidential elections in history still fresh in Americans' minds and another cliffhanger shaping up, local nonpartisan activists are mobilizing efforts to get out the vote.
Although the tactics vary, from door-to-door canvassing to bribery with doughnuts, coffee and even beer, the goal is the same: to get as many La Plata county voters to the polls as possible, particularly those who historically shy away, including women, Latinos and students.
"It's about going to people who don't have a voice and giving them the opportunity to have it," said Michael Rendon, a board member the local Latino advocacy group, Los CompaF1eros, who organized La Vota!Vota!Vota!, to reach out to the area's Latino residents. The group, a collaboration among Los CompaF1eros, the Latino Education Coalition, League of Women Voters, Planned Parenthood and El Valle , went knocking on doors in the Latino neighborhoods of Durango and Ignacio last Saturday, registering voters, discussing the issues with them and handing out fliers on upcoming forums. Several of the group members were bilingual and the fliers translated into Spanish, Rendon said.
Rendon, who also is the director of the Fort Lewis College Environmental Center, said he came up with the idea for La Vota! after hearing one too many stories of disenfranchised Latino voters.
"I kept hearing how Latinos don't vote, so I just got people together to strategize about what was the best way to get them interested," he said.
According to Olivia Lopez, coordinator for Los Companeros, Latinos are the fastest growing minority group in the nation, with 38.8 million counted in the 2000 census. However, for various reasons, the weight of these numbers has not been fully felt in politics.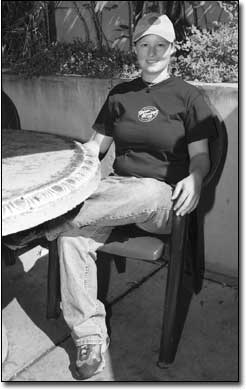 Andrea Speedie, of Carvers, takes a break from
work on Monday. Speedie helped organize two registration nights at local brew pubs, enticing voters with the promise of free beer in exchange for filling out a registration card./Photo by Todd Newcomer.
"It's not that they don't care, but a lot of times, they don't know how to vote, or register, etc.," she said. "We are not as effective at the polls as we should be, especially since we are the fastest growing minority group in the nation."
Lopez, who is bilingual and took part in Saturday's canvassing, said the goal was to impress upon Latinos their importance.
"They can have a big influence on who is going to win the election," she said. "Because of the importance of our vote, we need to promote to these people that they can make a difference."
Lopez also noted that a big part of the message was making Latinos realize that the right to vote is not something to be taken for granted.
"It's important that they know it's a privilege to be able to vote; it's a big responsibility," she said.
According to Stephanie Huss, voters services chairwoman for the League of Women Voters, La Vota! reached 411 homes, made more than 200 contacts and registered 27 voters – a small but respectable outcome.
"We really wanted to reach out to Latinos," she said. "This was our first effort, but you've got to start somewhere. If nothing else, it's outreach into the community."
Huss and the League of Women Voters also have been actively recruiting other groups to vote as well. In addition to holding voter registration events at the La Plata County Senior Center, her group also has been active next door at Durango High School. Although many students are not old enough to vote, she said reaching them at a young age plays an important role in reinforcing positive voting habits later in life.
"Studies show that those who vote at 18 are lifelong voters," she said.
In addition to registering students who will be 18 by election day (26 so far), Huss said she is concentrating on merely getting students interested in politics.
"The goal is to get them involved in the political process," he said.
To that effect, the League is helping to coordinate debates on political issues by the school's Debate and Speech team as well as forums on local topics, such as the Responsible Growth Initiative. Huss said so far, feedback has been positive.
"They are really interested," she said. "Even though they can't vote, they were so excited about the issues. It really gets them involved."
Fort Lewis College is also reaching out to young voters with the help of the Denver-based New Voters Project. In the last three weeks, the grassroots youth mobilization project, along with students at the college, have registered about 1,000 students, said Julie Levy, FLC student body president. "We've really pushed really hard for the past few weeks," she said.
Levy said getting out the vote among college students is particularly crucial this election year because the presidential race is so close.
"With the election so close, now is the time to make a move and make a difference," she said.
Levy estimates that about 2,500 of the school's students are registered, more than half of the approximate student body of 4,200. However, getting students registered is only half the battle, she noted. Once the voter registration deadline passes Oct. 4, she said her group will focus on getting students to the polls. Like La Vota!, she said the goal of the New Voter's Project is to convince students that their vote counts.
"What we're trying to push is that young voters can make a difference," she said. "If we vote, politicians will listen to us and our concerns, like the environment and the draft."
She said in getting students to vote, peer-to-peer contact seems to be the best method of persuasion.
"When they hear it from another student, 'Hey, are you going to vote?' it makes it much more of a reality," she 4
said. "It just starts that dialogue."
Levy also said there will be special emphasis placed on getting out-of-state students to vote in Colorado.
"We're encouraging students to register here because they live here and because Colorado is so close, their vote will go a lot further than in states that are already decided," she said.
However Levy said support will be available to those voting via absentee ballot.
Other provisions to raise awareness and participation among students include a bike rally from campus to the County Courthouse on Oct. 18, forums and a "taxi system" to drive students to the polls on Election Day. Levy also said the group will be pushing early voting, which takes place from Oct. 18-29 at the courthouse.
"We're really pushing early voting because it's so easy," she said.
Early voting is also a tactic being pushed by the Smart Women Vote campaign, sponsored by the National Organization for Women, Women's Resource Center, Planned Parenthood and the League of Women Voters.
According to Mandy Mikulencak, Smart Women was the brainchild of Cynthia Aspen, of NOW. She said the goal is threefold: to educate women, get them to the polls, and to get them there early. Too often, women make up excuses not to vote, something Smart Women hopes to put to an end.
"Some of the excuses we come up with, like it was too crowded or we didn't' have enough time – we just don't go by that," said Mikulencak.
One of the advantages to early voting is that it can be done at one's convenience, she said.
"There's less pressure if you vote early," she said.
In order to persuade more women to vote early, Smart Women will be holding two events at the courthouse aimed at luring local women voters with free coffee, prizes and even lunch.
Of course, Mikulencak noted that getting women to vote early is all part of the bigger picture: giving women a voice. According to NOW, 46 million women did not vote in the last presidential election.
"What we want to make sure of, is that we get women to the polls," she said. "We don't care what party you vote for, but just that you have a voice. Women have a lot to say."
Smart Women Vote is not the only get-out-the-vote effort luring voters through their stomachs. The Four Corners Mug Club will give a free beer to anyone of legal age producing an "I Voted" sticker at participating establishments (Carvers Brewing Co., Steamworks and Ska Brewery). In addition to this, the establishments also held registration drives, where those who registered were rewarded with a cold one. The idea to entice voters with beer was the idea of Andrea Speedie, a manager at Carvers and Mug Club coordinator.
"I just moved here form Utah and had to register and it was really easy," she said. "So I thought I'd show other people."
Speedie said her first recruitment night was "sparse" but reiterated what other get-out-the-vote activists maintain: Every vote counts.
"We just have to get out the vote," she said. "With an election this close, I just figure even five or six people in every county helps."
And lest the thought of free beer not be enough to lure people to the polls, Speedie offered up a final thought for apathetic voters out there.
"It's important to vote because it's the only voice you have on who's going to be making decisions for you over the next four years."