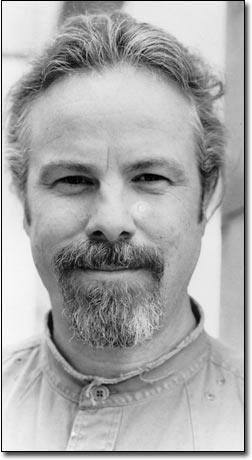 A computer-generated "movie" produced by digital/video artist Stacey Sotosky flashes on the big screen at the Abbey Theater. The patterns pulse and change in time with the music being spun by the DJs. Sotosky, who chooses from dozens of video clips, says no two shows are alike./Photo by Todd Thompson

It's not on the level of the Hatfields and the McCoys, but doesn't it seem as if Colorado and Texas have had their own little feud going on for years? Truth is, the feud is more of a one-sided grudge, with residents of the Centennial State looking down our noses a bit at our neighbors to the southeast. For their part, Texans seem to have nothing but love for Colorado. But when the situation calls for it, Coloradoans have a knack for selective memory loss, and certain folks have the ability to suspend the feud/grudge, if only for one night.
A concert by Robert Earl Keen is one of those situations, and he's in town tonight, Thursday, Sept. 23, to play the Community Concert Hall at Fort Lewis College. By our collective reckoning, Keen's played in our town about six times, although considering the sources, it could be anywhere between three and 10. We all, however, remember his last two – and they were vastly different engagements.
Last year, Keen sold out the revamped Abbey Theatre, playing to 250 avid fans who paid 50 bucks a ticket, no questions asked. Before that, he played an outdoor concert at Cascade Village to a crowd of more than a thousand, who didn't pay a dime. Such diversity is more than OK with Keen. "We do a different show every night, so it helps to be in a different venue every so often, too," he said.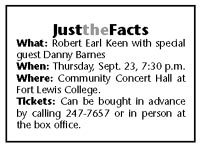 That's an understatement. Keen and his band are scheduled to play about 130 shows this year, in a variety of venues ranging from bars to ballrooms to stadiums, and even a concert hall or two. Keen, like many artists, prefers the audience interaction afforded by smaller venues, although he says it's hard to argue with the energy (and revenue) available in larger buildings. In terms of crowd size, tonight's show is, in Keen's words, "an average night."
Hardly so for the estimated 600 or so who will pack into the Concert Hall to hear Keen's brand of Texas music, and that's what it is – music. Don't try to pigeonhole it into any genre (a word that makes Keen cringe), or you'll get lost somewhere on the road that leads from country to blues to rock and ends at funk.
Oftentimes, artists' discographies can be tracked by their touring itinerary. If they're on the road, chances are it's in advance 4 or in promotion of their latest compilation. Not so for Keen. His latest release, 2003's "Farm Fresh Onions" has been out for more than a year, and a new CD is in the works for release next spring. So why are we so graced? "This is what we do," Keen said. "We put more effort into performing than anything else. We tour for the purpose of continuing to have a job."
Job security seems to be no problem for Keen or his touring mates – regulars Marty Muse, Tom Van Schaik, Bill Whitbeck and guitarist Rich Brotherton play on Keen's albums as well as his tours, which is not always the case with many artists, who often rely on session musicians to finish up a record. Additionally, Brotherton has now entered the world of record producing, with "Onions" already to his credit and the new CD almost completed for release. But the big news on this tour is the addition of longtime Bad Livers frontman, Danny Barnes, who will open tonight's show as well as sit in with the band on some numbers. He also plays on Keen's upcoming album. For those unfamiliar with Barnes' work, think "bluegrass-punk," then stop thinking and enjoy the show. Barnes has put out several CDs since leaving the Livers, including last year's critically acclaimed "Dirt on the Angel." Tonight's performance offers a chance to see two men with some of the most confusing musical styles in the business sharing a stage. As the fun-loving Keen himself says of Barnes, "He's fun."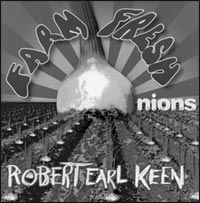 Keen's penchant for life in the fast lane is both well-documented and legendary. A lifetime, literally, on theroad has certainly produced its share of stories of hard drinkin', hard lovin' and hard livin'. For now, we'll let those stories remain in legend. But Keen is not one to shy away from such tales. As he said, "We've been a touring band for 20-something years. Things happen." However, age, while not necessarily mellowing Keen, has forced the 48-year-old to look around a little. For example, of the new and as yet-to-be-named album, Keen said, "When we started, like always, the idea was to have fun," he started, "but as we kept working, it got more of a 'tackle monsters' thing."
Don't worry, this is not a born-again, clean and sober Keen, just a man becoming more aware, and he said it will be reflected, but not dominant, in his new music. As evidence, this tour began with the billing "Wild Shiner Nights," the Texas brewery being a longtime sponsor and touring companion of Keen and his band. Although the official sponsorship campaign expired last month, Keen assures that "just because we're not working, doesn't mean we're not drinking." Perfect.