Wolf Creek village tries to cut out public
Massive development asks Congress to end public review
by Will Sands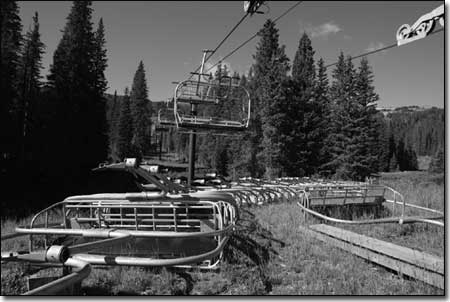 Dismantled chairs await another season at the base of Wolf Creek's Alberta Lift. The chairlift crosses land owned by Minnesota Vikings owner Red McCombs, who proposes to develop the meadow. Opponents of the ambitious development and Congressman Mark Udall fought this week to block a "midnight rider." The rider would have exempted the
development from an environmental review that is currently taking place./Photo by Todd Newcomer.
O pening day may still be more than a month away, but Wolf Creek Ski Area is drawing the spotlight. A proposal to develop a "Vail-sized city" at the base of the ski area continues to stir up controversy. Now, opponents and U.S. Representative Mark Udall are alleging that proponent Red McCombs is trying to pull political strings to skip the public process.
The Village at Wolf Creek is not directly tied to the Wolf Creek Ski Area, which is widely recognized as an environmentally friendly, no-frills, family-run operation. However, a Texas development company, funded by Minnesota Vikings owner McCombs, has proposed a massive development near the ski area. McCombs would like to develop 287.5 acres just east of Wolf Creek Pass and at the base of the Alberta lift.
The land was first acquired during a suspicious 1989 land exchange with the Forest Service. The swap was originally denied by the Rio Grande National Forest for not being in the public's best interest. Two weeks later, an order issued from Forest Service headquarters in Washington, D.C., overturned the local agency and allowed the land exchange to proceed.
Nearly 15 years later, the Rio Grande National Forest is now studying a proposal by McCombs to construct 2,172 new housing units and 222,100 square feet of commercial space. As part of the plan, 12 new restaurants, several hotels and a convention center would also be built on the meadow. Opposition to the Village at Wolf Creek has been off the charts.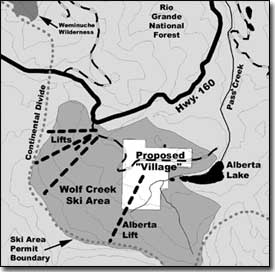 graphic courtesy Friends of Wolf Creek
"This is a ridiculous development proposal," said Jeff Berman, executive director of Colorado Wild. "Trying to put a city half the size of Durango on less than 300 acres, at 10,300 feet of elevation and at the snowiest place in Colorado makes no sense whatsoever."
In addition, Berman said that the development will essentially destroy the character of the current ski area. "Besides the obvious environmental impacts, such a ridiculous development would steer away most skiers who go to Wolf Creek precisely because it's not Vail," he said.
This factor has driven the owners of Wolf Creek Ski Area, the Pitcher family, to join the coalition called Friends of Wolf Creek, which includes individuals, businesses and conservation groups. This week, the Pitchers alerted the coalition and Congressman Udall that more dirty business seemed to be taking place.
The Pitchers received word that McCombs was working with Sen. Kay Bailey Hutchison, a Texas republican, to introduce a last minute amendment to an Interior Department appropriations bill. The "midnight rider" would have exempted the 287-acre parcel from public review and allowed McCombs to essentially break ground without public approval. In recent months, 4 the Village at Wolf Creek development team has publicly stated that such an exemption is warranted, claiming that the project has already gone through two environmental analysis processes.A0However, last Monday and Tuesday, the Friends of Wolf Creek and Udall successfully fought to keep the rider off the bill.
Lawrence Pacheco, Udall's press secretary, commented, "It's unconscionable for a senator who lives outside Colorado to introduce this kind of rider to help a major contributor like McCombs. Congressman Udall firmly believes that this kind of business should be done in the full daylight. What the developers are proposing is a midnight rider that essentially eliminates public oversight."
Berman added, "That this kind of thing can go on at all is a sad example of how our political system can work."
On Monday, Berman sent e-mail alerts to hundreds of people urging them to contact Sen. Ben Nighthorse Campbell, who sits on the Senate Appropriations Committee, and ask him to remove the Wolf Creek rider. The rider was not introduced into Tuesday's Interior Department appropriations bill, according to staff with Campbell's office.
However, Berman and Pacheco agreed that it has also not gone away. There are a total of 13 appropriations bills that must be approved for next year's budget. In most years, the bills are combined into a giant one that inevitably carries numerous unrelated riders like McCombs'.
"If it's not offered today, it may be offered at another time in the future," Pacheco said on Tuesday. "Typically, they wind up wrapping all of these bills into one omnibus spending bill that's thousands of pages long. Numerous things get snuck into these large bills."
As a result, Berman said that the Friends of Wolf Creek will be keeping a close eye on the Senate Appropriations Committee. "Nothing is ever for sure in this kind of thing," he said. "We have to keep our ears to the ground."
Meanwhile, the Rio Grande National Forest is continuing to evaluate the environmental impacts of the Village at Wolf Creek, exactly the process that the Village at Wolf Creek has tried to evade. During this time, Steve Brigham, National Environmental Policy Act coordinator, said that the proposal has drawn record levels of interest and opposition in the otherwise sleepy district. A total of 520 letters on the Village at Wolf Creek were sent to the Forest Service during public scoping. Eighty-three percent of them adamantly opposed the development.
Brigham's office is now working to assess these comments and on-the-ground studies and release a draft environmental impact study of the proposed development. The draft is expected in coming weeks.
"It sounds like the draft will be coming out at the end of September or sometime in October," Brigham said. "The public will then have 45 days to comment on the draft. We'll look at those comments and they'll influence where we go from there."
However, the draft will prove to be controversial. Berman said that if it is released that soon, the Forest Service can expect some serious negative feedback. He charged that the agency has been working on the usually exhaustive document only since April 15 and the process appears to be on a fast track. Consequently, Berman said that the Friends of Wolf Creek are expecting a thrown-together document.
"I've heard rumors that they're trying to publish the draft EIS at the end of this month," he said in closing. "If so, it's guaranteed to be one of the shoddiest drafts and will be ripe for criticism."