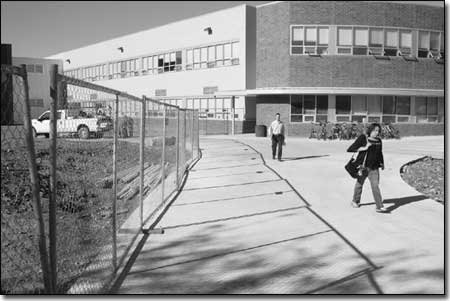 Durango High School English teacher Chris Szczech and a student walk past a construction zone into the school last week. Construction at the school as well as at the rest of the 9-R schools, is expected to wrap up later this year, thanks in part to a shortened construction schedule, which saved the district millions but required a massive push
by crews./Photo by Todd Newcomer.
I n the fall of 2002, Durango voters approved an $84.5 million bond to improve, renovate, expand and, in one case, replace one of the district's 11 schools. Now, not even two years later, the work is nearly complete, with construction scheduled to wrap up this November. Overall, the project is being deemed a success, coming in on schedule and under budget, yet it came at a cost, namely to the laborers entrusted to carry out the plans. Originally slated to take place over six years, the project, which was overseen by 3D/I, a construction management company based in Houston, was stepped up in order to cut costs to the tune of $5 million.
"We went from a six-year program to a two-year program and that saved us $5 million in inflation and other costs," said Deborah Uroda, School District 9-R spokeswoman. The school district hired the construction management company for $2 million.
While most can't argue with the savings, not to mention fewer construction disruptions in the classroom, the fast-forward schedule meant long hours and a frenzied race to finish before the start of school Aug. 25.
"There had to be an intense push by the workers to get the schools done and give the kids a place to go," said Randy Gerken, a subcontractor who was hired to do cabinetry and case work at Park and Riverview elementary schools. Gerken, who oversaw a crew of about 12, said the final push equated to about a month of 80-hour work weeks.
"In order to meet the time schedules, we had to push ourselves to the point of exhaustion," he said. "All the way from management to the workers, we all basically worked an inordinate amount of time. Everyone busted their humps."
Although construction at most schools is winding down or even done, Gerken, who has worked carpentry in Durango for 26 years, said the massive push tested Durango's finite supply of skilled laborers.
"With a town this size, you can real quickly overwhelm that infrastructure," he said. "I just think there was a toll extracted on the workers that didn't need to be."
Kent Bosworth, senior vice president of the 3D/I office in Phoenix, which managed the bond issue for 9-R, agreed that the final push to open the schools on time may have stretched the local labor pool thin.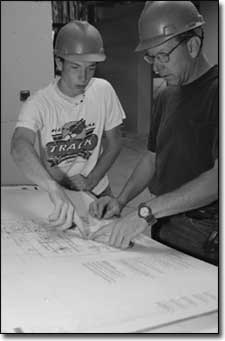 Preston and Curtis Hennrich, of Holt Sheet Metal, formulate a plan as they look over a set of blue prints upstairs at Park Elementary. Subcontractors were in high demand this summer as School District
9-R made the final push to get schools ready to open in time for the first day of classes./Photo by Todd Newcomer.
"It's a big project, and I know some of the contractors have struggled to get enough people. It's been difficult for the (construction managers/general contractors) because they've tapped out the local subcontractor market," he said.
However, like Uroda, Bosworth cited money and educational quality as the impetus for speeding up 4 the project.
"The school district saved about $5 million by shortening the schedule, and all that money goes back into schools," he said. "Plus, anytime you have workers in the school, it's an impact. The quicker you can get in and get out, the better it's going to be for the kids in general."
Bosworth, whose company has done similar projects in Arizona, Minnesota, Texas and California, said the schedule was a joint decision arrived at by 3D/I as well as the contractors and architects. The company has a staff of five in Durango working on the project, he said.
Although the final push may have created a shortage of workers, Bosworth said it did not come as a surprise. In fact, before the project started, 3D/I held a "meet and greet" for local laborers and the contractors involved with the construction.
"What we wanted to do was get local people in touch with the contractors," he said. "And we had a good turnout, about 90 people showed up."
For at least one contractor, Denver-based GE Johnson, which was hired to work on Durango High, Florida Mesa and Needham elementary schools, and Escalante and Miller middle schools, the final push did not result in a shortage of workers.
"We didn't see any of that," said Mike Kosters, GE Johnson project manager. "Everyone knew what the schedule was. We had a big push in the high school this summer, so they were able to man up and get the work done in the summer."
However, Jeff Fuller, project manager for H.W. Houston, of Pueblo, which did work on Park and Riverview elementary schools, admitted that bringing the projects in on time was no easy task.
"The schedule was difficult," he said. "Some subcontractors were taxed pretty severely."
Although Fuller said his projects are basically coming in on schedule, he had to rely on workers from other areas to do so.
"We ended up pulling workers from outside Durango," he said. "It made for a tough summer, and everyone put in a lot of hours to get it done."
Fuller said despite this, he does not feel the quality of work suffered.
"There's a lot of different steps to ensure quality control," he said.
Fuller said before each project can be given the stamp of approval, it must pass a walk-through inspection with a 3D/I representative, an architect, a school district representative, the school's principal as well as a member of the contractor team. During the walk throughs, items that are not up to inspection are flagged and put on a "punch list" for workers to tend to. Fuller said most of this work is done at night so as not to interfere with school.
"Overall, quality doesn't suffer, but it does make for a difficult punch list," he said.
Fuller said work inside of Riverview is now complete, and he expects the second floor addition of Park to be done by Oct. 30. He said work on Park's new kitchen may extend past that, depending on when materials arrive.
"We're real close to being done," he said.
Kosters, with GE Johnson, said his work is also nearly complete, coming in nearly two months early.
"It's great," he said. "We should be out of high school by mid-December and out of Florida by Thanksgiving."
Uroda credits the smooth sailing not just to proper management, including weekly meetings between 3D/I and contractors, but foresight on the school district's part.
"We hired 3D/I because we knew the project was way over the capabilities of our staff," she said. "And they've done a wonderful job."
She also pointed out that the district saved enough money to throw in a few extras, including a larger high school parking lot and a new state-of-the-art kitchen to train students in the culinary arts at the high school.
"I'd say the $2 million was well worth the cost," she said. "They got the project in and under budget, and that's priceless."