I t was the end of an era. In May, guitarist Trey Anastasio announced that after 21 years, the band Phish was going to disband. The final shows would take place during a two-day festival in Coventry, Vt., on Aug.14 and 15.
We couldn't miss it.
My husband, Bryan, and I have been going to Phish shows together for more than a decade, since we were dumb college kids. I won't try to explain what made the band so important to us, because if you haven't experienced it, I'll sound crazy. So I'll just say that when I first boogied down at a live Phish show, it changed my life by igniting the free spirit in me. (OK, so maybe I still sound crazy, but you get the point.)
So the day the pending break-up was announced, we got into the whisky and ended up buying concert tickets and plane tickets and reserving a rental car. The next thing we knew, summer was about over, and it was time to head to Vermont to see the Phab Four off.
We drove to Albuquerque after work on a Thursday, slept in a hotel until the alarm went off (at 4:20 a.m.) and caught our flight to Burlington, Vt. As I tried to sleep on the plane, a flight attendant spilled orange juice on me. "At least I won't get to shower it off for four days," I growled to Bryan.
But OJ seemed trivial as we finally arrived in Burlington at 4:30 p.m. The little airport was jammed with Phish heads, some triumphant, some stressed. As I stood in baggage claim looking anxiously for our bags - which held our tent, camping chairs, sleeping bags, etc. - I said to the guy next to me, "This is the final obstacle!" He gave me a strange look and said he'd been waiting for his luggage since 9:30 that morning. "Over 800 bags have been lost en route to this airport in the last few days," he said. "Good luck." Needless to say, I cheered when our luggage came into view.
We drove the rental car to a grocery store to buy food, beer and other essentials. The underage clerk carded us and exclaimed, "Colorado! That's the 40th state to buy beer for the concert!" I asked her if she knew where we could buy a tarp - it was raining pretty hard. "We're sold out of tarps, and so is Walmart 85 everyone is sold out of tarps!" she responded.
But that was to be expected. Around 70,000 tickets had been sold for the concerts. For that weekend, the town, with a usual population of 1,014, was the largest city in Vermont.
After driving a few hours, we tuned into "The Bunny," a local radio station that Phish took over during the festival. The Bunny DJ had bad news: Because of the muddy conditions on site, most cars wouldn't get into the venue until after dawn. "Be sure to have one person in every car stay awake and alert so we can keep traffic moving," he advised.
"It can't be that bad," I said to Bryan, right before we rounded a corner and slammed on the brakes to avoid hitting a parked car. We'd found the end of the line. It was 9:18 p.m.
We soon had a routine: Sit in the parked car - or outside if the rain let up - for about an hour, then drive a few car lengths before stopping again. As the night wore on, we got to know our neighbors well. Kevin was in Internet ads ("but no pop ups!"), and Tim did missile defense research at M.I.T. Through the grapevine, we learned that locals with tractors were towing cars into the concert site one at a time, sometimes ripping off bumpers in the process. ("Thank God we got the insurance with full coverage," Bryan said.) Only about 12 cars per hour were getting in.
Everyone started drinking more after that. We met a bass player who said he got into music because of Michael Jackson, and a kid who realized that he'd forgotten a key shopping ingredient for the grilled cheese sandwiches he planned to sell: cheese.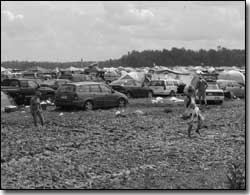 Around 4 a.m., we decided to try to catch some sleep. From time to time, we'd awaken to horns honking - time to move up a few yards. At 9:30 a.m., we woke to the sound of The Bunny making the scariest announcement yet: Due to the mud, it would be impossible to park everyone for the concerts. It was an agonizing decision, but the band was asking everyone in traffic to turn around and go home - refunds would follow.
As we tried to wrap our brains around the situation, a cop drove by, announcing on a PA, "You're all getting in!" A cheer followed him down little CR 14. "We are so lucky we took this route instead of the Interstate!" Kevin gloated.
But by 1 p.m., traffic wasn't going any faster. In 16 hours, we'd traveled 1.3 miles. We had only 8 miles to go, but at that rate, we'd never make it to the 5 p.m. show. We decided to park our car at a house where a woman had posted a sign reading "Weekend Parking $40," pack what we needed and hike in the 8 miles. "We're from Colorado, this is what we do!" I said to Bryan as he grinned at me and turned the car around.
In Leona's front yard, we said goodbye to our cases of beer and comfy camping chairs (though we did carry a bottle of champagne and four beers) and started off, charged to finally take control of things. Along the way, a girl sold us her last veggie burrito and walked a little with us. She'd sold 80 burritos that morning for $3 a pop and was thrilled to have made so much money. "I came here with $6 - you know how it is."
Hours later, we made it to the entrance. We exchanged our tickets for wristbands, and a staff member said tiredly but sincerely, "Glad you made it." It was hot - the rain had mercifully stopped - and a hippie chick sprayed us with her spray bottle. With that, we headed into what's being called our generation's Woodstock, a.k.a. Mudstock.
We pitched our tent in an empty patch of thick mud. I had to remove my Chacos because the suction made it impossible to walk. We rested for a few minutes, then plunged into the fray - it was concert time. Somewhere around 6,000 phans had ditched their cars and walked in. Shirtless frat boy-types partied on the roof of their rented RVs, while below, the dreadlocked and nondreadlocked sold T-shirts, water, beer, drugs, glass pipes, ganja brownies, ganja goo balls, "ice cold Jager shots," jewelry, stickers, hummus wraps, $1 grilled cheeses, veggie stir fry, bloody marys, cigarettes, a bicycle, and facial mud wraps (no takers). There were even blackjack tables.
We bought a couple of Jell-o shots and beers for the mile-plus walk to the stage. There was a vibe of exhaustion and anticipation, and the show started.
It held some great moments for me, and I got to hear some of my favorite lyrics, like "Set the gear shift to the high gear of your soul!" and "Can I live while I'm young?" There was also a huge glowstick war - thousands of colored lights flying every which way as the music peaked.
Trey thanked the 6,000 of us who had walked in, and Bryan and I cheered along with the other walkers. Only 5,000 people had turned around, so 65,000 of us were there to celebrate the final notes of our favorite band.
I had a claustrophobic moment with those 65,000 people on the walk home, as we stood in a sea of people, shoulder to shoulder, in every direction. A volunteer with Clean Vibes, the Phish clean-up crew, stood on a raised platform shrieking, "What else are you going to do tonight? Recycle! Recycle!"
But instead, we slept, and thanks to our earplugs, woke up refreshed. I draped my mud-soaked skirt on our tent to dry, and we headed to the Common Grounds to try to hook up with a Durango friend. We left him a note on a message board and wandered around, looking for food. A troupe was performing a Medieval-themed play, a woman was handing out free Yonder Mountain String Band CDs (our Colorado boys aren't as well known back east), and a small child played with a sticker that said George W. Bush - EMPTY WARHEAD. We were in a different world than the one that was celebrating the start of the Summer Olympics in Athens.
Thanks to the message board, we met our friend at the ferris wheel (what is a band without a ferris wheel?) before the last show. Apparently Phish was rested too, and they started the first set blazing. Trey and Mike brought their moms onstage to bump butts ("the sexy bump") and everyone hooted and hollered.
But in the second set, keyboardist Page McConnell started crying while singing "Wading in the Velvet Sea," and the mood shifted. There were more tears from the stage as Trey explained that they, like us, were experiencing a lot of emotional ups and downs. There were band thank yous - again to the walkers - and he announced that they needed to blow off some steam, and they did so with a 30-minute "Melt."
The third set involved a song for their sound mixer and other crew, and suddenly the four members of Phish were bowing. Fireworks exploded overhead, and the crowd held up lighters, screaming for an encore.
Fittingly, the last song Phish played was "The Curtain (With)." Trey sang, "As he saw his life run away from him, thousands ran along/Chanting words from a song, 'Please me have no regrets.'" Tens of thousands chanted along with him, and then there was silence. No after-concert music on the PA, just silence.
Later that morning, after hitching a ride to our car with a local and driving to the airport, where other mud-encrusted heads were trying to stay awake, Bryan bought a Burlington Free Press. The headline read "PHIniSHed," and it finally sunk in. Phish was history. I started to cry, but tried to pull myself together. After all, I had a lot of stinky mud to clean off my legs before I could get on the airplane.