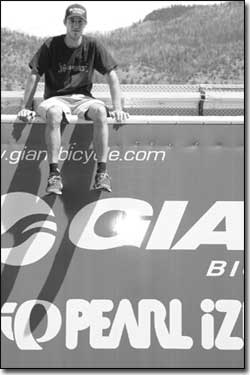 Mechanic Tom Neb takes a break atop the Giant big rig Tuesday afternoon before preparing to settle in at the base of Durango Mountain Resort for the weekend races./Photo by Todd Newcomer.

When a rider from the Giant mountain bike team races down the slopes of Durango Mountain Resort this weekend, Durango local Tom Neb will be at the bottom, wondering if he dialed in the bike's suspension perfectly. Or he may be wondering if he picked the right tires for the trail conditions.
Yet worrying will do him little good - until that racer hits the bottom of the trail. If the rider makes it without a mechanical problem, Neb will breathe a sigh of relief and know that he's done his job. Then the roller coaster of fretting will start all over again when another rider takes to the trail.
For Neb, the worrying is usually short lived. Since in mountain biking the mechanics aren't allowed on the trails, wrenches like Neb just wait until the relatively short race's end before springing to action.
It's a different sort of agony for road-bike mechanics, who often are making repairs on the fly. But both kinds of mechanics know this: For a professional biker to win a race, mechanics can do little about what's on the bike, but a whole lot about the bike itself. When everything turns out OK - especially if the rider earns a spot on the winner's podium - it makes the anxiety worth it, Neb says.
In a sort of taken-for-granted position, mechanics often feel as much, if not more, pressure than professional riders do. They are the behind-the-scenes guys who work long hours in varying conditions yet don't get much recognition. One small error can result in one big loss. To rip off one of the most famous professional riders in cycling: "Every second counts."
"You can screw a rider or you can help them out," says Craig Campbell, a bike mechanic at Hassle Free Sports. "There isn't too much room for mistakes."
Campbell is a long-time local wrench (and former racer) who once worked for the United States Cycling Federation, and the Montgomery Avenir and Subaru Montgomery road teams - stints he did in the 1980s and 1990s (and, notably, in the early days of Lance Armstrong's career with the Subaru Montgomery team). His tales of being a mechanic for teams that competed internationally are exhausting yet routine.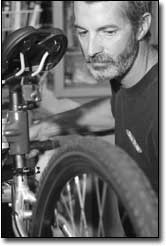 Bob Gregorio tunes a rear
derailleur Monday at the Durango
Cyclery./Photo by Todd Newcomer.
While working for Subaru Montgomery, Campbell was one of only two mechanics for a team of 12. That often meant working from 5 a.m. to 10 p.m. when the team was competing in multi-day stage races in Europe. Often, the mechanical issues were mundane - tweaking this thing or that. Excitement came when a rider flatted out on the course. Campbell, riding behind in a team car, would jump out, grab a spare wheel and switch it out. Getting the job done was essential - and calculated: 30 seconds to switch a rear wheel; 20 second to switch a front.
Anything more than that was teetering on turning the rider into a loser.
"It could really be nerve-wracking," Campbell recalls.
Bob Gregorio agrees. Another local wrench, Gregorio spent his early cycling years partly as a mountain bike racer and partly as a mechanic for professionals. Gregorio, like Campbell, is a self-taught bike wrench. The two men spent their teen-age years tinkering with old-school bikes - long before professional mechanic schools ever existed.
"I got my education from the school of hard knocks," Gregorio 4 says. "Experience was the teacher."
Much of that came on the road, often in Europe, as Gregorio worked for Team USA and later Team 7-11.
Gregorio had always hoped to end up working for a team at the Tour de France - the ultimate race on the road cycling scene. When he finally got there, it was thrilling, but that feeling was short lived.
"By the time I got there, it was just a race," he says. "The reality is, you have to bust your butt for long hours. It's a thankless job. (Mechanics) aren't getting press and it's the same duties day in and day out. It was a lot less glamorous than I had envisioned."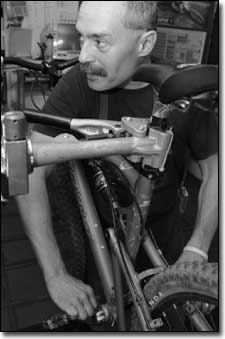 Craig Campbell of Hassle Free Sports tightens a set of cranks in the shop early this week./ Photo by Todd Newcomer.

Campbell says the job forces people to adapt to changing environments. Mechanics pretty much live a nomadic lifestyle, going from race to race in town after town. It often is too tiresome for people to do it for decades on end.
Yet these guys understand why mechanics endure it as long as they can. Though unglamorous, bike wrenching has great perks. Neb says that it's a constant education hard to get elsewhere, since mechanics work for pros who ride high-end bikes with top-of-the-line components.
"One of the best parts of doing it is staying current on new bike parts and working with the latest technology," Neb explains.
This is especially true since mountain biking evolved so rapidly in the United States in the past two decades. Materials and parts change quickly. Gregorio knows this well, since his early passion in cycling was working with classic American bikes. For him, the evolution is what keeps him working on bikes, even if his time in Europe didn't last long.
"Looking back, there were some exciting moments," he adds.
Take, for instance, his first day on the job in Europe. Moments after arriving, he was charged with picking up a load of bike frames from team headquarters. At the time, the team rode Merckx bicycles - designed by legendary Belgian cyclist Eddy Merckx.
Just simply wanting to do the job right, Gregorio drove to the factory and knocked on the door, expecting an unknown soul. Instead, Merckx himself answered.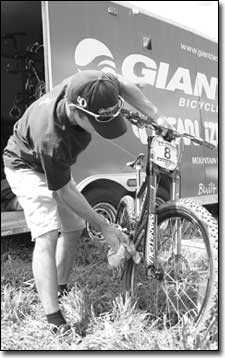 Tom Neb cleans up a bike outside the Giant trailer Tuesday afternoon./ Photo by Todd Newcomer.
"Little did I know, his residence was on the same property," Gregorio explains. "I couldn't believe it. 4 It was exciting."
But the starstruck wrench ultimately left the road circuit and ended up being personal mechanic for professional mountain biker John Tomac. He felt he was better suited for the job because he was tired of traveling and wanted to spend more time at home in Durango.
Ultimately, he left the professional mechanic scene altogether and returned to local shops to work. Campbell did the same. Both men say that burnout is the unfortunate ailment in the industry.
"I loved the job," says Gregorio. "But at the same time, once you keep going back to the same venues, it just loses something."
Burnout is what led Campbell to turn down a job from team Motorola when he moved to Durango in 1994, which was an effort he says, "to get away from it all."
Neb understands all of this. He's in the throes of traveling nationally with team Giant. He says he certainly sees where Campbell and Gregorio are coming from. Neb doesn't let their experiences go unexamined. And it explains why, as these three wrenches says, these days so few mechanics remain on the professional circuit. Coupled with low pay and a saturated racing environment, whether road or mountain bike, mechanics come and go as often as bike technology.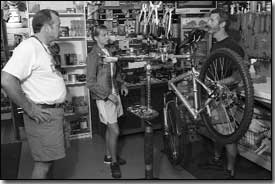 Bob Gregorio, right, of the Durango Cyclery, tries on his retail hat as he shows a potential buyer the ins
and outs of working the gear system./ Photo by Todd Newcomer.
Neb says he's unsure how much longer he'll do it. He hopes to put in another year with Giant, then it may be back to shop wrenching, which he's already done for 15 years.
"I still really like it enough to hang on," he admits. "But I'll be interested to see how many mechanics are still around when I go to (the NORBA) races this weekend. I don't suspect I'll see many."
Campbell says mechanics have bikes in their blood. It's not something easily shaken.
"In some ways, I wished I would have stayed with it. It's a great life if you don't mind being a gypsy. I miss it, and yet I don't."