Downtown fears franchised future
Increasing numbers of chain stores prompt concerns
by Missy Votel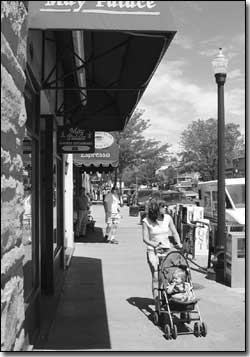 Pedestrians stroll along Main Avenue on Tuesday. With the exception of the factory stores in the '80s, downtown Durango has been largely immune to the effects of large, national retail chains. However, in the past year and a half,
Domino's has set up shop in the 1100 block and Cold Stone Creamery is set to open soon at the corner of Main and College./Photo by Todd Newcomer.
Increasing numbers of national chain retailers are taking up residence on Main Avenue, and rumors of more to follow abound. As a result, local business owners and interests are working to stave off competition while maintaining a healthy marketplace. In the past few years, Domino's Pizza opened up in the 1100 block of downtown, and a Cold Stone Creamery is scheduled to open this fall at the corner of College Drive and Main.
Although consensus is that such chains will have an impact on the downtown scene, opinions vary as to what it will be. Some argue that large chains have no place in Durango's unique downtown, but others point out that such stores will attract more people to the city's commercial core.
"It's a double-edged sword," said Bobby Lieb, executive director of both the La Plata Economic Development Action Partnership and the Durango Chamber of Commerce. "One good thing about having a large chain store is that it does enhance the downtown shopping experience, and it does benefit other businesses because it draws people downtown."
On the flip side, Lieb said the presence of such chains can cause rents to rise, pointing to Boulder as an example.
"A lot of chain stores moved onto the Pearl Street Mall and eventually squeezed out local, independent retailers," he said.
And, of course, there's the obvious drawback of the Goliath retailers forcing out the David mom and pops.
"While the chains are an attractant to downtown, they're also a detriment to existing small businesses by taking customers away," he said.
Creating a niche
Dawn Fragulia, general manager of the Durango Creamery, is one such example. About a year ago, she took over the small store at the corner of College Drive and Main. Since then, she has branched out to offer her ice cream at a nearby gift store and has undertaken several renovations and upgrades, including the addition of espresso and new menu items. However, earlier this summer, she found out that Coldstone Creamery, an Arizona-based ice cream chain with more than 700 stores nationwide and 850 more planned, was moving in directly across the street.
Despite this, Fragulia is optimistic. "Competition is not always a bad thing," she said.
Fragulia, who makes all the ice cream herself, said she believes her product fills a niche and is unique enough that people will still seek it out.
"The product I'm putting out is all natural and made locally by one person, and that same person packages it, and that's me," she said. "I don't think Coldstone is going to affect me. Sure, the numbers will change, but if I can push that it's locally made and all natural, then I can get those people who are looking for that."
Fragulia also said she is banking on tourists who are looking for a unique experience.
"When people come to Durango, they want to take home a piece of Durango," she said.
Next stop Margaritaville?
Dryke Hutchinson, owner of Diorios South Pizza, also at the corner of College and Main, is an example of how two similar businesses with markedly different bottom lines can co-exist. Since Domino's Pizza opened a few blocks down, Hutchinson said his business has been largely unaffected.
"If anything, Dominos' coming on Main has had little or no effect on my business," he said.
Like Fragulia, Hutchinson credits his product and clientele with keeping him strong.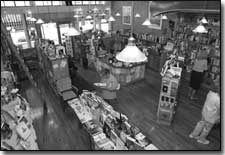 Shoppers peruse the offerings at Maria's Bookshop on Main Avenue earlier this
week. Maria's will be celebrating 20 years as an independent, locally owned book
seller next month. Owner Peter Schertz credits the store's longevity to a strong
community support for locally owned businesses./Photo by Todd Newcomer.
"There's two kinds of people out there: those looking to save money, who go to Domino's or Pizza Hut, and those looking for a really good pizza who are willing to spend a little more money."
Nevertheless, Hutchinson said he would rather just see all large chains downtown disappear.
"To be honest, I think having national chains downtown is crap," he said. "I don't think we need it."
He used the example of other Colorado mountain towns to illustrate his point.
"Would there ever be any in downtown Crested Butte? Or Steamboat? Or Telluride?" he asked. "If the answer is 'no,' then what the hell are they doing here? What's next? A Jimmy Buffett Margaritaville on Main?"
Such chains, while possibly bringing in more people, exact too high a price on the town's individuality, he said.
"It seems that Durango is such a rad place to be," he said. "I like to think it has to do with small independent guys."
Keeping it local
As much as surviving the big chain onslaught has to do with the small business owner, it also has to do with the customers who frequent such establishments.
Peter Schertz, owner of Maria's Bookshop, which will be celebrating 20 years in September, said he credits his longevity to a community that recognizes the importance of supporting local businesses.
"We're completely indebted to the local supporters who've made that happen," he said, referring to the upcoming anniversary. "The fact that so many locals realize the importance of shopping locally has really helped."
He said Durango is fortunate to have so many family-owned businesses downtown that lends the town character.
"I think it's what a lot of people are looking for," he said. "So many times people come in from bigger cities and say, 'We're so relieved to find an independent bookstore still thriving.'"
While Schertz feels competition is healthy, he said small businesses are an important part of the equation, helping to keep money in the local economy.
"Money spent at locally owned shops stays here and money spent at chains leaks out of our area," he said.
However, if competition becomes to fierce, he fears independent owners will begin to disappear downtown.
"Competition is part of free enterprise, anybody can come in," he said. "But somehow, you need to create incentives for local people to come in and thrive."
The balancing act
Finding such a balance is foremost on the minds of downtown business leaders as well as city and county planners, who have joined forces to form the Downtown Durango Partnership. Among other things, the group plans to consolidate the views of disparate special interests to arrive at a common vision for downtown's future. Through the course of several public meetings last spring, the group chose an interim board made up of representatives of various stakeholder groups, including local governments, residents, business owners, the Chamber of Commerce, and the art community, with the goal being a downtown Strategic Plan.
"Basically, the Strategic Plan will outline how we want downtown to look in the future," said Lieb, a board member.
Civitas Inc., a consulting firm out of Denver, has been hired by the City of Durango to complete the plan by next spring. However, Lieb said community input will be foremost in the planning process.
"What's really going to make the plan work is community buy-in," he said. "So the community has to be engaged."
As a result, the consultants will be holding several "charettes," innovative public meetings first used locally during the Grandview planning process. Lieb said the public's input from the charettes, combined with Civitas' expertise, should create a plan not only for Main Avenue, but Camino del Rio, the riverfront and East Second Avenue.
"We're going to be looking at how to get in and out of Durango and how these different areas mix," he said.
Lieb said the Strategic Plan is on a fast track to maintain momentum and public interest, but implementation will take much longer."It's a long-term project," he said.
And while the details of the plan are yet to be determined, Lieb said it is the chamber and LEAD's position not to court big chains but to let the free market run its course.
"You don't want to get in the position where you are regulating the market because of certain beliefs," he said.
To that effect, Durango City Planner Greg Hoch said there's nothing on the books regulating chain stores downtown.
"It really has never arisen as a political issue," he said. "I'm sure there are people out there who care, but nobody's ever expressed it to elected officials, so we've never gotten directives on it. It's sort of uncharted territory."
But for local small business owners, it is territory they are not going into unprepared.
"We try not to get complacent," said Schertz, when asked about the threat of a Barnes and Noble opening up downtown. "It might be a little idealistic, but we're just going to operate right now as if they were coming."