Abbey refocuses on indie film
Music secondary as new owner returns to theater's 'bread and butter'
by Missy Votel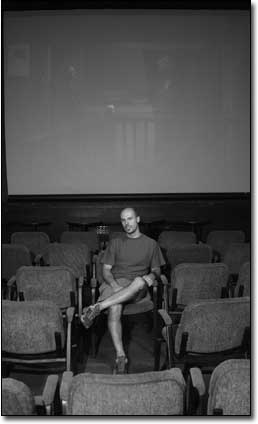 New owner of the Abbey, Brad
Merlino, relaxes inside the theater on
Monday./Photo by Todd Newcomer.
W hen Brad Merlino moved to Durango, the first person he met was his neighbor Tom Bartels. Little did Merlino know that about four years later, he and Bartels would have a lot more in common than geography.
In July, Merlino and his wife, Erika, bought the Abbey Theatre, which Bartels took from a dark basement bar into a thriving local, independent cinema starting in 1997. According to Merlino, a refugee from a fast-paced job as a project manager for the utilities industry in Seattle, owning a theater had been a dream of his since Bartels first told him about the Abbey in 2000.
"Tom told me about the Abbey, and we went to check it out," said Merlino. "We just fell in love with it and thought, 'Wow, wouldn't that be a cool job?'"
Although Merlino was to get his wish, he would take a circuitous route arriving there. For four years, he worked as a Realtor to pay the bills. But he said his heart was not into it, and thus, he kept a hopeful eye on the Abbey. However, he never expressed his wishes to his neighbor, pining away in silence. When Bartels told him in 2003 that he had sold the theater to fellow Durangoan Paul Fidanque, Merlino was crestfallen.
"I see Tom and he tells me he's going to sell the Abbey, and I crumbled," said Merlino. "I figured there was no way he'd ever sell it."
At the urging of his wife, Merlino decided not to test fate again. He approached Fidanque about buying the theater should he ever decide to sell. As luck would have it, that happened this summer.
"Paul looked me in the eye and said 'You have my word, if I ever sell, you'll be the first person I talk to,'" Merlino recalled. "Luckily, he's a man who keeps his word."
When he owned the Abbey, Fidanque undertook an ambitious remodel, which included a new marquee and balcony, a renovated bar, and an upgraded sound system. He also redirected the focus of the theater more toward live music. But Merlino said his plan is to return the theater to its indie film roots - something Fidanque also considered.
"When (Paul) approached me about buying, he wanted to decrease the amount of music," he said. "The problem with music is, it's a hard thing to stay in business if that's all you do."
Rather, Merlino will focus on what has been the Abbey's "bread and butter," with the goal of showing at least one film a night.
"Music killed the continuity," he said. "People need to know there's going to be a movie every night, so that's what I plan on doing."
However, Merlino noted that the Abbey will still serve as a venue for live music acts, only not so frequently.
"Our plan is to have no more than one interruption to the film schedule a week and no more than four a month with the idea of some flexibility," he said. "If Leftover Salmon and String Cheese Incident want to play in the same week, I'll let them."
Merlino said he plans to work in tandem with Fidanque; Jonny Allen, the Abbey's sound technician; and Chris Stanton, Abbey bar manager, who have branched off to form Abbey Music Productions, or AMP. And while Merlino is looking for big names acts that will draw in the larger, more lucrative crowds, he said the Abbey also will still serve as a venue for popular local acts.
"I want to definitely have locals' nights that can draw big enough crowds," he said. "It's just got to make sense economically."
Typically it takes about 100 people to break even on a music night, Merlino said. Between 200 and 250 is considered a "good night."
Merlino also said he intends to continue the monthly late-night hip-hop shows with local DJ Brian Ess, which take place after the movies have ended for the night.
"That's a really popular night; it's huge," he said. "That's going to be a great night to continue, I look forward to that."
But what Merlino said he looks forward to the most is working to bring the local community diverse, quality film that they can't see anywhere else.
"My interest and my passion is film," he said. "My thought is that Hollywood puts out some great films, but they're very form driven. The most exciting things happening in film are happening in indies - stories told in new ways by voices that have never been heard before."
And he thinks such unique film has a niche in Durango, an equally unique place.
"I think it's important in a town like Durango to be able to have entertainment that's not just for the mainstream," he said. "It all comes back to diversity. It's just one of those things that improves the quality of life in Durango."