by Ted Holteen
T onight is the big night, but did you really think this is what the Democrats had in mind in March and April during the primaries? The TV event of the summer (until next week) explodes out of your set tonight, Thursday, July 29, as John Kerry will attempt to show America that he's not just another boring billionaire, not just another entrenched Washingtonian, not just another politics-as-usual hand-pumping schmuck. Well, he's up against it. As a citizen who clamors with the other rabble for a regime change, I, for the second time in four years, must decide between ennui and evil. Three-hundred million people in this country, and the best two, the best, mind you, are George W. Bush and John Kerry . There's no joke here, just read the words and think about it. This following 2000, when only the dynamic Al Gore rose above the masses to capture our hearts and even enough votes to be our leader. The Democratic Convention in Boston winds up tonight with Lieutenant John accepting the nomination for (gulp) President of the United States, and if you can't be at the Fleet Center for the big event (and you can't), then do the next best thing. Watch the well-scripted drama unfold on the big screen at the Abbey Theatre with like-minded Bush haters and feel the love as the theatre hosts a screening of Kerry's acceptance speech. It's free, more or less, and begins at 6 p.m. Is it too late for Mike Miles to run for President?
If you're looking to avoid all those godless liberals and still have fun somehow, fear not. Music in the Mountains is well under way, with all the political diversity of the Politbureau. Arkady Fomin makes another appearance as guest conductor, but with a twist: Arkady must be working off some community service hours for a DUI or something, because he's conducting an orchestra of children. There are some young adults to be sure, but some of these kids are 4 and 5 years old! Fomin will conduct the Conservatory Gala Concert (See? they don't call it a "liberalatory") on Friday night at the Fort Lewis College Community Concert Hall at 7:30 p.m. Then on Saturday, the kids pile in the school buses and minivans and head up to the performance tent at DMR for the "Kids With Strings Finale" at 1 p.m. Admission is free, but unless one of the kids is yours, beware: Soccer moms can't hold a candle to a Cello Mom. Who do you think is going to be in an audience watching a hundred children play classical music anyway? Come to think of it, let's take the analogy one step further and maximize our entertainment dollar. Soccer riot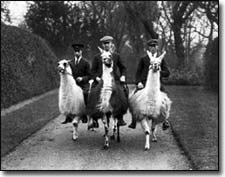 While you're at DMR on Saturday, don't miss "Hike, Lunch and Wine with a Llama." This is my kind of hike. You go up on a chairlift, the llama carries the food and wine, and then you learn stuff. It'd be perfect if you could ride the llama too, but oh well. It's the brainchild of the San Juan Mountains Association, which is one of the finest organizations in the area, and someone from the SJMA who knows stuff will educate you on the flora and fauna of the San Juans as you devour wine and cheese and tease your llama. Contact Nicole Smith at 385-1210 to sign up the llamas will run this Saturday and again on Aug. 14. It's worth the price of admission just to meet Nicole, so you can't lose.
So you hate animals, kids and politics? Me, too. That's cool, because there is actually some traditional nightlife to be had this weekend. On Friday and Saturday night, Alex Maryol returns to Durango, this time at Scoot 'n Blues. Maryol plays straight-up rock and blues, and you get what you pay for. I mean that in a positive sense this time.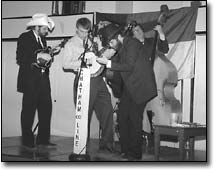 If tradition for you means the Blue Ridge Mountains, unhand your cousin and head back to the Abbey on Friday for a bluegrass doubleheader featuring Chatham County Line and The Broke Mountain Bluegrass Band . And Saturday at the Abbey gives me yet another opportunity to display my cultural and artistic ignorance. Stella Chiweshe comes to town via Zimbabwe, backed by Mukwa. You may remember Mukwa they're the ones that play the marimbas and other like soundmakers, comprised of former Jaka members. Well, turns out that Stella is the Queen of the Mbira, which I assume is a musical instrument but could just as easily be a Zimbabwean ghetto. Regardless, she is the queen of it, and you can see for yourself just what that means.
The bluegrass music should provide quite a contrast to what goes on up at the Concert Hall on Friday night. Take the tuxedo-coveralls challenge and try to see both. The kids with the violins have bedtimes, and music at the Abbey usually starts just before last call, so you shouldn't have to miss a note.
Hate mail's better than no mail ted@ksut.org. Hail to the chief big, golf ball-sized ones. •