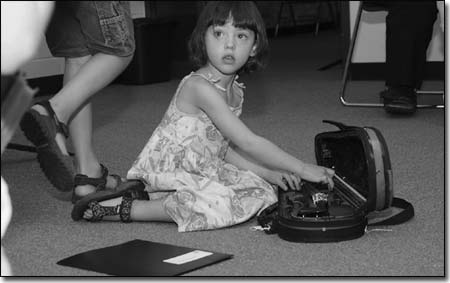 Ruby Epstein, 4, of Durango, carefully removes her violin from its case as Monday's Kids With Strings Attached class gets under way at Fort Lewis College. Ruby is one of 13 local children in the program, which teaches beginners how to play violin. The five-day class, part of the Conservatory Music in the Mountains, culminates with a concert Saturday
at the DMR tent./Photo by Todd Newcomer.
When violin instructor Linda Clark tells her students to take it from the beginning, she means it quite literally.
"Everyone, take your violins out of your cases," she instructs a class of never-evers, ranging in age from 4 to 9. She then asks them to come up, one by one, to the piano where she is sitting to have their tiny instruments tuned.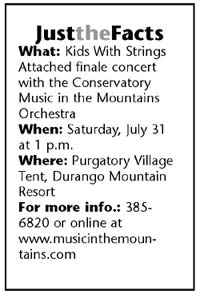 It's hard to imagine that in five days these students will have gone from learning the ropes of the "resting position" to playing in front of an audience at the Music in the Mountains tent at Durango Mountain Resort. But that is exactly the goal of Kids With Strings Attached, an intensive five-day program that introduces young, local would-be violinists and their parents to the world of musical performance. Clark said the group of 13 students is divided into two groups, those with a little experience and those with none at all.
"We've got kids who have never even held a violin before and those who've had experience, but no private lessons," she said.
The program is part of the Conservatory Music in the Mountains, a program for younger musicians done in conjunction with the New Conservatory of Music in Dallas and Durango's annual classical music festival, Music in the Mountains. Under the direction of Arkady Fomin, the 8-year-old Conservatory program draws more than 150 college and pre-college aged violin and piano players from across the country to Fort Lewis College each summer. Throughout the program's three-week run, Conservatory students play concerts at FLC's Roshong Recital Hall as well as a free one Saturday, July 31, with the Kids With Strings students at the tent at DMR.
Oneida Cramer, special projects coordinator for the New Conservatory of Dallas, said Saturday's finale concert typically is the first time the Kids With Strings participants perform in a public setting.
"This is their first exposure to performing," she said. "Just getting them here is a big deal."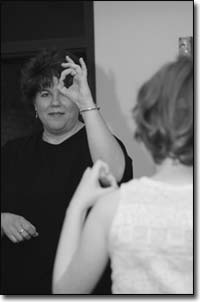 Kids With Strings Attached instructor Linda Clark teaches one of her classes the proper form for holding a bow./Photo by Todd
Newcomer.
Clark, a freelance musician from Salt Lake City who leads the weeklong program, has played with Music in the Mountains since it started in 1987 and likewise has been with Kids With Strings since its inception four years ago. She said the goal of the program is to get children interested in violin at a young age, through learning, performing and observing.
"Our goal is to spark an interest in violin and music," she said.
She said Kids With Strings is unique in that it uses the Suzuki discipline of teaching, which relies heavily on repetition, memorization and parental involvement. It is based on the methods of the late Japanese violinist Shinichi Suzuki, who believed that much as children learn to speak in their native tongue via repetition, the also can learn music by listening and repeating what they hear. Suzuki was adamant that students go on to learn to read music only after they have mastered some technique on their instrument.
"A lot of times, it's just easier to repeat the music," said Clark.
Indeed, in the 30 or so minutes a day Clark is allotted with the more advanced of her 13 students, she has them mimicking in sync a tune she has taught them via repetition. She said such advancement takes place on an even greater scale over the course of the week, not to mention years for some of the students who return to the Conservatory every summer.
"It's fun to see how much these kids progress year after year," she said.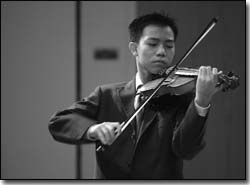 Conservatory Music in the Mountains student Matthew Sato, 13, of Schaumbu, Ill., performs Vivaldi's "Concerto in F Minor (Winter)" on Monday in the Roshong Recital Hall. Taking in daily afternoon concerts is part of the Kids
With Strings Attached program, which is meant to foster musicianship as well as music appreciation./Photo by Todd Newcomer
Cramer, with the Dallas Conservatory, also said she is surprised at how quickly the Kids With Strings students advance. "They go in and see what they can do in a week," she said. "It's been pretty amazing in the past what they can do."
Although Clark said beginning students must possess an initial interest in order to get started, parental participation is crucial in getting students to stick with the program.
"You need a lot of parental involvement," she said.
In fact, parents are not only encouraged to attend the afternoon classes with their child, but the Conservatory's subsequent daily recitals as well. The purpose of having the fledgling students attend the afternoon recitals is to give them a taste of the big picture and get them used to the idea of performing.
"It gives them an overview of the whole process," said Cramer.
Mary Nowotny, spokeswoman for Music in the Mountains, said the Kids With Strings program is also intended to foster not only tomorrow's musicians but tomorrow's music lovers, as well.
"What we're creating here is a new generation of performers as well as concertgoers," she said.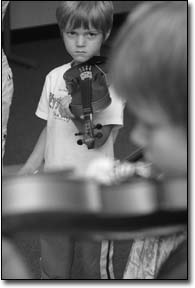 Mattie James, 5, of Durango, watches a classmate intently while working on the proper placement of her violin./Photo by Todd Newcomer.
However, Nowotny said the true beauty of Kids With Strings is that it is integrated into the larger Music in the Mountains festival.
"What's really nice is that you get everything from a kid that has never done any performing up to the Festival Orchestra - the professionals," she said.
Cramer said it is this experience that she hopes will light a fire under the aspiring musicians.
"The idea is to get them excited and get them started," she said. "Then they will come back and move up. And hopefully it goes on from there."
For more information on Music in the Mountain Festival and Conservatory concerts, see this week's "On the Town," pages 22-24 or visit www.musicinthemountians.com.