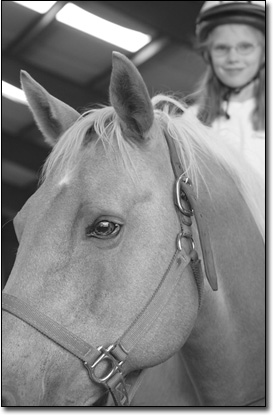 Kelly Henderson, 10, begins her ride with the Cadence Therapeutic Riding Center. The lesson, in which she follows directions in sequence, is designed to help build her auditory memory skills./Photo by Todd Newcomer.
I t is a dance of sorts, as the pairs gracefully move in concentric circles and then trot in serpentines and figure eights around orange cones. The actions are marked by the rhythm of hooves pounding a dirt arena and thunderclouds chanting in the distance.
Richard, a three-year Cadence Therapeutic Riding veteran, rests horizontally on the aged spine of his 19-year-old palomino quarter horse, Alley. Their bond forms around Alley's past dance experience as a show horse and Richard's acute mind and sensory skills, despite having cerebral palsy. These sensory skills seem to psychically guide his equine partner's footwork.
Riders with disabilities and horses dance in teams of four or five. Cadence Therapeutic Riding aides act solely to lead, adjust and align the motion and not interfere with the cadence of the horse-rider union. Three different groups come together for an hour every week during a process that will span eight weeks. Program Director Timmie Sohramm says that approximately 15 disabled riders participate each session, whose lessons are often provided through scholarships.
Cadence received a five-year re-accreditation in 2000 from The North American Riding for the Handicapped Association (NARHA). Since its beginning in 1995, more than 200 clients have participated in Cadence programs, which include therapeutic riding lessons for people with disabilities and grief-relief programs. Sohramm originally worked with a therapeutic riding program in Phoenix and didn't believe that Durango had the resources to support such a program.
"Durango is so great in that way," says volunteer Patti Dedrick. "Durango offers great programs like Cadence and Adaptive Sports."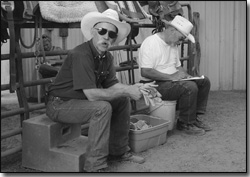 Volunteers Jim Addington, left, and Frank Cianci take a load off in between sessions at the Frazier Ranch horse arena, where Cadence holds its programs./Photo by Todd Newcomer
The riders, who range in age, meet in a covered arena at Frazier Ranch, north of Durango, where a group of six horses and colored throwing rings and obstacles await them. Cadence offers the rider the opportunity to transcend the constraints of wheelchairs, crutches and the label of disability. According to Dedrick, the program gives riders a different vantage point and increases confidence.
"There are so many benefits for the rider, both the physical and for oiling the spirit and mind," says Dedrick. "It's important for Richard's physicality to get his body moving and also for a sense of social interaction, so he can feel that he's actually a part of the world."
Research shows that therapeutic riding can have emotional, mental and physical rewards. For individuals like Richard with impaired mobility, riding gently moves their bodies in a fashion similar to walking; they can benefit with increased strength, mobility, muscle control and balance. Riders with mental or cognitive disabilities find motivation through patience, communication and concentration. If a rider is psychologically or emotionally pained, the horse can provide a great medium for an interpersonal relationship, which can foster self-esteem.
Dedrick explains that despite being born with cerebral palsy, riders like Richard have highly keen mental skills, which are often overlooked.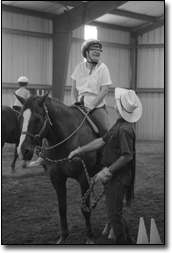 Savannah Gilliam beams with
excitement as Jim Addington, a volunteer of 15 years, holds onto her horse./Photo by Todd Newcomer.
"Cerebral palsy affects their motor and physical skills, but their minds remain very acute," says Dedrick. "It took me years to understand that they're just as sharp as the rest of us. It must get so frustrating to constantly get passed over."
By practicing the commands "whoa" and "walk-on" along with his balance, posture and control, Richard can effectively communicate with Alley and keep his mental skills sharp.
Cadence recently made the move from being a pleasure-riding program to a horsemanship program. Sohramm says that the change has 4 been instrumental in proving valuable knowledge and hands-on experience.
"The weekly lessons and homework differ each week," says Sohramm. Some examples include safety and riding skills; horse physiology, anatomy, and psychology; and the uses of horses and their history.
However, the riders and their comfort level around the horses most accurately measure the success of the program, according to Sohramm.
"Some riders start out thinking that the scariest part is getting on and off the horse, but eventually they want more challenges," he says. "They ask to do the same things they see Frazier Ranch horse owners doing, and eventually ask to ride off lead."
And the bond that forms between the members of the riding team - rider, horse and volunteer - may speak best to the success of Cadence Therapeutic Riding.
"You get back 100 percent more than you put into this," says Dedrick.
The hour ends, feet go back on the ground, bodies return to wheelchairs, and farewells are exchanged. Richard shouts to Dedrick and other volunteers as they leave the arena, "I love you."
"I love you too," echoes a volunteer's voice. "He makes my week ... that guy."
Cadence Therapeutic Riding sessions run through Aug. 11 and volunteers are needed. For more information, call 749-RIDE (7433).