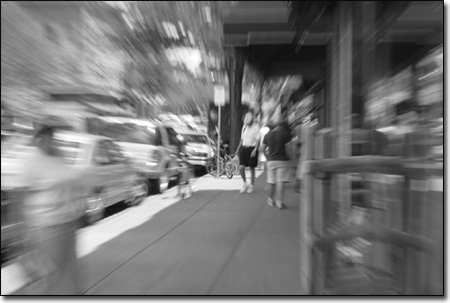 A typical summer day in Durango can be anything but for local minority residents who say that racism in the form of inferior service, racial slurs and discrimination is alive and well locally./Photo by Todd Newcomer.
W ith two American Indian reservations bordering Durango and a strong Hispanic history, the number of racial minorities here may be higher than some other places in the West. And over the years, there has been much grumbling and some documentation of the minorities clashing with the majority. More than once, the U.S. Civil Rights Commission has been in La Plata County, listening to community leaders and residents air their defenses or complaints about what many call blatant biases. With promises from leaders to improve such problems, they persist.
"Of course, any community has racial problems, but we are still very vitally concerned about the civil rights problems going on in Durango," says John Dulles, director of the Rocky Mountain Region of the U.S. Civil Rights Commission.
Twice in the past year, the commission has visited Durango to hear about civil rights issues. In September 2003, the commission held a meeting to gauge the progress of discrimination issues at Fort Lewis College. Commission members were dismayed that "little progress" had been made over the past 10 years. Members returned in March to hear the public speak about more than just the issues at FLC. Dulles says that since the commission is only an advisory group and not a regulatory agency, no formal report was created based on those hearings. However, the overall commission does summarize such information in annual reports. If you look at those reports, Dulles says the same issues tend to arise with each visit, just with varying degrees. The past hearing, he explains, focused on issues in the Hispanic community, not solely on the college.
Racial tension with Hispanics has long been a thorn in the community. Because Durango is often a gateway for native Mexicans traveling to look for work in the United States, the issues are at the forefront for local advocacy organizations such as Los CompaF1eros.
Recently, the group successfully convinced the Durango City Council to pass a resolution declaring Durango a "safe zone," meaning the city agrees to make sure Durango is a place where legal and illegal immigrants can communicate with the local government without fear of prejudice. While it won't cure the racial problems Hispanics encounter here, advocates say, it at least gives the town's largest minority group a voice and presence that has long remained silent because of fright.
"I think this will help people have respect for the Hispanic community," says Aracely Martinez, a volunteer for Los CompaF1eros. "We have to educate other people about us and show them that we are honest people."
She hopes that it will encourage some of the Mexican immigrants who are afraid of becoming part of the community to assimilate themselves so that they feel at home. She says many of the legal workers living in the county flat-out refuse to go downtown Durango because of others' treatment.
"Many of them are so afraid, especially of the police. But I often think (the Mexicans) don't understand the system."
Dulles said he supports the city's safe-zone resolution.
"I personally think it's a very positive step," he says.
Community divided
Martinez emigrated from Mexico 17 years ago and has been in Durango for 15 of those. She says she's encountered and witnessed racial discrimination the entire time, but only from community members, never law enforcement.
"Constantly I hear people refer to us as 'stupid Mexicans,'" she says.
There is a whole list of racial slurs Martinez hears people use against Hispanics. Many high school students fling them at their fellow minority students, including Martinez's son. She said her son, who will be a junior at Durango High School this year, is constantly subjected to insensitive treatment. He's not alone, he tells his mother. Sometimes, his Hispanic peers drop out of school before year's end because they can't endure the treatment. This happened to Martinez's cousin, who came to Durango from Texas to finish high school but eventually quit. He never graduated from high school.
"He told me that the teasing was so bad, and that he was disappointed," Martinez explains. "My son now says this too. A lot of times he thinks about quitting, but I tell him he needs to do his best. He needs to try."
Martinez also has experienced inner-racial discrimination. She works as a hairdresser at a local salon. Some of her co-workers, who are Durango natives but from Hispanic families, recently made disparaging remarks to Martinez - about her and other Mexicans. Martinez says she ended up defending herself against her own people. When she asked them to stop, they simply tried to appease her.
"They said to me, 'Well, we aren't talking about you,'" she says. "But they are because they are my people. Some of my customers are Mexican, and when they heard these people talk like that, I lost them as customers."
As old as time itself
American Indian students at Fort Lewis College also report problems with racism. They have repeatedly aired their discontent to the Civil Rights Commission. Commission reports document that the students claim they experience "cultural insensitivity from students and the school administration." One American Indian student, who asked for anonymity, recalled confrontations between American Indian students and non- American Indian students a few years ago. The students were protesting the demolition of campus housing that was mostly inhabited by tribal students. As they were protesting, the student recalls, others passed by and verbally harassed them, telling them to go back to their reservations or to stop complaining since the students don't pay tuition at the college. They called them "free riders."
"I was floored," says the FLC student. "These people didn't even understand what we were facing."
Under a treaty from 1910, when the school was founded on land donated by the Southern Ute Tribe, American Indian students from any tribe were guaranteed free tuition at FLC. That long-standing guarantee has caused many problems over the years for the students.
"Racism is as old as time itself," says Sage Douglas Remington, a Southern Ute tribal elder and activist. "So the fact that it exists in the 21st century comes as no surprise."
Remington assures that racism exists in Durango. He cites several incidents of Southern Utes not receiving adequate or fair treatment at downtown Durango establishments, saying that it often comes from employees in the service sector. Southern Utes frequently wait longer for service and feel slighted when having face-to-face communication. Even though Ignacio incorporates the tribe's land and there is a higher population of tribal residents, Remington says they are still discriminated against there.
Remington says the problem worsened when the tribe and its members' personal wealth grew. As tribal members began getting expendable income, they often took advantage of eating out. Yet, this added to the number of discrimination incidents.
"[It] has been so bad recently that many of them have stopped going to Durango and instead go to Farmington, because it's easier to deal with," Remington says.
Up until two years ago, Remington says, store employees followed his mother around while she shopped. It was an indication, he adds, of the "white" peoples' distrust of minorities.
For Remington, any discrimination he encounters comes doubly as hard. He is a tribal member and he is gay. In addition to being an activist against racial bigotry, he has also dedicated himself to eradicating gay and lesbian prejudice.
"Homophobia around here isn't as blatant as it used to be," he says. "But I've experienced it in Durango and Ignacio. I was raised in Ignacio too. I grew up with the cowboys and rednecks and experienced discrimination every day."
Over the years, he has seen some education take place to help bridge the sensitivity gap, but he still believes a serious issue exists in this county
Under the radar
Law enforcement numbers don't seem to tell how serious it is.
Durango Police Sgt. Tony Archuleta says that the city department had only one hate crime recorded in 2003. So far this year, no such crimes have been reported. Archuleta says the numbers don't necessarily mean that incidents don't occur. He says officers sometimes attend to calls of arguments that might entail minorities and nonminorities. He adds that the police department saw more activity when it had jurisdiction over Fort Lewis College.
"In the past, there was more with the college students doing the name-calling," he says.
Still, he says, the problems likely exist to an extent. Archuleta says hate-filled actions sometimes escalate when there is a larger issue being addressed in the community.
Hate crimes encompass a wide range of offenses. It may entail any incident where someone felt offended by an action regarding ethnicity, sexual identity or religious affiliation. Though hate crimes are governed by federal law, not city law, Archuleta says police officers can still charge someone, usually under the scope of disorderly conduct. Most of the time, the person facing the disorderly conduct with hate attached to it ends up facing harsher punishment.
"Calling it a hate crime usually ends up being used as sentence enhancer," Archuleta explains.
But while racism toward American Indians and Hispanics seems to be prevalent and identifiable, there's little to gauge the racism toward other ethnic groups.
Anand K. (who asked not to have his last name used) moved from India to the United States six years ago. He first lived in Ohio, where he attended Ohio State University. After a few years in San Jose, Calif., where there is a large Indian population, Anand moved to Durango in 2002 to work as a software engineer.
Since moving to Durango, he explains that he has experienced only some peripheral discrimination. Most mistreatment comes, he believes, when he's dressed "shabbily" and unshaven.
"If I ever feel it, it's when I'm alone," he says. "When I'm with a group of people, it's not as bad."
Anand says when he's dining alone and starts to ask questions about food ingredients and preparation, because he's a strict vegetarian, wait staff is impatient and suspect. Immediately, he knows how accepting a person is based on first impressions. If someone is unfriendly in the way they talk, they never do warm up to him.
Yet, he hasn't been subject to name-calling or blatant refusal of service. Though he's one of only a handful of Indians living in Durango, he says he often thinks he passes off as being Hispanic.
"That makes me feel a little bit safer," he says.
His anxiety about leaving a large and diverse city for a small town with less racial mixture has mostly been tamed. To integrate with the community, he says he just engaged in activities he has always enjoyed. He's been accepted.
"I don't feel alienated. The only thing is that when I go to a restaurant, I expect friendly service."
Reciprocity and education
Activist Remington, who has been awarded the Cinco de Mayo civil rights award from Denver's Latino community and the Martin Luther King Jr. Humanitarian Award from the Colorado Civil Rights Commission and the Denver Mayor's Office, says that combating discrimination takes the will of all in society.
"I think often institutions fail to live up to their responsibilities" he says. "I believe that it's also up to parents and grandparents to discard their old beliefs. Kids have perceived notions about the way people should be. And that comes from the adults."
Anand K. believes peoples' intentions come only from ignorance. He wants to believe that people aren't truly that hateful in their hearts. It is, he says, about reciprocity and education. Both he and Remington still hold onto hope that it can change and that such incidents won't scar children, especially, forever.
Says Remington: "It didn't break me; it didn't break me. I survived it all, but it was no joy growing up."
The Durango Telegraph's coverage of local racial tension will continue with a look at solutions in next week's edition.