By Ted Holteen
T hese are the times that try men's souls." Sharp one, that Thomas Paine. If he were living the hell that is Durango in mid July of 2004 instead of merely trying to inspire an army ready to pack up and go home, he may have written something entirely different: "My God, it's hot, this traffic is unbearable, these tourists are annoying and dangerous, and why the hell am I not summering in Montana?" This is the simple life that so many of us came here seeking? On second thought, maybe so. Paris Hilton is on the short list of those who wouldn't blink at a 1,000 square foot home for THREE HUNDRED THOUSAND DOLLARS! I'd get off my soapbox now, but I can probably rent it out for $750 a month.
Now that I'm good and hostile, let's talk boxing. Four Corners residents can be divided into two main groups: Those who have seen live boxing at the Sky Ute Casino, and those who have not. Get into the first group - it'll change your life. You'll have the opportunity on Saturday night, as the Sky Ute presents Summer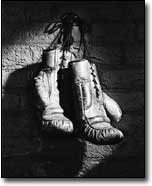 Meltdown. Including ten amateur bouts, it's a sixteen-fight card. And yes, they have ring girls. And yes, they serve beer. And of course, many spectators try to emulate what they see in the ring, much to the chagrin (or secret pleasure?) of the ample security force. That said, the action on the canvas is actually quite good. No household names will be on display, but young fighters out to make a name for themselves put on a great show. My pick for the evening is the under-under card, which features forty-or-fifty-something year old Wolf Hatch of Towaoc fighting a bag of bones from Denver named Barry Basler. Wolf would fight a wood chipper if he knew there was a purse on the other side. Jump on this chance to see him fight before the Colorado Boxing Commission does and pulls his license. For the second straight week I recommend an event with a caveat of self-interest. Yours truly, you see, will be the silver-throated ring announcer for the night. If nothing else, see what becomes of a big dopey Swede as he butchers a list of Hispanic names, each belonging to men (and women) who hit harder than the previous mispronunciation.
Perhaps I was too hard on our town earlier. Where else can you enjoy blood sport in a tent one week and chamber music the next? The official start of Music in the Mountains is July 24, and we'll discuss it at length next week. However, many pre-festival events go on year-round and especially in the weeks and days preceding the actual concerts. On Tuesday, do your damnedest to catch Avi Reichert in the tent at Durango Mountain Resort. It's the first of two warm-up chamber music performances next week before Saturday's opening night. Reichert is a former Fort Lewis College Artist in Residence and is really, really good at playing the piano, which is good because it's his job. (What a cool job.) Take a break from the bluegrass hippie jam band scene and see some music. More highbrow condescension to come next week.
So you're not quite ready to push in that protruding forehead and hop on the homo sapiens train? That's OK we've got you covered. Avi's competition on Tuesday night is the rebirth of the Durango Pro Rodeo . Time was, the Rodeo was a Tuesday and Thursday only event. But now, near as I can tell, it's calf roping and barrel-something every other night of the God-blessed summer. Understand, my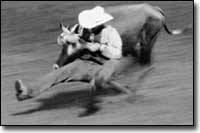 cynicism is born of ignorance. It just seemed like every year that I was growing up, the rodeo for one reason or another bypassed Philadelphia and went right on to Tulsa. I don't begrudge anyone's passion or certainly the way a man chooses to make a living. Glass houses and all that. If a fella wants to jump off a moving horse onto a sheep and hogtie it, then I say rumble young man, rumble. It's become clich`E9 to denounce the cultural traditions upon which our nation was founded. Logging, smoking, the Indian problem and industrial "by-products" have all fallen victim to revisionist historians and those pesky social reformers. And now, rodeo. Is nothing sacred? But hey, at least in boxing, both guys get to wear the gloves.
It is altogether possible that before my next column I will be killed either by professional fighters or cowboys. If not, I'd love to hear from you ted@ksut.org. I can't make this stuff up by myself, you know.