by Ted Holteen
I write this week with a newfound sense of disenchantment. Like seemingly everyone else in Durango, I paid $7.50 to be told by Michael Moore that our country is being run by a vicious cadre of ruthless billionaires who have been sending our tired, poor and downtrodden (especially the downtrodden) to their deaths in a desert 8,000 miles away. I can jump on a bandwagon with the best of them. "Fahrenheit 9/11" was scheduled to only run through Thursday, July 8, but when I saw it on Monday night there was talk of extending its run at the Gaslight Theater. Money talks, you know. While one should not allow a movie to shape his or her political worldview, it is worth seeing, if for no other reason than to be hip and improve your talk show acumen. GOP'ers beware – Moore has an agenda, and you're it. Scoff at your own risk – you will be in the moral minority this time.
If we are, in fact, doomed, we might as well go out with dignity and debauchery. It worked for Gomorrah. On Friday night, the soon-to-be under new management Abbey Theatre hosts Coconut Pete's Pleasure Party. Coconut Pete is an amalgamation of Free Will Recovery and Aftergrass. Levels, a five-piece band from Denver, will open the show around 9:30 p.m. Dress in island attire and save at the door. (Iceland, for our purposes, is not an island.) Here's the cool part – the band will be throwing miniature parrots into the audience that can be cashed in at the bar for shots. Please show restraint. Please.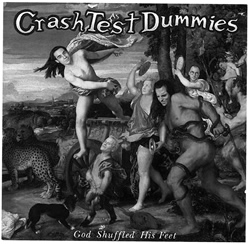 From the conflict of interest department: On Saturday, Durango Mountain Resort will host a fund-raiser for KSUT, Four Corners Public Radio, featuring Canada's Crash Test Dummies in an acoustic concert. Of course, most will remember the Dummies' biggest hit from their platinum selling "God Shuffled His Feet." There is much more to this band than that song, which we won't talk about right now. Frontman Brad Roberts' songwriting incorporates biting satire and humor, and from all reports they put on a really fun show. The CTD's are on a national tour of fund-raising events for worthy groups, and KSUT is as worthy as it gets. The band will play outside on the plaza at DMR beginning at 6 p.m., so the cold of night should not be an issue. Make an evening of it – dinner and a show and all that. The Sow's Ear, Hamilton's Chop House and Joey's Italian Caf`E9 are all fine choices to complete your evening after the show.
Last week, the Broke Mountain Bluegrass Band created quite a stir at the Millwood Junction in Mancos and at the Summit in Durango. The band held its CD release party on Wednesday for its "Cabin in the Hills" disc. The band will follow up that busy week with a show at Storyville on Friday night. I haven't seen them myself yet, but my more bluegrass-attuned support staff tells me that they're the real deal. The sound equipment at Storyville will receive a stiffer test on Saturday when the punks from Amazing Larry and Suitcase take the stage. They're a blast. While Broke Mountain will get under way Friday at the standard 9-9:30 time, it's a bit trickier to predict showtime for Amazing Larry. Sometime between dinner and 4 a.m. is my guess.
As a dedicated sports fan and occasional participant, July traditionally marks the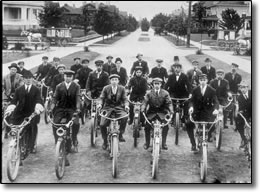 nadir of televised professional sports. Of the "Big Four" TV sports, only baseball season trudges on through the heat and humidity. The Olympics are a month away, Wimbledon is over, and Tiger Woods may never win again. But sometime in the next two weeks, make a point to tune into coverage of the Tour de France. It is a rare opportunity to see history being made. I wheeze and whine just riding up 9th Street to 2nd Avenue, but to watch Lance Armstrong conquer the mountains of France is absolutely stunning. Granted, it is difficult to watch several hours of bike racing (how does NASCAR survive?), but if you pick and choose your viewing carefully, you may be able to say in years to come that you saw Armstrong do the unthinkable and win a sixth consecutive Tour. It's as close to a superhuman achievement as we may ever see.
For more traditional sports viewing, the MLB All-Star Game airs Tuesday night. Once again, the league that wins the All-Star Game gets home field advantage for the World Series. As a lifelong baseball purist, it sickens me to think that an otherwise meaningless home run by an unknown Detroit Tiger could hand the Yankees home field. Ugh.
Knowledge is power – teach me. ted@ksut.org. It's July and the Phillies are in first. I may need to re-think this atheism thing.