Region pushes for renewable energy
New group experiences early success with La Plata Electric Association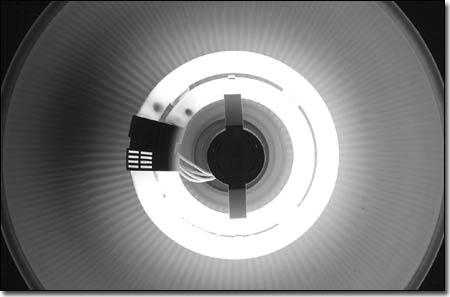 A compact flourescent bulb illuminates the Smiley Building on Tuesday morning. Although slightly more expensive up front, the bulb uses only a quarter of the energy of conventional bulbs. The Southwest Colorado Smart Energy Alliance is hoping to foster this kind of thinking will spread throughout the region./Photo by Todd Newcomer.
S outhwest Colorado is starting to take a hard look at better ways to flip the switch. A group dedicated to fostering nontraditional energy sources and encouraging local energy efficiency in the region has formed. Along with numerous members of the public, the Southwest Colorado Smart Energy Alliance (SWCSEA) appeared before the La Plata Electric Association two weeks ago, made three recommendations and is already seeing concrete results.
The new group has come into being largely because Southwest Colorado is behind the times, according to SWCSEA chair Chris Calwell. Calwell explained that there is a local need for more solar, wind, biomass and geothermal energy sources as well as more conservation and efficiency.
"We all discovered by accident that there's a large group of people in Durango who care about energy and its relationship to the environment," he said. "There's a lot more that can be done in our corner of the world in terms of renewable energy."
Tim Wheeler, another founder of SWCSEA, explained that the group is aiming at promoting healthy communities through advocating cleaner and more efficient energy. "The mission and objective basically are geared around finding win-win opportunities in the community and acting as a resource for information and implementation," he said.
On June 16, SWCSEA pursued a win-win opportunity and addressed the LPEA Board of Directors. A total of 56 members of the public, who were also members of the local electrical cooperative, were also on-hand as Wheeler, Calwell and others recommended three early steps to bring La Plata County closer in line in terms of efficiency and clean power.
Durango could face smoggy future


A total of five power plants may impact local air quality even further
While La Plata County could reap some of the benefits of renewable energy and efficiency, it is also one of the few places that suffers the direct impacts of coal-generated electricity. Local air quality is already significantly impacted by two existing power plants in northern New Mexico, and more plants are in the works.
Chris Calwell, chair of the Southwest Colorado Smart Energy Alliance (SWCSEA), said that current air quality is poor. He noted that Mesa Verde National Park has the highest mercury levels of any national park in the country despite being isolated from urban areas. He also said that local levels of the pollutant ozone are on par with urban areas boasting 3 million cars.
"Most of us moved to a town of 15,000 people because we thought we were getting away from 3 million cars," Calwell said.
Tim Wheeler, a founder of SWCSEA, commented, "Airborne, ingested mercury is one of the substance's most toxic forms. While we think Durango has this really great, clean air and environment, mercury is highly prevalent and it comes here from those coal-fired power plants."
Michael Rendon, SWCSEA member, added, "Air quality issues are going to impact us in Durango. Even though the plants aren't located here, we feel the impacts."
The San Juan Generating Station and the Four Corners Power Plant, both west of Farmington, burn coal to generate electricity for nearly 500,000 households in New Mexico, Arizona, California and Texas. Because of national demand for more power generation, three new coal-fired power plants have been proposed for the Four Corners region, and one of these would be among the largest ever built in the United States.
STEAG Power, a subsidiary of a German-based power company, has announced plans to build a major new plant near Shiprock by the year 2008. When completed, the $1.4 billion plant would be among the largest in the nation and generate enough energy for 1.5 million homes. STEAG has already signed an agreement with the developers of a planned power transmission line that would begin in Shiprock and end in Las Vegas.
A coal-fired plant one-fifth this size, named the Mustang project, is also seeking approval to begin construction between Farmington and Grants, N.M. Originally, the plant was expected to be operational by next year, but there have been delays. Mustang has categorically refused to consider alternative and more environmentally friendly technologies.
Rounding out the picture is a recent proposal for a third plant just southwest of Farmington. On March 22, an application was submitted for a coal-fired power plant one-third the size of the one STEAG has proposed. Called the Cottonwood Energy Center, the plant also would be located on the Navajo Reservation and operate on coal from the Navajo Mine. BHP Billiton, the company proposing the plant, would like to have it operational by 2009.
"LPEA is our cooperative, and it's a democracy," said Michelle Reott, SWCSEA treasurer and a presenter at the meeting. "We wanted to show them that people within the cooperative are interested in renewable energy."
SWCSEA member Michael Rendon added, "It's not us versus them. We are them. That's the beauty of a co-op."
First, the group asked that LPEA replace its incandescent bulb giveaways and instead give away more efficient compact fluorescent bulbs. Second, SWCSEA urged the cooperative set a goal and increase customer sign-up in its renewable power program. It was suggested that LPEA aim for 3 percent of its total customers to be signed up by 2007 and 5 percent by 2010. Thirdly, SWCSEA asked that LPEA spend approximately $60,000 per year on encouraging efficiency measures that would eventually save the cooperative money. For instance, LPEA could offer rebates for energy efficient bulbs that would lead to a net reduction in the amount of power used locally.
The LPEA board was receptive to the suggestions, according to cooperative spokesman David Waller. In fact, the electrical association has already agreed to the first two suggestions and is exploring the third.
"I thought the presentation went great, and it was received very well by the board," Waller said. "I think they were genuinely interested in what SWCSEA had to say."
Waller added that SWCSEA brought the issue to the surface, but that LPEA had been planning on working toward more renewable energy usage and greater local efficiency. In particular, he cited recent survey results that overwhelmingly stated a desire to see the co-op head in those directions.
"Whether or not SWCSEA addressed us, we were heading down that path," Waller said. "About two-thirds of our members said they wanted to see us include renewable power in our portfolio and about half said they were willing to pay extra for it. We're trying to make it happen without any cost increases."
Looking back at the meeting and the early progress, Reott concluded that SWCSEA is off to a good start. "It's really an evolutionary process," she said. "We're not revolutionary. We wanted to let LPEA know that the group exists and that we're interested in building relationships."
The groups will reconvene in early July and work on earmarking dollars to buy energy efficiency rather than energy. In this way, Southwest Colorado can begin to get up to speed with many other areas in the country, according to Calwell.
"The revolution that's happening with most utilities is that if they can save energy more cheaply than they can buy it, they do it," he said. "That revolution hasn't come to this part of the country. Approximately, a billion and a half dollars are spent on energy efficiency each year in the country and none of the money is spent in Colorado."
Wheeler added, "Instead of having to put in new power plants to service the growth of this community, we could buy energy efficiency at a rate that's cheaper than what we pay for electricity generation now."
In addition to cleaner air and lower utility bills, the local community can experience a less obvious benefit.
"Over all of this is the idea that renewable energy and efficiency are tools toward creating sustainable economic development," Wheeler concluded. "A lot of it has to do with not sending money off to Tri-State and keeping money circulating in this community longer."