Riding into the big time
Durango teens qualify for national polocross squad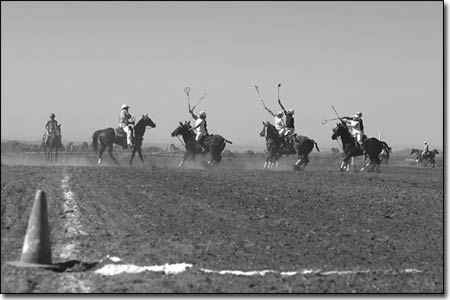 Teams battle for possession of the ball at the polocross tournament in Wildcat Canyon as a cone marks the corner of the playing field./Photo by Todd Newcomer
E xtended family members take seats under shaded picnic benches next to the playing field. They exchange recent news and the whereabouts of upcoming tournaments. Little ones chase each other around parked cars, and the smell of cooking hot dogs permeates the air. To a casual observer, this may seem like an average Father's Day sporting event, but as anticipation builds and the players return to the field, the unique value of this up-and-coming sport, polocross, is soon realized.
Leading their horses adorned with brightly colored tail ribbons, the players, complete with headgear and lacrosse sticks, separate into their respective teams. The teams of six players each divide into sections of three players and will each play a total of two, eight-minute quarters, or "chuckas." Each of the three players has a specific position; the first player attempts to score goals, while the second acts as a mid-field defender and the third as goal defender. The game, described as a cross between polo and lacrosse, finds its origin in Australia where it has been played for nearly 80 years. Although introduced many times, it didn't receive complete U.S. attention until the mid-80s.
After the whistle signals the third chucka, the ball is immediately taken into the stick of a player wearing a white jersey, only identifiable by the long blonde hair sticking out from her helmet and her agile stance on the horse. Within seconds she scores a goal, and the local families cheer and applaud noting, "That's Ashley Masters, the daughter of Wendi Hendricks who just made the national team."
Wendi, who was playing on a team with Ashley and her stepdaughter, Krii, for the Father's Day tournament, said that she wasn't surprised that Ashley, 15, and stepson, Dylan, 17, made the International Youth Exchange Program team.
"They're extraordinarily talented kids who are probably so good because we've played a long time as a family," said Wendi.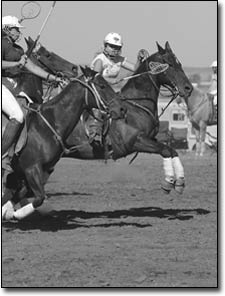 Ashley Masters gets into position as she plays defense for her team Sunday morning./Photo by Todd Newcomer
Ashley and Dylan began playing competitive polocross around the age of 7 or 8. Wendi, a member of the American Polocross Association coaching team, said it isn't unusual to see children start learning as young as 3. Ashley and Dylan learned equestrian skills as they learned polocross technique. Lisa Blue, Dylan's mother, said that having great horse skills is crucial to becoming an accomplished player.
"In polocross, the players have one horse, where in polo there's a string of horses," said Blue. "There's a lot involved in working with your horse and training it to be an endurance athlete. Additionally, the rider has to be damn good on a horse to play, which requires several years of solid riding skills."
Ashley and Dylan's primary coaching has come from their family, both their parents and grandparents, who share numerous national and regional titles. They also benefit from Wendi's experience at the first polocross World Cup held last year in 4 Australia.
"Last April, Wendi was one of four women and four men who went to Australia for the World Cup," said Judy Hendricks, Wendi's mother-in-law, who continues to play polocross. "They ended first in their division and fifth in the world."
Wendi Hendricks agreed that her time in Australia offered new insight to the game.
"Polocross in Australia is like football to Americans," said Hendricks. "Attending the World Cup was like going to the Super Bowl; there were eight nations and over 40,000 people. It's important for me to transfer the information from that experience to help others in their game."
With family support, polocross genes and reliable coaching advice, Dylan and Ashley made their way to the national team-qualifying competition in April in Austin, Texas. The competition was monumental for Dylan, who had missed qualifying by several points two years prior when his sister, Krii, had made the team.
"From there on I made it a priority," said Dylan. "I practiced two times a day, weight-lifted and always had a ball and stick in my hand."
Additionally, Dylan had suffered a serious knee injury last year at the Nationals in North Carolina when another horse pinned him.
"I can't think of that when I play," said Dylan. "You try not to get hurt even though you might get hurt. You do what you can do to play the best you can and hopefully it is your best."
Dylan and Ashley competed for a week against 19 other teens with qualifying resumes and a background in polocross. The competition tested horsemanship, game knowledge and ball handling through using a different horse and saddle during each chucka and playing a different position.
"Qualifying was really intense," said Ashley. "It was a big competition with kids from all over the U.S. trying out for one national team. It was nerve-wracking and exciting at the same time."
After a grueling week of skill testing, Ashley and Dylan succeeded in qualifying for the International Youth Exchange Program. They left on June 23 for a week of training in Texas.
"That's going to be the real crunch time," said Dylan.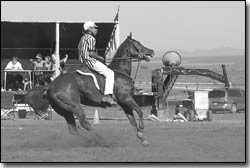 Dylan Hendricks, 17, referees the morning's competition after an injury to his
horse left him sidelined./Photo by Todd Newcomer.
Thereafter, Ashley will travel with two girls from Pennsylvania to the UK where three girls from the UK will complete their team, and Dylan, who is sponsored by Sunnyside Farms, will travel to Australia with six boys from the United States. Similarly, next year the United States will host an international polocross exchange, in which Durango will serve as a competition point.
For five weeks Dylan and Ashley will compete only to return to the Nationals held in Wyoming. They also haven't ruled out the possibility of the World Cup in four years.
"That's my next big goal," said Dylan. "It's what I really want to do."
Wendi added that the American Polocross Association is pushing for more polocross recognition nationally and internationally.
"It's really starting to take off, but it's not as well known because it's not played for money," she said. "The American Polocross Association is trying to get a better umpire program and along with Australia, we're working to integrate polocross into the Summer Olympics."
Like Ashley and Dylan, Wendi has high hopes for the future of American polocross.
"In the next World Cup we want to move fast and dominate," said Hendricks. "We don't want to represent ourselves as a team newly learning the sport."