Smart art
Regional artists contribute a variety of work to regional juried art show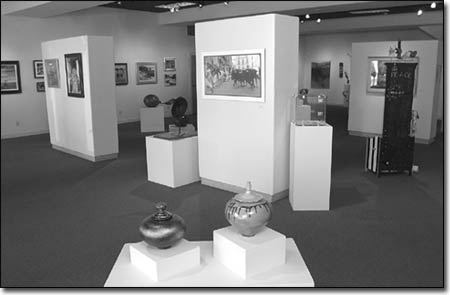 Two raku-fired pots by Louden Kiracofe are displayed in the foreground at the Durango Arts Center's annual Juried Exhibit. The show, featuring local and regional artists, runs through June 30./Photo by Todd Newcomer.
From whimsical to somber, dreamy to vibrant, abstract to detailed, the Durango Arts Center once again is presenting its annual Juried Art Show, a selection of works from regional and local artists.
According to Arts Center Executive Director Brian Wagner, the juried show is one of the center's most popular among artists and viewers. It also is one of the most unpredictable, given the array of art submitted as well as the fact that exhibit pieces are chosen based upon the discretion of a single juror.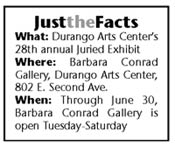 "The juried show is broadly representative of the strengths of our artists, the community and what we represent," Wagner said. "It encompasses the diversity of views of the community."
This year's juror was Charles Parson, a university-level teacher of art for 30 years and chairman of the Sculpture Department at Rocky Mountain College of Art and Design in Denver. Aside from an interest in landscape painting, Parson also recently published a book on contemporary sculpture.
Wagner said Parson's varied interests, as well as a unique interest in the community, served the show well.
"Before the show, he came to Durango and just walked the streets," he said. "He made an effort to know who we are as a community. It shows a very thoughtful juror."
Wagner said based on the observations Parson made, he whittled the field from 165 pieces to 65.
"Parson chose the strongest of the works and what was most representative of our community," he said.
And while the exhibit is heavy on landscape paintings (Parson is a landscape painter), there is enough variety to please all palettes with a handful of photographs; digitally produced pieces; a mobile made with recycled objects; as well as pottery and sculpture.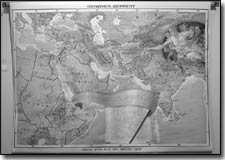 Maureen May's piece, "NO Matthew 5:8 (A Geography Lesson)" won the exhibit's "Best of Show" award and has raised discussion over its political content. /Photo by Todd Newcomer
Taking home "Best of Show" honors was Durango artist Maureen May's multi-media mural, "NO Matthew 5:9 (A Geography Lesson)." In addition to winning the top prize, the overtly political piece also has generated a flurry of comments - both good and bad.
"I actually have heard feedback about the winning piece - most of it positive, all of it recognizing the artist's artistic strength," Wagner said. "But some people have reacted negatively to the political overtones."
In a scene reminiscent one of Michelangelo's paintings in the Sistine Chapel, "Matthew 5:9" depicts George Bush flanked by his administration while overlooking a map of the Middle East. There are various targets placed on the map, meant to signify Bush's "Axis of Evil," as well as a red laser emanating from his eye toward Baghdad and another from his finger at Kabul. Next to the mural on the floor is a small stool on which sits the Holy Bible.
May, who is a regular participant in the juried show, said she was surprised the piece even made it into the show, let alone won, given its content.
"I was quite surprised," she said. "I didn't think it would get into the show. I didn't know what to expect of the juror."
Jules Masterjohn, program and exhibit director, said Parson chose the piece because of its complexity.
"He described it as revealing itself on many levels," she said. "As you looked at it longer and longer, there were more and more subtleties, which he felt a good piece of art should have."
May said she had plenty of time to develop the work's various layers. She embarked on it in September 2001, in response to the U.S. retaliation for the Sept. 11 attacks.
"I got the idea for the piece on the day it was announced by the administration that the war in Afghanistan would be called 'Operation Infinite Justice,'" she said. "I immediately thought, 'Bush just declared himself God.'"
Although the name was later changed to "Operation Enduring Freedom," May said in her mind, the principle remained the same.
"As far as I'm concerned, (Operation Infinite Justice) is still the goal," she said. 4
The huge map, which forms the backdrop for May's piece, was found during a going-out-of-business sale at the Community of Learners charter school.
"I found it in a back room under furniture," she said. "I said, 'This is where I'm going to do my image.'"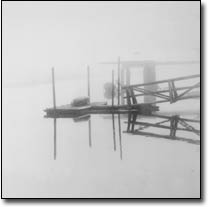 Katherine Barr's black-and-white photo,
"Stinson Beach."/Photo by Todd Newcomer.
Over the next few years, May worked on the piece periodically, adding to it as new developments unfolded, such as the war in Iraq.
"As I worked on it, more things came to light, more came out to the general public," she said.
May said she finally decided to get the piece ready for exhibition at the behest of friend and fellow artist, Karen Pittman.
"Karen Pittman kept pushing me. She was a big impetus to me finishing," she said.
However, May is careful to point out that the word "finishing" is used figuratively. Like the situation the piece is based on, the piece keeps evolving.
"Hopefully, I won't have to add to it," she said. "But I don't know. That's not for me to determine."
Nor is the interpretation of the piece, she added.
"I know I pissed people off, and others appreciated it," May said. "I think it's important for people to see the piece and get what they can out of it. Some may see it as something very positive about the administration. I welcome any interpretation."
Wagner echoed this, saying that such varied interpretation is one of the most enriching aspects of art.
"Art, for many, is that which is beautiful, and it also is a tool for helping us think about life around us," he said. "A piece like this causes dialogue in our community."
He and May also were quick to point out that May's piece was but one of many in a show as varied as the region from which it drew upon for artists.
"Maureen's piece is one of 65 in a show that speaks to a broader community perspective," he said.
Standing in stark contrast to May's piece were the other award winners: Jan Goldman's pastel, "Guardian of Trout Lake" which earned the Juror's Choice Award; and Ed Kruse's "Winter Valley Sunset," another pastel that won the Merit Award.
Wagner said what drew most people to Kruse's piece was the fact that rather than work around telephone lines, he incorporated them into the image - with success.
"He kept the telephone poles in, which most artists wouldn't have done," he said.
Other noteworthy pieces include Katherine Barr's black and white photograph "Stinson Beach" of a dock on calm water, shrouded in morning mist; Krista Harris' oil "One Cloud," a well-crafted painting done in a naive, almost childlike perspective of a lone horse standing beneath the only cloud in an otherwise empty, orange sky; and Anne Strawn's mixed-media "The Secret Place," a surreal full-moon winterscape in cool tones that send shivers down the spine even in the midst of summer.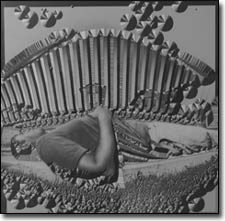 Noah Lindgren's electronic image, "Still."/Photo by Todd Newcomer.
Breaking from tradition is Noah Lindgren's electronic image, "Still," an almost three-dimensional geometric image of a man in repose, with the determination of whether he is down for a nap, a night's sleep or the big sleep left entirely up to the individual. Deborah Gorton's mixed-media assemblage, "Ancient Bundles" is a three-dimensional piece based on three similar small wooden blocks that, upon closer inspection, reveal distinct and separate personalities. Fort Lewis College student Anna Vrook Ward submitted her pair of otherworldly clay sculptures, "Lil' Pucker" and "Salty Orb," which look simultaneously as if they may have just crashed through the atmosphere but are eons old.
It is such variety that makes the annual juried show so popular, said Wagner. And as controversial, thought-provoking or moving a piece may be, Wagner points out every one is tied to the others by one common community thread.
"We're a community arts center, and as such, we try to broadly represent our community and its members," he said. "There is something here that will appeal to everyone."