City blasts smart-growth push
Council members fear initiative could backfire and lead to more sprawl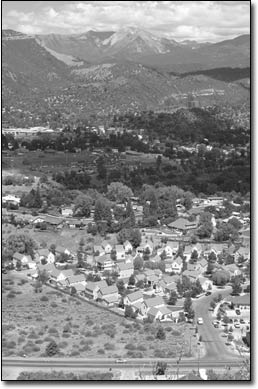 Members of the Durango City Council are not viewing the proposed Responsible Growth Initiative as a solution to local growing pains. Instead they fear the ballot measure may inhibit democracy and create more sprawl outside city limits./Photo by Todd Newcomer.
Petitioners are currently making the rounds in Durango and trying to get a Responsible Growth Initiative on this November's ballot. Meanwhile, local elected officials have taken a hard look at the initiative intended to control growth in Durango and did not like what they saw. Members of Durango City Council are calling the proposed ballot initiative "ill-conceived," something that will "hamstring local government" and ultimately "exacerbate the sprawl problem we're facing."
Proposed by the Friends of the Animas Valley, the initiative would essentially ask Durango voters to approve annexing certain types of property inside city limits (see sidebar). On June 10, City Clerk Linda Yeager released petitions for the initiative, and the group must collect the signature of 553 registered voters before July 12.
Renee Parsons, FOAV president, has stated that the measure would encourage smart growth by getting local citizens more involved in the planning process. "We don't consider this as anti-growth or no-growth," she said in late May. "It's just an avenue to get city voters to be part of the process."
Since that time, members of the Durango City Council have had an opportunity to take a careful look at the initiative, and the board does not endorse it. "I think it's an ill-conceived idea, and I don't think the public should support it," said Mayor Joe Colgan.
Council member Virginia Castro agreed, saying, "I think it's well-intentioned but misguided."
And council member Dale Garland concluded, "I think this initiative makes us ask some questions, which is good. I don't think that this legislation is the solution."
Colgan, Castro and Garland concurred that a principle reason the initiative would be problematic is the lack of similar controls outside city limits in La Plata County. They said that developers would be more inclined to try their hand at the La Plata County planning process than face a time-consuming election. And the members of council expressed concern that the initiative would actually encourage sprawl rather than control it.
"I think developers will just take the path of least resistance and go to the county, where there would be no parallel legislation," Garland said.
Colgan added, "The development will take place in the county anyway. If we do things close in to the city, we've got a chance to explore alternatives on things like transportation."
Castro agreed that the development would happen anyway. She also noted that an election costs the city between $8,000 and $10,000, and that cost would be indirectly passed onto voters.
"If the initiative actually makes it onto the ballot and passes, it's going to cost the city a lot of money, push growth further out into the county and exacerbate the sprawl problem we're facing," Castro said.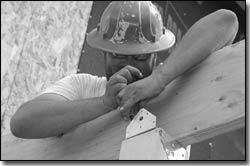 Graig Shearer, of Colorado Construction and Renovation, fastens a joist to a support beam at the Ptarmigan Center, a retail/housing development on Florida Road on Tuesday. Council members agree growth is a local issue, but they feel the city is already doing a good job of managing it./Photo by Todd Newcomer.
Another criticism that Colgan and Garland had of the Responsible Growth Initiative is its challenge to representative government. In particular, they suggested that putting developments to election would cater to special interests.
"We have a representative government in this country," Colgan said. "There are ways to deal with elected officials if they're not doing what the majority of voters want. If you start doing things by initiative you get control by special interests rather than the people who were voted into office."
Garland added, "This actually runs contrary to democracy and becomes special interests that are running government."
All three agreed that Durango is currently facing strong growth pressures. However, they also said that the city is doing a respectable job of managing the growth.
"We need to manage and control the growth," Colgan said. "But do you think the average citizen is going to take the time to learn all the details of an annexation? I think we've taken a pretty responsible approach to it. We've annexed only a part of the Grandview area and limited it to the amount of infrastructure that's available."
Colgan concluded, "The city has strict development standards, 4 and we think it's made Durango a pretty nice place to live."
Garland commented on the inevitably of people moving to desirable areas, saying, "I know people are going to come here no matter what we do. I don't think we have a growth problem. I think we just need to figure out how to manage it."
And on the subject of managing growth, Castro mentioned a recent move by the council that she said seems to be becoming a distant memory. She reiterated that in February of this year, the council voted against annexing River Trails Ranch and enabling the development of 800 new homes just north of Durango in the Animas Valley.
"Our current process does work, particularly in light of River Trails Ranch, where the council effectively defeated that development," she said. "I really take issue when people suggest that our planning process is somehow flawed or inadequate."
Council members Sidny Zink and Aaron Tucson were not available for comment.