Athletes approach race with respect
Four-person Divide & Conquer relay sets new bar for difficulty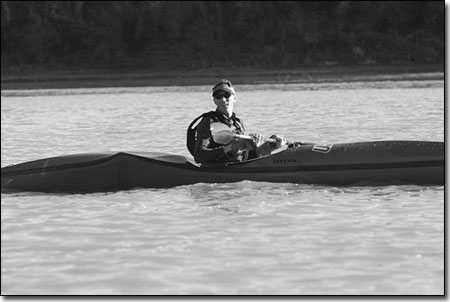 Adventure racer Mike Freeburn takes a break during the 2003 Adventure Xstream race in Moab. Freeburn, along with fellow Durangoan Ned Overend, will be competing in this Sunday's Red Bull Divide & Conquer race, billed as the toughest of the toughest./Photo by Todd Newcomer
With exhilaration, anticipation, and ever so slightly - at the edge of his voice - a hint of trepidation, Mike Freeburn, local wildwater paddler, talks about his participation in this Sunday's Red Bull Divide and Conquer.
"This is mentally and physically the hardest course I've ever done," the long-time adventure racer says after a recent practice run of the Upper Animas River between Silverton and Rockwood. This is the same section of water he'll paddle on race day for team Nike ACG/Balance Bar, and though he's run the Upper Animas more than 20 times over the years, there are always unknowns in the water.
"Generally, I know where things are on the course," he says. "But there are so many intricacies and the river changes from day to day."
Rain, snow melt, or the increasingly dry days in the high country impact the level of the water and the force with which it runs. Throw in the fact that Freeburn is practicing with a boat he's only paddled twice, and there are many unknowns waiting for the Durango racer.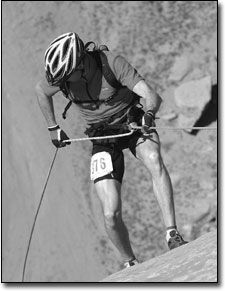 Mike Freeburn rappels during the 2003
Adventure Xstream race in Moab./Photo by Todd Newcomer
"The Wave Hopper is a faster boat overall, but it's trickier to paddle," he says. "The steering is different. Of the 20 kayakers on the river on Sunday, there will probably only be four or five participants that are in these long, narrow, down-river boats."
Freeburn is no stranger to adventure races. In 2003 he participated in a four-day stage race in Borneo, and in March of 2004, he was on a team that won the Adventure Xstream race in Moab. Prior to these outings, he competed for the United States in Olympic wildwater kayak events.
He explains the difference between these events and the Red Bull Divide and Conquer, saying, "This is a whole different level. Usually the water is Class II or III or a lake or flat water. This is Class V water."
With plenty of opportunities to mess up, Freeburn says, "There are a lot of blind moments on this course. You hit holes or you're stopped by waves of water and you can't see where to go."
On another stretch of wild San Juan terrain, Durango's Ned Overend will be going hard and fast for team Specialized/Riversports on the mountain biking leg of the race.
"There really is no team strategy," says Overend. "Everyone just goes as hard as they can in their discipline."
Overend just placed third in the Iron Horse Bicycle Classic road race three weeks ago, which gave him some good prep for high-altitude climbing.
"Ideally, I should be spending time at altitude now," says the world class bike racer who has 4 been in Washington, D.C., and Kansas for the past few weeks. "I plan to ride the course on Wednesday, but no more than that. It is a difficult course, and it'll use a lot of energy."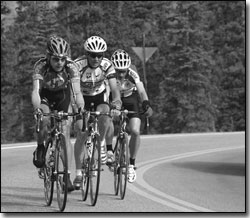 Ned Overend, third from left, is led up Coal Bank Pass by Scott Moninger, front, and Drew Miller during last month's Iron Horse Bicycle Classic en route to a third place finish in the Men's Pro division. Overend will be racing the mountain biking leg for team Specialized/Riversports in Sunday's Divide & Conquer./Photo by Todd Newcomer
Ned Overend won the first UCI World Championship in 1990 and six national titles thereafter. His bio also claims a "collection" of World Cup medals. As far as the extreme races that have popped up in recent years, Overend has won the Xterra World Triathlon Championship twice.
"There will be a lot of pacing in this race, and it's a very technical course," says Overend of the remote backcountry ride. "We'll be climbing most of the time, and some areas we may be walking along beside the bike."
The competition will also be stiff. The Red Bull Divide and Conquer is bringing some of the best extreme teams in the world to the San Juan Mountains for Sunday's team relay.
"It's an honor to compete with these guys," says Mike Freeburn, who is looking at Czech Republic paddler Kamil Mruzek as one of the best to beat. But he is aware that the dynamics of the race shifted considerably last Sunday on his practice run with long time friend and paddling influence, Andy Corra.
Corra spent a decade on the U.S. Kayak team and won the U.S. National Wildwater Championship in 1989 and 1991. He also competed in Global Extremes, ESPN's "Survival of the Fittest" and had the experience of first descents on rivers in South and Central America. He had also been planning on participating in the race this weekend. But at the end of Freeburn and Corra's Upper Animas run on Sunday, Corra ruptured his pectoral muscle and had to withdraw.
"I'm very disappointed," said Corra, who was captain of Team Specialized/Riversports. But he went on to say that Aaron Pruzan, from Jackson Hole, Wyo., would be stepping in to fill the vacancy.
"He's a good paddler," Corra said of Pruzan, adding that he felt Pruzan would be a positive addition to the team.
For those who haven't heard the buzz on the challenge, 20 four-person relay teams will compete in running, paragliding, kayaking and mountain biking in a grueling competition that begins in Silverton with runners ascending Kendall Mountain via Arrastra Gulch and Silver Lake. They will tag paragliders who will sail from the peak of Kendall to the banks of the Animas River. Paddlers will then kayak the Class IV and V waters of the Animas down to Rockwood, where mountain bikers wait to traverse 27 miles to the finish line at Durango Mountain Resort.