Concert Hall ads spirits to line-up
Long awaited liquor license allows opening of Spotlight Lounge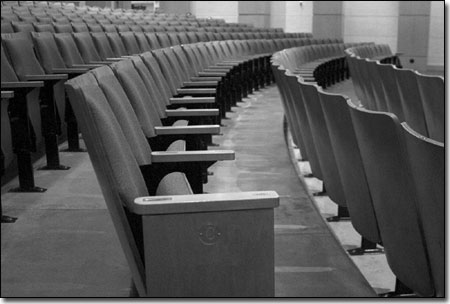 Employees and patrons of the Community Concert Hall at Fort Lewis College are hoping the new liquor license will help draw new acts and fill the concert hall's seats./Photo by Todd Newcomer.
T he prayers of many music fans in the Durango community have been answered: The Community Concert Hall at Fort Lewis College has finally received a liquor license.
"It's hanging on the wall," said concert hall director Gary Penington. "I framed it and hung it on my desk for about a week just so I could look at it. It took so long."
But, after years of jumping through hoops, Penington can celebrate. He started by putting $20,000 into remodeling the downstairs concession area into the "Starlight Lounge." The lounge will officially open for business when the season kicks off with Dickey Betts, who will play the hall Sept. 12.
Concert Hall patrons will be able to buy beer and wine before the concerts and during intermissions. Drink tickets for the intermission will be presold to people who anticipate their mid-concert thirst in order to minimize lines, he said. The alcohol has to stay in the lobbies, however.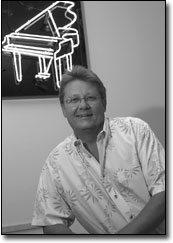 Gary Penington relaxes in the
Spotlight Lounge on Monday afternoon ./Photo by Todd Newcomer.
"Bottled water will still be the only beverage allowed inside," Penington said. "There'll be plenty of time to libate in the lobbies prior to the shows."
Because the Concert Hall will maximize profits from alcohol sales by providing two opportunities to buy drinks, the liquor license will be a boon for local musicians, Penington said. For example, if a headlining act consists of one 90-minute set, then local musicians will open with a 20 to 30 minute set in order to create an intermission.
"We will be using locals more," Penington said. "It's a chance for them to get more exposure."
Local jazz musician Chris Ross, a trumpet player and FLC alumni who has performed twice at the Concert Hall, said this is good news for the local music scene.
"That is fantastic because there's so much great music going on," Ross said. "And it's going to increase the numbers of musicians coming in to Durango."
He said playing at the Concert Hall has been positive because audience members actually listen to the music, rather than talking loudly, like at a club. But he isn't worried that the availability of alcohol in the lobby will negatively impact the vibe.
"A lot of great music aficionados like to drink while they're hearing good music," he said. "I don't know if it sounds better with booze, but it enhances the atmosphere."
Penington said that of the approximately 110 events in the coming Concert Hall season, around 30 will be alcohol free, particularly student and family events.
"We won't be selling alcohol at 'Laura Ingalls Wilder: Growing Up on the Prairie,'" Penington laughed.
The road to being able to sell alcohol at shows has been a long one. When Penington began researching the state's liquor laws several years ago, he hit several stumbling blocks. The primary challenge was that Colorado law states that a bar can't exist within 500 feet of an educational institution.
"Well, we're zero feet from an educational institution," Penington said.
However, Penington said that state Rep Mark Larson, R-Cortez, was willing to introduce legislation to change the law, but it didn't come to that because of a little-known clause that allows local governments to exempt themselves if appropriate. Penington learned about this clause by visiting with administrators at the CSU campus in Fort Collins, where there is a faculty lounge that serves alcohol in the student union.
"The law had been written to allow exemptions, but we didn't know about them yet. State government lets the local government decide how to handle it, so it can be individualized to the community," Penington said.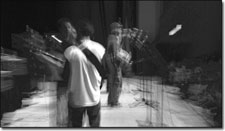 Concert Hall attendees take in last April's Yonder Mountain String Band show./Photo by Todd Newcomer.
Penington appeared before City Council in 2002 to ask it to waive the 500 feet from an educational institution rule, and they agreed unanimously. But the law also stated that only one "tavern license" - the liquor license Penington needed - could be issued per owner, and CSU and FLC were both governed by the State Board of Agriculture. Because CSU already had the license, Penington embarked on a year of working with the state attorney general to find a way to make it happen.
"I actually got to be good friends with an attorney in the AG's office along the way," he said.
But once FLC gained independence in August of 2002 and the FLC Board of Trustees could hold the license, Penington began the licensing process. He had to get petitions signed by "neighbors," which proved an interesting challenge on a student campus because so few could legally sign as 21-year-olds.
"Of the 1,500 students that live on campus, only about 300 of them were over 21," he said.
He also had to get signatures from all department heads at the college.
"I went to all my colleagues here," Penington said. "I ran into no rejection at all."
Penington presented the petitions and his liquor license application at a hearing before the local liquor licensing authority this spring. He even had to have a personal background check. The authority unanimously approved the Concert Hall as a candidate for the liquor license, and sent it to the state. When the license arrived in Durango at the city clerk's office in April, "I was there in 30 minutes," Penington said.
"You know what's funny about this? I don't even drink!" Penington laughed.
He's still waiting for a federal permit, but everything is on track, and Penington is grateful to everyone who helped and supported him along the way. He's also excited about the acts for the upcoming season, which include Robert Earl Keen, Del McCoury, and John Prine.
"We've got some very strong names that are very diverse," he said.
The other major change this year involves ticketing. Penington said that the website (www.durangoconcerts .com) has been completely "reworked," and includes online ticket sales for the first time (at a surcharge much less than what Ticketmaster charges, he added).
Mary Floroplus, assistant to the director, said that being able to buy tickets online offers many advantages.
"The biggest benefit to the customer is real time sales and the ability to pick their own seats now," Floroplus said.
For example, if a person hears about an upcoming show after box office hours, they can log on, buy a ticket and choose exactly where they'd like to sit. Ticket sales will also be possible over the phone, or free of a surcharge at the box office, she added.
Between 30,000 and 40,000 people attend events at the Community Concert Hall each year; more than 260,000 since it opened in 1997. Penington said that this year signals the beginning of a new era.
"There's a new enthusiasm at the Concert Hall, and we're looking forward to taking the community's concert hall to a new level," Penington said. "It's going to be an exciting year."