Hut system to link cycling meccas
Durango-to-Moab mountain bike hut system approved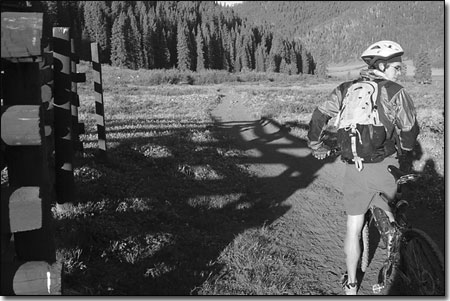 LA rider pauses in the early morning sun at the Hermosa Creek trailhead last weekend. Mountain bikers riding the first leg of the recently approved Durango to Moab Hut System will pass near this point./Photo by Todd Newcomer.
A mountain bike hut system connecting Durango and Moab officially opened for business this week. After 16 months of tense negotiations and differing expectations, the San Juan National Forest has granted San Juan Hut Systems a permit for the route. The hut system's first customer left Durango Mountain Resort on Tuesday and should arrive in Moab on Monday, June 21.
Joe Ryan, owner-operator of San Juan Hut Systems, said he appreciated last week's Forest Service decision. Currently, he is working to assemble the route in quick time and is hauling or putting the finishing touches on the six temporary huts that comprise the route.
"It's good and we're glad," he said Monday. "We've got our first client coming in tomorrow. We're also scrambling to get everything ready. We're hauling the first hut up to Bolam Pass ahead of the client."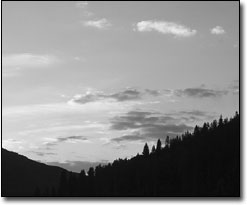 The sun rises over the Hermosa Creek drainage on
the backside of Durango Mountain Resort./Photo by Todd Newcomer.
Ryan's company has operated a popular hut-to-hut system between Telluride and Moab for years and has said that there is huge demand for a new route. Consequently, in February of last year, he approached the local Forest Service with plans for a mountain bike route between Durango and Moab linked by backcountry huts. Now it is a reality.
The system begins near Durango Mountain Resort and crosses Bolam Pass into the Dolores drainage south of Lizard Head Pass. From there, the route climbs behind the Wilsons, then descends into Paradox Valley and skirts the La Sal Mountains before dropping into Moab. Compared to the San Juan Hut Systems' existing route, Ryan characterized Durango to Moab as more remote and more visually stunning. He also said that while the riding is technically easy, the link-up would be more physically demanding than its Telluride to Moab brother.
"The route is phenomenal, and it's difficult," Ryan said. "It'll challenge riders physically, and it'll challenge their route-finding abilities."
This 215-mile ride follows existing double-tracks and primitive roads and includes six huts. Each of the huts sits approximately 35 miles apart and is a 256-square-foot, portable structure that is equipped with eight bunks and kitchen facilities. Each hut is also fully 4
stocked with food, drinking water and sleeping bags. In future years, trips will run between June 1 and Oct. 1 and be six nights and seven days in duration. It is anticipated that as many as 848 riders will use the system during a season.
Now that Ryan's vision has been realized after nearly a year and a half in the process, the proponent who once accused the Forest Service of deliberately dragging its feet seems content. "We would have liked to have it a month ago," Ryan said. "All things considered, it wasn't a bad time frame. I will say that we had to push really hard. But we're glad that we got the permit, and that the BLM and the Forest Service took care of us."
There is one issue that does start to raise Ryan's temper, however. In the permit, the Forest Service and BLM require that Ryan and his clients agree to stay only on the dirt roads and double-tracks of the route itself and not wander onto adjacent trails or roads. Ryan said that he is mystified by the requirement.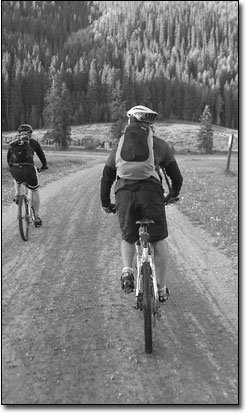 A pair of riders cross a tributary of Hermosa Creek
near the campground recently./Photo by Todd
Newcomer.
"We and our clients have to sign a document saying that our clients will stick only to the existing route and not use other legal mountain bike trails and roads," he said. "Go figure. As I see it, there is no rationale for that."
Tom Kelly, outfitter and guide administrator for the Dolores Public Lands Office, said that there is some rationale for the decision. He said that impacts were calculated only for the proposed route and that with 35 miles between each hut, Ryan's clients should be sufficiently fatigued at the end of the day.
"They're unguided trips, and the application was contingent on the use of existing road systems," Kelly said. "Because of the distance between the huts each day and the lay-out of the route, these roads are going to have to serve as the arteries."
The release of the permit last week ended a process that entailed assessing impacts on two national forests and BLM, state, county and private properties. This in mind, Kelly said that the Durango-to-Moab route still did not present any major trouble for any of the agencies.
"It wasn't considered overly impactful partly because the huts are temporary and seasonal in nature, and they are all removable," he said. "All of the areas where the huts will be situated have already been disturbed. And because of the locations of the huts on established roads, we did not perceive any significant wildlife impacts."
Local conservation organization, San Juan Citizens' Alliance, took an interest in the hut system during the process and looked over Ryan's proposal. Mark Pearson, executive director, said that SJCA arrived at the same conclusion as the Forest Service.
"We looked at it, and decided we didn't have any problems or comments," he said. "We actually thought it might be a good way to get people out to see some of the more remote areas of our woods."
Ryan added that not only is there limited impact to the ecosystem, it should pay Durango back with some substantial economic benefit.
"We've hired 15 people to build the thing, get it together and keep it running," he said. "They're all local folks. There will also be more than 800 people a season coming through Durango, dropping big bucks and going home without leaving much impact."
Currently, there are 280 people booked to ride the new system from Durango to Moab. However, Ryan is confident, saying that the New York Times is carrying a story on the route in late June. "The phones will ring like crazy once that comes out," he said.