Capturing the spaces of the Southwest
Author/photographer releases 'Four Corners'
Holy Water," La Trampas, N.M., 1998, by Debra Bloomfield.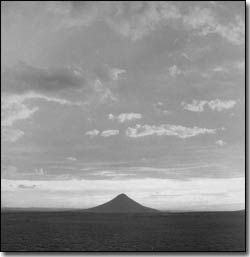 "Hopi Mountain," Hopi, Ariz., 1991 from Debra Bloomfield's "Four Corners.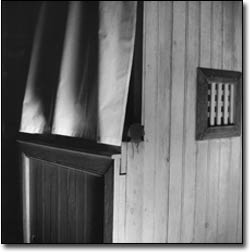 "Confessionals," La Trampas, N.M., 1998, by
Debra Bloomfield.
The Four Corners draws its name from the area where the borders of Utah, Colorado, Arizona and New Mexico meet. The intersection, though seemingly arbitrary, marks a territory rich in cultural diversity, spiritual convergence and one that is threatened by the constant of environmental deterioration.
In her oversized book, Four Corners, photographer Debra Bloomfield explores the mystique of the Southwest through her captivating full color images. Bloomfield, who lives in Berkeley, Calif., began her Southwestern journey in 1989. Her work in the area eventually brought her to the desert three or four times a year for 10 years. Marking each trip on a pocket map, Bloomfield soon realized that her curiosity and search for desert solitude had led her in a circle around a single area, the Four Corners.
In the book's foreword, Bloomfield speaks of the project's timeliness. "As I drove from the Bay Area toward my destination, I was acutely aware of the transition from dense city sprawl – with its unique sounds, smells, and visual elements – to the openness, stillness and subtleties of the desert environment," says Bloomfield. "I don't think I would have made these photographs the way I did if I had not taken the time to descend slowly into this landscape."
Bloomfield's work sheds new light on well-known Southwestern treasures like Moab, Utah; Sedona, Ariz.; Taos, N. M.; and Hovenweep, as well as those lesser-known ones like Hopiland, Woo Canyon, Las Trampas and Truchas. Her journey also entailed work in seven different churches. At Las Trampas, an iconic church of the Four Corners, and Chimayo, the oldest Catholic church in the United States, Bloomfield sheds light on the mystical power and Spanish Catholic influence present in the churches. She effectively captures images of the Virgin of Guadalupe, Mother Mary, confessionals and offering boxes, old crutches left behind after miraculous healings, and the annual Chimayo Christmas pilgrimage, La Posada. Southwestern indigenous spirituality is represented through poignant images of an Arizona medicine wheel and Zuni petroglyphs.
The diversity of Bloomfield's landscapes reverberates in striking sunsets, winding river canyons, stunning rock formations and clusters of storm clouds resting above desert mesas. Her landscapes prove breathtaking and astonishing in that she never relies on photographic filters or alters her images. Such photos affirm the power of nature and its enduring effects.
Bloomfield is able to capture the full-moon serenity of White Sands, N. M.; towering formations set in front of spectacular skies in Chaco, N. M.; and the calm of desert plains separated by the steep canyons and vein of the Rio Grande valley. Bloomfieldwork is testament to her love for that which is dramatic and powerful; she says that rather than clear blue skies, she prefers dynamic weather and different light.
Although this California native calls Berkeley home, Bloomfield expresses a sense of home in her Four Corners work and says that each piece embodies a deeply personal element.
"These interior spaces and the landscapes have similar meaning and significance for me," she writes. "They connote a sense of place that resonates with home, solace, transformation, hope and history. In general, my work is highly personal in origin. It is often prompted by a particular concern or question I am exploring in my own life. This process begins without premeditation, and often I understand it retrospectively. It is the unanswered question that gives me endless energy to pursue my work, a great and all-consuming meditation."
Hers is a unique perspective, which is able to dissect and effectively illustrate the Southwest in an appropriate and deserving way. With a fresh eye behind the lens, her images succeed in evoking imagination, affirming belief and tying together all that is significant and embodies the Southwest.
Four Corners is available for purchase at Maria's Bookstore or directly from the University of New Mexico Press.