A visit to Abe's Motel and Fly Shop
Legendary Abe Chavez shares tale of San Juan success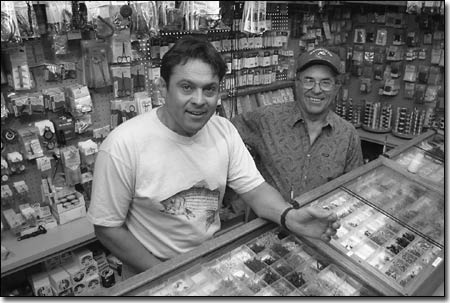 Tim (left) and Abe Chavez work the fly counter in the store Abe founded in 1958 in Navajo Dam./Photo by Todd Newcomer
Fish stories are notorious for falsehood and sliding truth scales. That is, unless you're talking to honest Abe – not he of presidential fame – but Abe Chavez, owner of Abe's Motel and Fly Shop, just south of the state line, in the community of Navajo Dam and near the San Juan River's prized Gold Medal Waters.
"About a half mile from here my grandmother used to live on the riverfront," Chavez says. "When I was a kid, I used to fish the San Juan for suckers and catfish. There were no trout here then."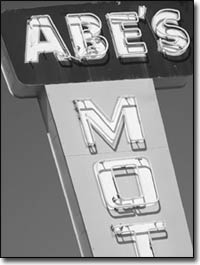 Abe's motel sign shines like a beacon for weary motorists and fishermen./Photo by Todd Newcomer
But the man, who now makes a living largely on fly fishing with barbless hooks, adds emphatically, "Suckers are good white meat, though. There would be nothing left but the bones."
Abe has a whopper of a story to tell of reining in the big one – not actually a fish, but a nice-sized slice of the fishing industry itself. Over time, he has become a true local legend and his business an institution in the region. The mere mention of Abe, first name only, brings nods of recognition and murmurs of approval.
"Honesty will get you more places than being dishonest," says Chavez as he sits sipping a cup of coffee on a temperate, early summer day. "We have always run the business as honestly as possible."
Abe's is a funky mixture of fishing shop and convenience-style grocery store separated by a section for the standard hat, shirt and coffee mug souvenirs. There's also a mini-motel on site as well as an attached restaurant and tavern that all have grown from the original building in beehive fashion.
Memorabilia from his half-century long venture grace the walls, including framed photos of fishermen holding up their prize catches, a portrait of a somewhat younger Abe and little plaques tucked into any available wall space with platitudes like "Fishing spoken here."
His youngest son, Tim Chavez, briefly takes time to join in on the conversation. Tim has helped his father operate the business since he graduated from college, making him an integral part of the shared success. It is, as it always has been, a family-run deal, with Abe's wife, Patsy, and elder son, Randy, dividing the responsibilities over the many years, as well.
"It's been a mom and pop thing," says Tim, adding that it was always something special, however, due to the location. "We see people from all over the world because of the quality waters."
Pointing to a case containing flies and nymphs, Tim relates some of the oddities that are available only at Abe's. "There are a few flies that the guides tie that are unique to the region, like the Princess, a little red fly that does very well here, and the Desert Storm," he says.
He lets his dad take over from there. Abe's 4 story is told slowly, thoughtfully, as he tries to remember events as they took place, starting from his childhood.
"My dad was an avid trout fisherman," says Chavez, speaking animatedly as he remembers the endeavors that have gotten him to the place where he is today.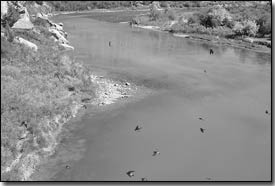 A school of swallows feast on an array of flies as a group of fishermen hope to get a strike on the San Juan River just downstream from Abe's store./Photo by Todd Newcomer.
"He loved to fish," he says. "In fact, I'll tell you what, my dad had a lot of history in Durango. Then when he married into my mother's family, my granddad was running sheep up at Flint Lake in the summertime and so they'd go up and fish the stream all the way up there. I was about 7 years old the first time I went up there. I'll never forget it, my dad was fishing one morning real early, and I was on the other side of the stream."
He pauses to clarify the timeline and chuckles good-heartedly, "I was a little older then, maybe 9 years old, and my dad says 'Hey, hey, there's a big one' and I thought he meant a big bear, so I jumped in the stream and messed up his fishing."
Chavez grew with roots firmly planted in the San Juan River valley and had the forethought as a young man with a new bride to start a business near the river.
"When they were getting ready to build Navajo Dam, around '58 or '59, I decided to come out here and get in on the ground floor," he says.
"My Aunt Tina – she liked to fish, too –A0she loaned me $3,000 to start it up," Chavez adds. "My first building was the old Durango & Rio Grande train depot in Farmington, which we bought and then moved out here. At first, we were only doing $5 to $10 of business a day – a Coke here and there, but we were having fun."
Slow business was the norm for some time, but 4 Abe's never had to make huge compromises.
"By then the construction had started on the dam, but nobody really knew we were here and just went on by," Chavez says. "Then one day a security guard from the job site came out and accused me of running a front for prostitutes."
Chavez adds, "He could tell just by looking at me that he'd insulted me. I tried to take a swing at him, but he held me back and got in his car and left. Well, I was real mad by then and so followed him back up to the work site, never mind the security gates."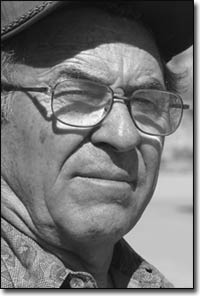 Abe surveys the business climate outside his store along Highway 173, just a stone's throw from the San Juan River./Photo by Todd Newcomer
Abe lost the security guard, but by then he was fuming and asked to see the foreman. The man tried to placate Abe as best he could, found out that he was running a little grocery store and fishing shop and agreed to help bring business his way.
The first break had happened.
Next came the offer of running the newly-acquired post office. Abe and his wife weren't quite prepared for the influx of customers as the guys working on the dam formed lines to pick up their mail.
"We were young," says Abe. "Whatever we learned, we learned by experience. My wife ended up running that post office for 22 years."
Then the dam was built, the river stocked with trout, and Abe continued with his entrepreneurial ventures, and life was good. The third big break came when a writer for Outdoor Life showed up in 1968. The subsequent article stated, "We fished and did great, but if you really want to know about it, go to that little store called Abe's."
Chavez says, "Things really snowballed after that."
At that time, Chavez was able to expand into the guiding business, Born 'n' Raised on the San Juan River Inc.
"Tim had always been a fantastic fisherman," Chavez says, "so when he got out of college and came back to work with me, I told him that there was going to be a boom concerning the fly fishing. For years I would take people fishing right near the store, but I would always do it for free. Tim started guiding people and charging them."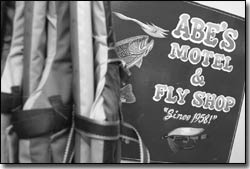 An old sign securely fixed to an employee door is partially obscured by the rack of life preservers for sale./Photo by Todd Newcomer.
Over the years, Abe and his family have made friends with people from all walks of life.
"We've met lots of famous people," Chavez says. "Robert Duvall was a real cool guy. He grabbed me one afternoon and said 'Abe, let's you and me go fishing.'"
With a sincere smile, Tim concludes, "I have the utmost admiration for my dad. He is the coolest guy. He's fun, and I've learned a lot from him."
After an open invite to continue on another time, Abe, who has been chatting amicably for nearly two hours, muses, "I've got stories to tell."