A decade of discovery
Durango Nature Studies celebrates 10 years of environmental education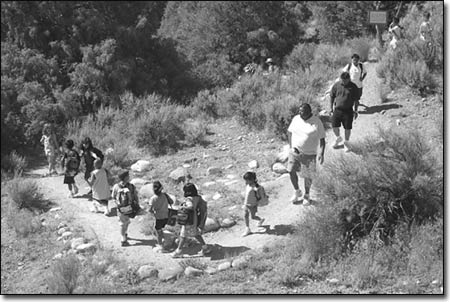 A group of children and their chaperones from the Sun Ute Community Center start the short hike down from the parking at the Durango Nature Center lot to start the day's activities Tuesday morning. The children are participating in a five-day summer day camp program at the center, which is run by Durango Nature Studies./Photo by Todd Newcomer.
Metamorphosis may not be a word that rolls off the tongue of typical 6- and 7-year-olds. So, in an effort to teach the simple meaning to a big word, a volunteer naturalist with Durango Nature Studies leads a group of Ignacio summer campers through a relay race of the life cycle of a butterfly. After emerging from their "eggs" (plastic garbage bags), the kids crawl into their "cocoons" (old bed sheets) and then "flutter" (flap their arms) as fast as they can back to the finish line.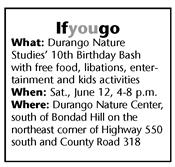 It's this type of hands-on approach that naturalists at the Durango Nature Center rely on most in teaching kids and adults alike a healthy respect and appreciation for the environment.
"It's all hands-on and interactive," said Durango Nature Studies Executive Director Lisa Branner. "It's really different from what kids deal with in the classroom on a daily basis. It's a way of teaching that really sticks."
Apparently the approach is working. Like the story of the butterfly that the students are emulating, DNS, celebrating its 10th year June 12, has grown from a fledgling nature center operating in a donated storage closet to a region-wide environmental education organization serving more than 10,000 people a year.
"We have to turn requests away weekly because we are at capacity," said Leigh Gillette, Nature Studies program director.
The idea for Durango Nature Studies was hatched in 1992 by friends and fellow naturalists, Ann Rilling and Janet Kenna, who saw a need for an organization to educate the community on the natural environment.
"At the time, it was something that Durango needed and wanted," said Rilling, who is still active in the organization as project manager at the Nature Center. "There's really nothing else like it nearby. The closest one is in Albuquerque or Pueblo."
In 1993, the two joined forces with Caroline Johnson and Winston Dines, and over coffee one morning, the ultimate goal took shape: a nonprofit nature center that could double as a nature preserve.
By 1994, Durango Nature Studies opened for business, its first audience a class of Japanese exchange students studying for the summer at Fort Lewis College.
It also was at this time that a quest for a permanent site began in earnest. In the meantime, as Branner recalled, all educational hikes were held on various parcels of private land.
"We didn't know what to expect – if the sprinklers were going to be on or if the horses would be in the pasture," said Branner. "A lot of times we would have to improvise."
Fortunately the search ended in 1998 when the organization bought 105 acres of piF1on and juniper south of Durango along the Florida River for $130,000. Another adjoining 35 acres were bought in 2000 for $1 from a group of private supporters that purchased the land earlier and placed it in a conservation easement.
"I never even really thought past the next day," said Rilling, reflecting on the organization's success. "You just keep going. It was being in the right place at the right time."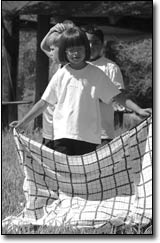 Danika Evanson, 7, gets ready
for a relay race based on the life
cycle of a butterfly./Photo by
Todd Newcomer.
Ripples in a pond
The 140-acre Durango Nature Center boasts 3 miles of interpretive trails, with signs describing the surrounding flora and fauna, as well as prime riparian habitat, a live prairie dog colony, an anthill and a children's play area.
According to Branner, the Nature Center has taken the guesswork out of the educational hikes, helping DNS customize its teachings to the specific habitat, she said.
"I couldn't imagine a more perfect site, it's working so well," said Branner.
Durango Nature Studies' flagship program is Children Discovering Nature, a two-part series that serves more than 2,000 area schoolchildren a year from Silverton to Farmington and Cortez to Pagosa Springs.
"If you know a kid in Durango, you know someone who's been through our program," she said.
The program combines a classroom visit from a naturalist with a half-day field trip to the Nature Center. The programs are tailored to the age group and tied to state and local education standards and what the children are currently studying in school.
According to Gillette, the outdoor segment of the program is where most students excel.
"Kids are such natural learners and ready to soak it up," she said. "They do 90 percent of their learning by themselves."
In addition to the Children Discovering Nature program, Durango Nature Studies offers winter snowshoeing at Haviland Lake, which includes animal tracking, plant identification and digging snow pits, and summer camp programs, which cater to various groups. Durango Nature Studies also has recently branched out into nearby communities, conducting pilot children's programs at a satellite site in Pagosa Springs.
And while students make up the majority of 4 DurangoNature Studies' clientele, the organization also offers several adult programs, including its monthly full moon hikes at rotating locations.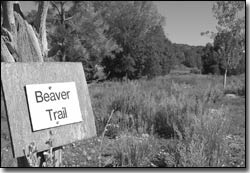 A trail sign marks the beginning of over three miles of paths crisscrossing the Durango Nature Center./Photo by Todd Newcomer.
"The best program right now is our Full Moon Hikes," said Gillette. "They're about getting back to awareness and what it's like to walk out at dusk and into the night. It's about opening up the door and getting adults comfortable in nature."
According to Gillette, the adult programs run the gamut from casual hikes to more specialized outings, including mushroom hunting and medicinal herb identification.
"We have the basic awareness activities and then we have the technical stuff for adults, so they can pick and choose," she said.
Another vital component of Durango Nature Studies' is its volunteer naturalist trainings. With only three paid employees, the organization must rely on volunteers to lead the various programs. To date, Durango Nature Studies has trained 250 volunteers who offer up some 3,000 hours of service a year.
"We have a tremendous volunteer core, and we couldn't do it without them," said Branner.
The trainings are held each spring and fall, and volunteers must complete 17 hours of
instruction. Once that is done, they must commit to 35 hours of service.
"It's a pretty big commitment," said Jennifer Kleffner, Durango Nature Studies volunteer coordinator.
Kleffner said one volunteer has been with the group since 1996, although not all volunteers return every year. Regardless, she still sees the training as beneficial as a whole.
"It's like ripples in a pond," she said. "Even if they don't come back, they'll still use what they learn."
Taking root
It is this ripple effect that Durango Nature Studies is relying on as it heads into its next decade and continues to grow. According to Branner, the biggest obstacles the organization faces are funding and getting the word out about what Durango Nature Studies does. She said she still hears comments from parents who have never heard of Durango Nature Studies and don't understand that it relies on public support, grants, fund-raisers and memberships to survive.
"The biggest thing is letting people know how this service is made available and how it won't be there without support," she said.
In addition, Branner said she also would like to see more pilot programs in nearby communities as well as a bigger staff and more programs exploring the varied ecosystems the area offers, from alpine tundra to desert. The Durango Nature Studies Board of Directors also is looking into the possibility of a permanent building at the Nature Center site.
"We're definitely experiencing growing pains, which is good," said Branner. "I think we'll continue to grow."
And in Branner's eyes, that's a good thing.
"There are not that many places in the world that have the kind of diversity Durango does, from mountains to desert. A lot of people don't realize that what we have here is so special," she said. "We try to help people focus on that locally and get people to appreciate that so we can share it with the next generation."