Approximately 3,000 events nationwide were held last Saturday in honor of National Trails Day. The 12-year-old program, organized by the American Hiking Society, encourages participation in local trail advocacy groups to help promote trail usage and perform maintenance. Trails 2000, Durango's non-profit champion of trails, set out Saturday morning to maintain the Colorado Trail, Dry Fork, and Hoffheins Connection. The San Juan Mountains Association got its hands dirty further down the Colorado Trail. Armed with shovels, saws, and pulaskis the faithful volunteers of Trails 2000 cut away at overgrowth and tried to create a drainage system to prevent area wide erosion. For more information on local trails or to volunteer, contact Trails 2000 at 259-4682.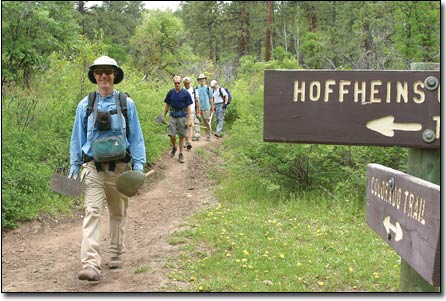 Head trail guru, Bill Manning, strolls down the Colorado Trail after completing the
morning's work on the trail above Hoffheins.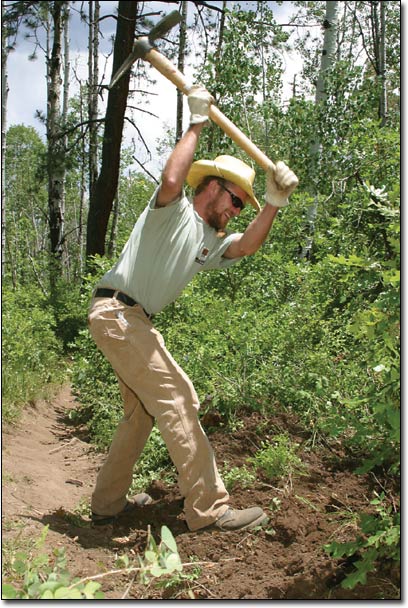 Jim Brandon puts his back into it as he swings a pulaski in the preliminary
stages of creating a water bar.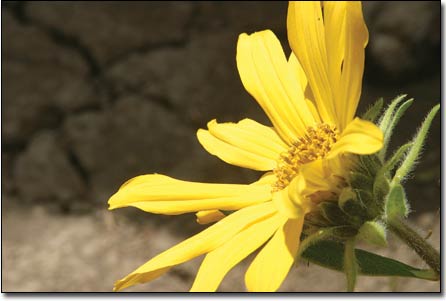 A bright, yellow bloom stands out in stark contrast to the dry, cracked dirt of
Hoffheins Connection.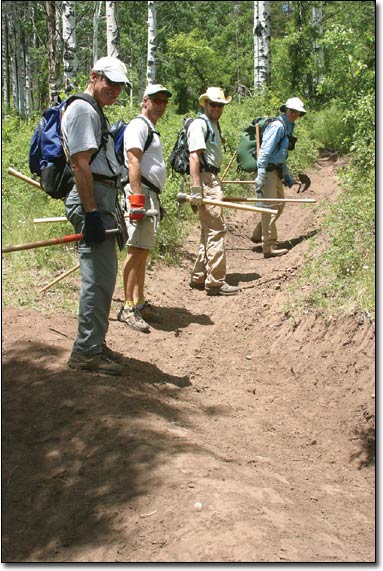 From left, Jim O'Brien, Bob Inda, Jim Brandon and Bill Manning glance back to critique their work on a water bar installed earlier that morning.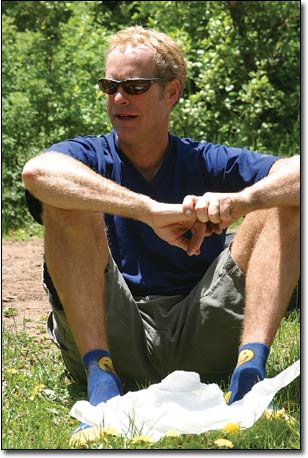 Craig Brossman polishes off his lunch and relaxes in the mid-day sun before heading home for a ride with his son.