Extreme race sparks safety concerns
Durango Fire and Rescue Authority pulls coverage of Red Bull race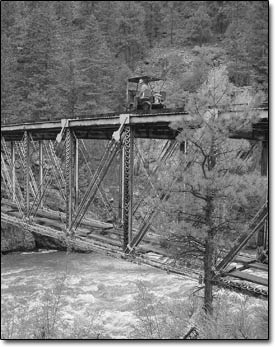 A Durango & Silverton pop car crosses the bridge over the Animas River as it drops into the Class V
Rockwood Box. The Red Bull Divide and Conquer race, slated for June 20, will cover 27 miles of whitewater
on the upper reaches of the Animas, including the box. The Durango Fire and Rescue Authority has
concerns that the race, which currently has 20 four-man teams registered, is not taking adequeate safety
precautions./Photo by Todd Thompson.
A new, extreme race promises to set a local standard for difficulty when it runs June 20 north of Durango. However, the difficulty of the first-ever Red Bull Divide & Conquer may also present some problems. The Durango Fire and Rescue Authority has retracted its proposal to provide safety for the event citing several issues that could not be resolved.
Red Bull Divide & Conquer is modeled on the Red Bull Dolomitenmann which has run for the last 16 years in Austria. The event will take place in the San Juan Mountains just north of Durango and feature four-person relay teams competing in trail running, paragliding, kayaking and mountain biking. The race is being touted as among the most difficult to ever take place in North America and more strenuous than its predecessor, the Dolomitenmann.
"This course will be a bit longer, and I would say more difficult than the Dolomitenmann," said Patrick Harper, the course designer for the Divide & Conquer. "We do have a Czechoslovakian team coming over to compete that has won the Austrian race several years in a row."
The race begins in Silverton with 8 miles of trail running up Kendall Mountain. Next, paragliders will take the baton and launch from as high as 13,300 feet. From there, a kayaker will take over and run the Upper Animas and its 27 miles of Class IV and V whitewater to below the Rockwood Box. The fourth and final leg of the competition features 27 miles of mountain biking covering over 7,000 feet of elevation gain and ending at the finish line at the Durango Mountain Resort base area.
"This is not a course for the amateur athlete," Harper said. "It will challenge even the best."
However, there are concerns that if the course is too much for the best, there will not be a sufficient emergency response and rescue plan in place. The race is well outside the boundaries of the Durango Fire and Rescue Authority service area, but DFRA put forth a proposal to provide backup emergency and rescue services for the event. The proposal was submitted approximately eight weeks ago and has since been withdrawn because of several concerns about the Divide & Conquer safety plan.
"For starts, way too much time elapsed between our proposal and when we heard back for us to feel comfortable adequately coordinating the event," said Scott Sholes, Emergency Medical Services coordinator for DFRA. "I also kind of got the impression that they wanted to chisel so much away from it that we weren't comfortable."
Sholes added that the involved nature of the event and the variety and amount of terrain it will cover required a comprehensive approach to safety that DFRA felt Red Bull was not willing to provide.
"It's a really involved event they're putting on," he said. "For DFRA to tie in with it, we really needed the whole package, especially considering liability issues."
Sholes detailed some of DFRA's concerns, saying, "There's nowhere to put an ambulance that will cover it all. The last I heard they had plans for one 4
ambulance at Purgatory. Where they need the coverage is along the Animas and up at Kendall Mountain. There are also major communication issues with the event. It's very challenging terrain, and it's challenging in terms of coordination."
He added, "To my knowledge, they haven't made any contact with the San Juan County Sheriff, and she's responsible for both the search and rescue and the ambulance 85 And the plan does involve an ambulance, ski patrollers and other things they didn't have in place the last time I looked at it."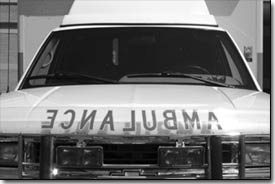 Among the Durango Fire and Rescue Authority's criticisms of the Red Bull safety plan is insufficient ambulance coverage for a very large race area with challenging terrain./Photo by Todd Newcomer.
Harper countered that Red Bull has taken safety into account and prepared a plan that has met with its own and the Forest Service's satisfaction. He also noted that depending on weather and run-off, the paragliding and kayaking portions of the race may be pulled or altered.
"Red Bull puts on events all over the world," he said. "A lot of them are extreme, but we also cover our bases in terms of safety. If we have to make changes before the event, we're prepared to alter the paragliding and kayaking legs."
Harper, a professional adventure racer himself, also said that each of the athletes competing in Divide & Conquer must have a proven track record and have someone in the industry vouch for their ability. "In a way, it's kind of a self-screening process, but when each team registers, they have to have someone vouch for their ability," he said.
Harper added, "I understand everyone's concerns, but the athlete's perspective is a little different. These people are excited about the event and confident in their abilities to handle the course."
The Forest Service recently issued a permit allowing Red Bull Divide & Conquer to use public lands on June 20. Carolyn Long, outfitter and guide administrator for the Columbine Ranger District, said that the agency took its time to make sure that the safety plan was satisfactory.
"We wanted to make sure we had a good safety plan in place," she said. "The Durango Fire and Rescue Authority didn't agree on what was needed."
Long said that the Forest Service has verified most of the details of the plan. She also cited a $2 million insurance policy that Red Bull is carrying specifically for Divide & Conquer.
"The federal government is held harmless on these kinds of races because they carry a $2 million insurance policy," Long said. "We still try to be extra careful."
Insurance policy aside, DFRA and La Plata County Search and Rescue will provide the ultimate safety net when the race runs in approximately two weeks. Should an injury take place on June 20, local emergency and search and rescue personnel will be on the other end of the 911 call.
"None of this technically falls in our normal response area," Sholes said. "But the county probably will look to us if a response is needed."
Long concurred, saying, "We won't have them standing by, but the race organizers may have to call 911, and La Plata County Search and Rescue and the Durango Fire and Rescue Authority will have to respond to the call."
For his and everyone's part, Sholes concluded by saying that he hopes that the call never comes. "Hopefully, they'll be able to get it together, and it will go off as planned," he said.