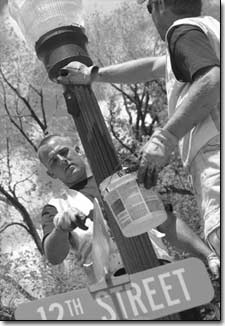 The Brush Off: Nate Swanson and John Meade work diligently to paint a Main Ave light post last Friday afternoon./Photo by Todd Newcomer.
Status quo suggested for Little Molas
The call has gone out for Little Molas Lake campground to remain primitive and free of new fees. An 18-member task force has issued recommendations on what to do with the popular recreation area, which is to primarily leave it as it is.
Little Molas entered the spotlight last year when the Forest Service announced plans for a $700,000 renovation of the campground near Molas Pass. A major public objection was the new fees that would be associated with the improvements. The Forest Service eventually withdrew the decision and brought a diversity of interests together and created the Little Molas Task Force.
"The main reason the decision was withdrawn was we realized we had not adequately involved the public," said Columbine District Ranger Pauline Ellis. "It gave us a chance to step back and get more input."
Last Monday, the task force submitted a lengthy report that called for leaving Little Molas in a primitive and fee-free state. Task force member Kitty Benzar explained the group's conclusions, saying, "We've all had this kind of recreation opportunity available to us all of our lives, and we want to make sure we have this opportunity available to everyone into the future. We were thinking about the long-term, and we were thinking about future generations."
San Juan County Planner Bev Kaiser agreed with this sentiment, saying, "Little Molas Lake is unique because it's primitive and becoming a unique type of camping situation."
Kaiser also said that the Town of Silverton and San Juan County have additional concerns and forwarded them in a letter to the Forest Service.
"From a town and county perspective, we also recognize the need to replace the 13 camping facilities that have been lost in this area," Kaiser said. "We just don't think it should be done at Little Molas."
Ellis said that the Forest Service will weigh the task force recommendations in the coming month and try to balance them with impacts that she said need to be addressed.
"The most pressing matter certainly for us is that there are impacts at Little Molas from it being loved to death," Ellis said.
She added, "We need to check the working group's ideas against factors that in our experience need to be addressed today and tomorrow. We also have to ensure that whatever we do at Little Molas stands the test of time."
The Forest Service is currently accepting public comments on improvements to Little Molas Lake campground. A decision on the campground's future is expected at the end of August.
DMR director of marketing resigns
More management changes are afoot at Durango Mountain Resort. After three years at the post, Scott Fortner has stepped down as director of marketing. He said he plans to pursue other opportunities both in and out of the resort industry. Fortner came to DMR after 12 years in Silverthorne, where he was employed as marketing director at Loveland Ski Area, and worked in marketing at Copper Mountain Resort and special events at Breckenridge Ski Resort. Fortner also served as the winter tourism representative for the Durango Area Tourism Office and was a member of the Colorado Ski Country New Business Development Committee. Fortner said he plans to stay in Durango while pursuing other interests.
Clean-up planned for uranium mine
The Forest Service is currently preparing to address radiation hazards at an abandoned local uranium mine. The Forest Service has found that mine openings at The Graysill Mine, west of Purgatory and near Bolam Pass and Hermosa Creek, poses physical dangers and are a source of radon, the toxic gas released by decomposing uranium.
"An inventory of all the mines on the forest and how hazardous they may be was completed in 1995," said Kay Zillich, abandoned mines coordinator. "We are working our way through the list, and the Graysill Mine is one with radiation risks that we don't want to ignore."
Zillich said that the mine has a dozen open shafts and associated waste rock piles, and an extensive analysis of hazards has been conducted. "The analysis assumed that a family would camp there for two weeks, sleeping inside the mine and eating fish out of Hermosa Creek," Zillich said. "They found that there is some radiation exposure because of the waste piles, but it doesn't exceed EPA standards, and there is no real impact to Hermosa Creek. Exposure to radon inside the mine was the leading concern. Consequently, we're going to close the shafts."
The Forest Service is considering several options for closing the vertical mine shafts, including the construction of walls and the use of foam and explosives. There are also plans to place a protective surface over radioactive waste piles near the road.The Forest Service plans to begin work in July.
Fee Demo program suffers a blow
Opponents of the Recreational Fee Demonstration Program are celebrating a major victory. On May 19, the U.S. Senate unanimously passed S.B.1107, which would allow the Fee Demo Program to expire in the Forest Service, Bureau of Land Management, and Fish and Wildlife Service as scheduled at the end of 2005.
The bill would allow only the National Park Service to retain its entrance and other fees. On the public land managed by the other three agencies, new fees have met with widespread opposition. Critics of Fee Demo say that it amounts to double taxation, among other things.
"We are thrilled that the members of the Senate recognized that Americans can tell the difference between the national parks and our other public lands," said Robert Funkhouser, president of the Colorado-based Western Slope No-Fee Coalition.
In contrast, Fee Demo faces an uncertain future in the U.S. House of Representatives. On May 6, a house subcommittee held hearings on a bill that would require all visitors to federally managed land to buy an "America the Beautiful Pass." Being on Park Service, Forest Service, BLM, Fish and Wildlife, or Bureau of Reclamation land without the pass would be a Class B misdemeanor, punishable by up to $5,000 and/or six months in jail.
However, Funkhouser said he is certain that the passage of S.B.1107 will tilt the balance against Fee Demo. "The Senate has stood up loud and clear in defense of Americans' right to access their own land without being taxed twice," he said. "We are hopeful that the House will do the same."