The trouble all started on Independence Day more than 25 years ago. Following the usual feast of barbeque chicken and corn on the cob, a friend offered me the ultimate dessert a ride on his brand new, miniature Schwinn. Intoxicated with the prospect of actually riding a real bike, I answered with a giant grin. Literally jumping off my Big Wheel, I put a leg over the curving top tube, sat my butt on the springy seat embroidered with a fancy "S" and started my 5-year-old legs pedaling.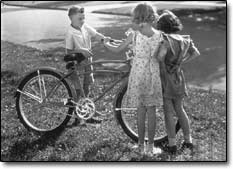 Luckily, I managed to dodge all of the typical, first ride trauma. There was no pile-up, no horror as I rode out-of-control and into traffic and no humiliating inability to get the bike going. That would all come later (and is still coming). A serious wobble was the only trouble on that first ride (training wheels hadn't made it to mid-1970s Telluride), but with a little speed, things quickly steadied out. And as I took my eyes off my feet and aimed them down the dirt road, the smile widened as I experienced something resembling flight. A new freedom was within reach, and I never wanted to stop pedaling. Obeying my inner Easy Rider and celebrating my own Independence Day, I screamed off down Townsend Street, took a right on Columbia, crossed the Cornet Creek Bridge, spun down an alley and returned the bike only after the boy's dad chased me down. That evening, I permanently parked my now squat and sluggish Big Wheel in the back yard and started begging my parents for a real bike.
As fate would have it, I would wait more than 20 years to sit on another classic Schwinn but only a couple weeks for my first bike. My first ride had no fancy top tube or two-toned paint. Instead, it was hand-picked from the bargain fleet at the Montrose Kmart. There were no test rides; the bike was selected by the tried-and-true low price tag trick. The result was less than perfect.
The no-name bike's biggest defect was its swooping, girl's frame. On the up side, that feature deflected any criticism about the sparkly, champagne-colored paint job, the brown banana-seat or the chopper handlebars. A little customization of my own also helped. After I cut the pom-poms off the handlebars, broke off the reflectors and scratched it up with a couple of spills, its badass nature started to shine through. The chopper handlebars turned out to be pretty cool after all.
I also was the first kid on the block to get a real bike, so my little slice of Taiwanese craftsmanship was actually widely respected at first. That transgendered, near classic also had a potent coaster break and could lay down a 20 foot skid if handled properly. All told, it still made for a first class ride to school and cruised the alleys with precision. And, even after the scrapes and the shame, the brown beauty actually had a decent trade-in value years later when the bike went back into the bargain fleet at the Montrose Kmart.
Leaving the banana seat behind, we drove home with my new pride and joy a black and yellow BMX bike with thick, plastic, yellow mag wheels. At last, I had a steed that could carry me as far as young manhood. I also had a bike with a hand brake and a light frame that could catch air. Aside from a near broken back and a few unreported dents in parked cars, these were some of my bicycling glory days. Sadly, they also came to an abrupt end when I parked my manhood way too close to Telluride's Free Box. As I was going for the high score on Galaxian, someone else was walking home with their new bike and wondering why anyone would give away such a beauty.
That began a dark age in my life dominated by foot travel. Things got really desperate when we paid a trip to the Montrose Kmart not for bikes but to buy school clothes. As I tried on flannel and denim, I watched as that same, old brown bike with the girl's frame left the used fleet and went home with someone else. Many years had passed and without a bike of my own, I was kind of missing that old albatross.
Middle school also was beginning, and kids still into riding bikes were considered stunted. Salvation was not far off. The mainstream birth of mountain biking was only a year away, and all of us who had been repressing our love of two wheels and pedals got back on the program. Biking had become cool again.
My first mountain bike was built by a now defunct company called CyclePro. It had a name I couldn't pronounce at the time (Arroyo) and sported weird, wide beach cruiser handlebars. It also sported gears and at last, I was able to leave the valley floor. On that CyclePro and in the San Juans, I first experienced the thrill of the downhill and started to embrace the suffering of the uphill. I explored Bear Creek, the Ilium railroad grade and even made the ride up to Savage Basin and just shy of Imogene Pass.
I also knew beyond any doubt that bikes would always be a part of my life.
These days, I often find myself riding a road bike and usually with a Burley trailer in tow. The rides with my now 2-year-old daughter Skyler started early last summer as trips down the Animas River Trail and grew into 5- to 10- mile jaunts up toward Hermosa. Now when we go riding, we log between 25 and 30 miles. She sits in the back, occasionally reading a picture book, napping or singing. But mainly she takes in the view and watches as Dad grunts it out trying to get a little more in sync with those spinning wheels and experience that feeling of near flight.
That Independence Day fever also has started to set firm roots in the child. A couple weeks ago, I had one of those panicked moments that hits after you turn your back and the child disappears. I searched high and low before finally checking a new hiding spot. Sure enough, there she was, hanging out inside the open garage and sitting inside her Burley trailer. As I approached, she turned and through a giant grin said a few of her favorite words: "Bike ride, Dad." I went and started filling the water bottles.