Gallery presents 'Testimonials'
Open Shutter hosts renowned photographers Keith Carter, Janet Woodcock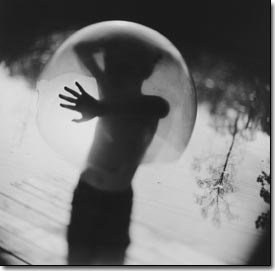 The works of photographers Keith Carter, top photo, and Janet Woodcock will be on display starting Friday and running through July 21 at the Open
Shutter Gallery. Carter uses black and white photos to capture simple images of people. Woodcock use sepia tone in her images of rare domesticated animals.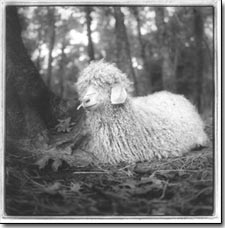 Black and white photographs detailing the beauty of simplicity will pay a visit to Durango beginning this week. On Friday, the Open Shutter Gallery unveils the new exhibit, "Testimonials," featuring the work of internationally recognized photographers Keith Carter and Janet Woodcock. The exhibit will be on display through July 21.
"Testimonials" consists of 15 black and white photographs of animals and people from Carter and 25 of Woodcock's sepia-toned domestic barn animals.
"Both are black and white, the purest form of photography, done in the darkroom by both of the artists, and are a medium format," said Margy Dudley, Open Shutter Gallery owner.
Known as a "Poet of the Ordinary," Keith Carter's work has been widely exhibited in the United States, Europe, and Latin America. Numerous permanent Carter collections are on display everywhere from San Francisco, Chicago and New York to his home state of Texas.
Photography was Carter's single mother's sole profession, but his own talents did not reveal themselves until he was in college. One day, while framing a shot for his mother, he caught the lighting of a generic photo, and he had the epiphany that launched his now successful career.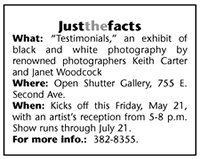 Carter began by capturing life's simplicity in the South but has since tackled bigger subjects and photographed people, objects and animals all over the globe. Soft focus is one of Carter's trademarks, according to Dudley, and allows him to highlight gestures, persons or places.
Carter is currently the Walles Chair of Art at Lamar University in Beaumont, Texas, and has received two National Endowment for the Arts Regional Survey Grants.
"His work is really well known worldwide," said Sara Barry, manager of Open Shutter. "It is unusual, and it makes you think."
Sharing the gallery's walls will be emerging photographer Janet Woodcock. Her work for "Testimonials" features rare breeds of domestic animals in sepia tone.
"The barnyard portraits are charming and intimate, and the personalities of her subjects are clearly visible," Barry said.
Visiting all the way from Martha's Vineyard, Mass., Woodcock will personally open the exhibit on Friday, May 21. Her educational background is in photography, and she has studied the form at the University of Michigan, New England School of Photography and the Art Institute of Boston. She embarked on her career with commercial work in newspapers, but soon took the initiative to do her own work.
"My personal work has become more and more important to me," she said. "I stopped doing any assignment work about five years ago."
The mixture of the two photographers will bring a nice balance to the exhibit, according to Dudley and Barry. From a well-respected reputation to a rising talent, a black and white style to a sepia-toned hue, an education to a lifelong passion, the show offers an assortment of interests.
"The two work well together," Dudley said. "They both tell stories."