Something needs to happen soon. The winter sports basketball and hockey have post seasons that last at least a month too long. The NHL was boring enough to begin with, but the NBA actually has a nail-biting playoff happening, and no one cares. Why? Because it's almost freakin' June, and the end of either sports season is nowhere in sight. Someone needs to sit down with the commissioners of the NBA (David Stern) and NHL (Northy McCanada) and smack some sense into them. Both seasons should have ended last month when people still cared.
The reason we don't care anymore, of course, is that it's far too sunny and warm outside to even think about any sport played in an arena, especially a sport played on ice. When I become president I will outlaw the NBA and NHL after the middle of May. It doesn't matter though, we've all finally re-discovered the great outdoors and nothing short of a "Caddyshack/Strange Brew" double feature on Encore could draw us back to our couches until mid-November.
Seriously, there may not be a better spot on Earth than Durango in the summer as the sun has just gone down and we are all wearing shirt sleeves and shorts. The air smells clean, and Perins Peak, the Hogsback and the La Platas are perfectly silhouetted by the setting sun. As you head out for the night, look around and remember why we pay so much to live here. Once you get done being a nature-loving hippie, the next move is to hit the night life, and this week's scene happens in a quick three-day blast, so get out your date book or PDA before reading more.
Your weekend begins Friday, May 21, with a free 5:30 p.m. show provided by Denver's Paul Galaxy and the Galactix at Scoot •Blues. Paul G and the G's is a trio that delivers, especially for a three piece, an impressive mix of rockabilly, surf and swing music. If you can't make that early time Friday, there is no reason to fret as the band will also play later night time shows Friday and Saturday night. All of Durango's slicked-hair, wallet-chained, rolled-up Levi pant-wearing rockabilly fans will be there, but a crowd of 11 will hardly be enough to make the place rock the way it should. I have seen Paul Galaxy and the Galactix twice and had a rocking great time, twice. I call that a nice average.
Improvisational comedy can be hilarious (the British TV show "Whose Line Is it Anyway" for example) or a total train wreck, like the American version of the same show. The performers must always be on their toes, willing to comically adapt to each otherbrand new and fully improvised line. Our town's own improv troupe, Durango Dot Comedy , is willing to walk the harrowing line that separates hilarity and uncomfortable silence for your enjoyment at the Durango Arts Center on May 22. The show called "Mmmm, Butter" is an obvious Homer Simpson reference, and there isn't really a better improv comic than Homer to hitch one's wagon to. Also, the hard blow that is a $10 cover charge quickly will be softened by $1 Ska beers, and at that price, six bucks worth of Pinstripe would make a retro episode of "Silver Spoons" even a little funny. Nuff said. The show starts at 8 p.m.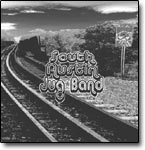 The fun runs into Saturday late night at Storyville when the South Austin Jug Band brings its string band sound back to Durango. The group that earned its reputation, in part, by winning the new band award at the Telluride Bluegrass festival in 2002, has kept it by deftly combining old and new styles of bluegrass with a solid sense of humor. Each time the band has played in town, they have delivered a solid show that doesn't leave purists or jam banders feeling icky. In my book, that's a tall order given the current rift betwixt the new and the traditional styles of string music. The tunes start flowing around 9:30 p.m.
Album of the Week: A few years before the Drive by Truckers became the darlings of the indie-country, southern rock and alternative music worlds, DBT's band leader Patterson Hood got a divorce and also almost busted up what was about to become the best band of the early oughts.
During the time that predated DBT's last two albums, he recorded, by himself in his dining room, "Killers and Stars," an acoustic vision of a bleak world that such life experiences may portend. In a weird after-the-fact manner, "Killers and Stars"

provides a solid look into the thinking that brought on both of the Drive By Truckers' ingenious albums "Southern Rock Opera" and "Decoration Day." Echoes of both can be heard throughout "Killers and Stars."
This album stands squarely on its own though. His cover of Tom T. Hall's "Pay No Attention to Alice" cuts 6 feet deeper than Hall's, and "Belinda Carlisle Diet" with the tag line "cocaine and milkshakes, milkshakes, cocaine" is the funniest sad song youheard in years. At its worst, "Killers and Stars" is an album you've heard before. Several songs sound like Drive by Truckers' numbers, and one can't help but listening to "Francis Farmer" without knowing Curt Cobain hit that subject well enough years ago. At its best, "Killers and Stars" is the best album you've heard this year by one dude and a guitar and is a perfect before-the-fact reference to the best band making the best big rock today.
What sucks more the NHL or NBA? mpsheahan@yahoo.com