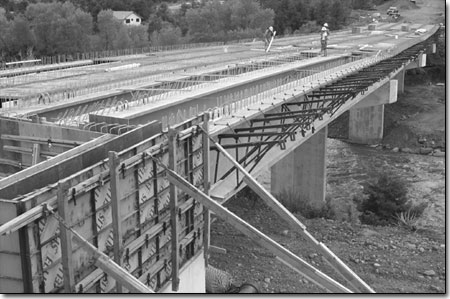 BridgeWork: Construction workers continue to make progress on the bridge spanning the width of the Animas River behind Home Depot on Tuesday afternoon./Photo by Todd Newcomer.
Campbell investigation under way
The Department of Justice has initiated an investigation into alleged kickbacks and other impropriety in the office of retiring Sen. Ben Nighthorse Campbell, R-Colo. Campbell, who lives in Ignacio, reported that he has been informed that he is being investigated on allegations that a former staff member inflated a subordinate's salary in exchange for a $2,000 payment and participated in an improper attempt to steer a government contract to a specific vendor.
Campbell's office reported that he requested a Senate Ethics Committee investigation of these allegations in February of this year.He also said he intends to cooperate fully with the investigation, wants to get to the bottom of this matter and will have no further comment until the investigation is complete.
According to the Denver Post, it is suspected that the criminal investigation influenced the Republican's announcement that he would retire next year after his term ends. The paper added that questioning began more than a month ago and that the Department of Justice took its first official action the day before Campbell announced he would be retiring.
DMR reports brisk real estate sales
A strong real estate market joined strong skier day numbers at Durango Mountain Resort this winter. The resort's expansion is being well received as homesites in the new Engineer and Tacoma villages are being bought up at a rapid rate.
Initial sales have been brisk since first being offered last November. Of the 36 homesites available in phase one of Engineer Village, 17 have closed with three more under contract. In Tacoma Village, 10 reservations have been made on the available 16 units in phase one of the BlackBear Townhomes. Also, in Purgatory Village, the slopeside ElkPoint Townhomes have sold out.
"The response has been exceptional," said DMR managing broker Cathy Craig. "The interest level in the new villages and the ground floor opportunities for this growing resort community have stayed strong throughout the winter months."Engineer and Tacoma are the first villages to be developed under the new master plan and development agreement at DMR. They are located just across Highway 550 adjacent to the resort. The 25-year plan calls for the development of five residential villages and a renovation of the existing base area. All told, as many as 1,649 units will be developed on 612 acres.
Fort Lewis College rehires Rochford
Following a large public outcry about her termination, Fort Lewis College President Robert Dolphin, Jr. announced last week that Sheri Rochford will be kept on as an employee. Rochford has accepted an 18-month position as director of foundation relations for the college. As planned, she will retire after that time.
Rochford was fired as dean of development and alumni by Dolphin in February, only 20 months from her planned retirement. She filed grievances about the termination and many members of the community spoke and wrote on her behalf.
Last week, it was announced that Rochford had been rehired and will report for the next 18 months to Vice President for Finance and Administration Steve Schwartz. "Sheri and I have worked together for many years, and I look forward to working with her in this new position," Schwartz said.
Rochford officially resigned from her former position as dean of development and alumni relations on May 1 to accept this new position.
Mercy Medical Center taps new CFO
Mercy Medical Center announced this week that it has named a new chief financial officer. Richard White will be responsible for several of the duties that had been handled by Mercy's current CFO and chief operating officer, Brad Cochennet. Cochennet will continue to serve as chief operating officer.
"We're very pleased to have Rick on board," said Mercy Medical Center CEO Kirk Dignum. "He brings valuable health-care-specific financial knowledge and experience to the team."
Dignum said that White will focus on financial strategy and efficiency initiatives at the hospital, while Cochennet will oversee management of the hospital's operations and construction of the new Mercy Regional Medical Center.
White was most recently the director of finance and budget at The Children's Hospital in Denver. He also has worked in various financial management roles at hospitals in Grand Junction and La Junta.
City workers to get an early start
The City of Durango is trying to stay out of traffic. Effective June 1, City Hall and River City Hall will adopt new hours aimed to help employees avoid rush hours. Both buildings will be open from 7:30 a.m. to 4:30 p.m.
"The community is changing and we want to change with it," said Assistant City Manager Greg Caton. "Over the last couple years the traffic has increased during the peak traffic times. This change will provide our employees an opportunity to travel before the peak times, which will decrease the total number of cars on the roadway when it is most busy."
Caton also pointed out that the people who work from 8 a.m. to 5 p.m. can now do business with the city in the early morning.