The infamous 3,000 pairs of shoes Imelda Marcos abandoned when she and deposed dictator Ferdinand Marcos fled the Philippines in 1986 became a symbol of government corruption and excess in an impoverished nation. But though her husband died in exile, Imelda has returned to the Philippines and even cut the ribbon at the opening of the Galleria Imelda at the Marikina Footwear Museum.
I was in Manila, only a 45-minute taxi ride away, and had to see this for myself.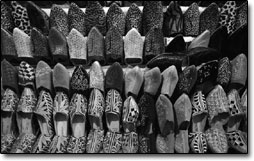 "Thank God, looking down deep into the recesses of my closet they did not find skeletons. They found shoes, beautiful shoes." - Imelda Marcos
Her shoe museum located in the "Shoe Capital of the Philippines" is home to more than 200 pairs of the Iron Butterfly's size 8`BD shoes. "But she has 3,000 pairs of shoes," lamented a museum guard identified as Sally. "We have only 219." But she was quite sincere in her admiration of the former Miss Manila. "Mrs. Marcos has helped with the promotion of the shoe industry here since 1970," she stated solemnly.
During the Marcos regime, local mayors and shoe factory owners in Marikina showed their admiration and appreciation for Imelda's efforts by frequently presenting her with custom-made shoes. In fact, the city government kept Imelda's personal shoe last, a hardwood mold of the shape of her foot, so that gifts of shoes would fit the First Lady perfectly. Many of those special shoes (and even the shoe last) are on display; almost all are pumps with local brand names like Maro, Lady Rustan and Marlet Shoes.
Imelda's tastes are not exclusively Filipino, however. Five identical pairs of black pumps with rhinestone-encrusted heels by Parisian Charles Jourdan are showcased, as well as other foreign labels like Beltrami, Bruno Magli and Raphael Salato. The variety and quantity of shoes was explained with, "Her schedule is from 3 a.m. to 10 p.m., so she told us she changes clothes seven times a day." The gown Imelda wore to Marcos' inauguration in 1965 is also in a display case ("It's made of pineapple," Sally offered.) It replaced the exhibition of the gown she wore into exile because "she didn't want to remember that." (Go figure.)
In addition, the museum houses the shoes of other famous Filipinos. For the record, current President Gloria Macapagal-Arroyo's tattered cream pumps are considerably smaller and less ostentatious than Imelda's. But the highlight of the Marikina Footwear Museum had to be the captioned photos of Imelda Marcos with world luminaries. For example, the caption under a black-and-white photo of Imelda sitting with Chairman Mao reads, "Her respect for the Chinese leader was close to a daughter's admiration of a father."
According to other captions, Imelda and Prince Charles discussed "ecological balance in the design of cities" and "A very young Robert Kennedy saw in the Marcoses the same visions the Kennedys had, the same enthusiasm and vigor." The woman who once claimed to be "allergic to ugliness" is also pictured with Ronald Reagan, Indira Gandhi, Fidel Castro, Anwar Sadat, Jimmy Carter, Japan's Emperor Hirohito, the heads of O.P.E.C., and Charles Lindbergh all undoubtedly impressed by her stylish footwear.
It is about a 45-minute taxi ride from Manila to the museum in Marikina, at the corner of J.P. Rizal Street and Isabelo Mendoza Street, just off of Shoe Street. Some Filipinos find interest in the museum perplexing. My taxi driver was appalled that Imelda's legendary excess was being promoted or even remembered. But the kitsch value is undeniable to tourists who remember the schoolyard song, "Imelda, Imelda/She took a million dollars and 10 thousand shoes/And flew to Honolulu" and to anyone amused and/or bewildered by a character like Imelda R. Marcos. As she told Saga Magazine in 1998, "I was born ostentatious. They will list my name in the dictionary someday. They will use Imeldific' to mean ostentatious extravagance." Indeed, Imeldific evidence awaits at the Marikina Footwear Museum.