Diver,
What is the best way to lower stress? Exercise? Better diet? Drinking? My friends always say when I'm stressed about work, relationships, etc., to have a drink, but I don't want to! Your thoughts?
– Jim
Dear Jim,
Three words: Strawberry blunt wrap. Now pass that Duchy to the left hand side.
– Fightin' the Man
Diver
---
Dear Diver,
I'm new to town but don't kayak, climb, mountain bike or even hike. I'm starting to wonder why I made the move from the East Coast. What can I do to fit in?
– JR
Dear Suki,
First of all, stop showering. Next you should dress up in a Spandex biker outfit and go around town telling fellow bikers how kickass you are. Buy them shots and you'll have friends in no time.
– Wu Tang forever,
Diver
---
Diver,
Recently, I came home one evening and my wife had three friends over. I pretended like I went to sleep, but through clever placement of the baby monitor listened as these three women talked about which guys in the office they'd like to sleep with, who they slept with in college strictly for cocaine, and how much they like to drink. Should I let my wife know what I know about her?
– Guy with a
loose wife in Hermosa
Dear Guy,
Oh, that's your wife? We ran into her and the gals at El Rancho. I think you should take her to the Maury Povich Show and find out if you are in fact the father of the child. The results are in!
– Grab a sack,
Diver
Diver: Tim Bates of Lady Falcon-burgh's Barley Exchange
Facts: Tim is the only diver from Oklahoma who has been known to be sober for more than 10 days.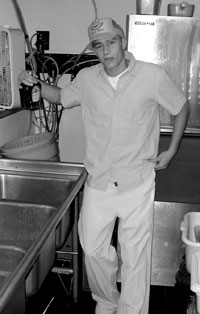 Got a dirty little secret?
Looking for guidance to remedy a sticky situation?
Seek help from the master of the kitchen! The Dish Diver has solutions to life's little messes. Send your problems to "Ask the Diver." - By mail to Durango Telegraph - Attn Diver -534 Main Ave., Durango, CO 81301; by email at telegraph@durangotelegraph.com, or by fax at 259-0448.
Diver,
Are there any more "frontier" towns left in the country? You know what I mean, places like Silverton or Durango used to be, before wealthy people from the suburbs of Chicago or L.A. came in and ruined everything?
– Ted
Dear Ted,
You're in luck because one of the greatest frontier towns in the country is right around the corner. I'm talking about a little place called Mancos! In fact, Durango's neighbor to the west has taken out its stop light, the movie theatre has turned into a silent reel that only plays "Jurassic Park" and to top it off, the evenings are filled with beautiful blue light explosions.
– Appettit 400,
Turd Ferguson

---