Shoplifting plagues Durango stores
Long-standing problem is not going away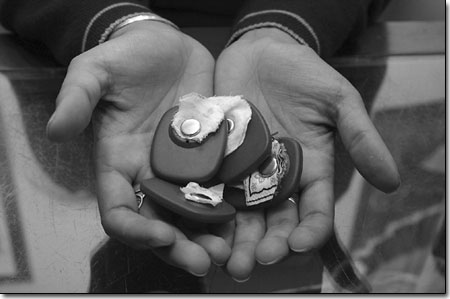 Employee Kamaljit Punia displays the security tags that were torn from merchandise at the Animas Trading Co. Store manager Kathy Wakeman estimates the two female suspects, who have been apprehended, made off with around $300 in clothing. She said similar occurrences take place every two or three months at the store. /Photo by Todd Newcomer.
Last week, Cathy Wakeman slowly started piecing things together: an empty hanger here, a stray tag there. Then an employee at Animas Trading Co., a Main Avenue clothing and accessory shop where Wakeman is manager, stumbled upon the motherlode: a pile of about seven clothing tags stashed behind a "Stealing is Bad Karma" sign in the store's dressing room. That's when Wakeman realized she had been hit – again.
"That stack of tags was big, about $300 in one haul," she said. "That's a good portion of one day of sales."
Wakeman, who has been the manager at Animas Trading for 10 years, said although the most recent theft was particularly large, it is not out of the ordinary.
"We'll find a stack every two or three months," she said.
Wakeman is not alone. Shoplifting is a problem that plagues businesses up and down Main Avenue and throughout Durango, despite the use of security tags and alarm systems.
Between Jan. 1 and March 31 of this year, Durango Police responded to 191 theft calls, the majority of which were for shoplifting, said Capt. Dale Smith.
"We get a lot of calls," he said. "Theft and shoplifting are big issues in the community."
Smith said that the town tends to see a rise in shoplifting every summer, something that Wakeman concurs with.
"There seems to be a rash of it when school gets out and throughout the summer it just seems to be more frequent," she said.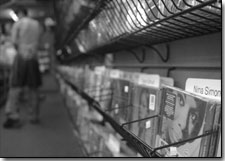 Shoppers peruse the compact discs at Southwest Sound on Sunday afternoon.
Despite the use of cameras, security tags and alarms, many downtown merchants still experience problems with shoplifters. Durango police go out on about three shoplifitng calls a day, and Robert Stapeleton, owner of Southwest Sound, estimates he has caught five shoplifters in the past year./Photo by Todd Newcomer.
Smith said that many shoplifters tend to be young adults. However, he was quick to point out that shoplifters come in all ages and from all walks of life. They also can run the gamut from petty first-timers to experienced professionals.
"Two or three months ago, the Durango and Farmington police broke up a shoplifting ring of Farmington people who were stealing computers and stuff from Home Depot and then turning around and selling it at flea markets in Farmington," he said. "We see that kind of stuff frequently."
Wakeman said she believes the same circle of thieves has been hitting up her store.
"It seems we have a group of the same people who are doing it," she said. "They're coming in and taking lots at a time."
In the most recent case at Animas Trading, two thieves (who were later caught) cut holes in the clothing in order to remove the security tags. Wakeman said the two worked in tandem, with one distracting the salesperson while the other stole clothing she had brought into the dressing room.
She said the salesperson on duty thought something was suspicious but didn't act on it.
"The girl who was working that night thought something was fishy when they left," she said.
Robert Stapleton, owner of Southwest Sound, another Main Avenue retailer, said despite a brand new security system, cameras and factory-installed tags inside each CD case, personal contact is probably the best way to stem theft.
"The biggest deterrent is customer service," he said. "Saying 'Can I help you?' without being mean or accusatory."
Stapleton said often if someone is guilty, they end up getting nervous when confronted and then leave.
"That and letting them know we have cameras and letting the alarm go off every so often just to let people know we're watching," he said.
Wakeman said she also instructs her employees to circulate throughout the store, make eye contact with shoppers, and if they have any doubt about someone, request to search their bags. However, she notes it can be hard for employees to accuse someone and run the risk of being wrong.
"Even if you're 99 percent sure, there's that 1 percent of doubt of accusing someone who's innocent and that's tough," she said.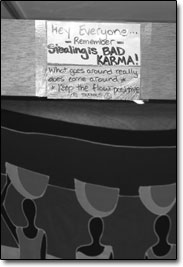 A sign attached to the dressing room
at the Animas Trading Co. tries to
help deter any five-fingered discounts./ Photo by Todd Newcomer.
Smith said fellow shoppers also can play a role in stopping thieves.
"If people think more people are watching than just the store clerk, they won't steal," he said.
However, Smith admitted there is a certain laissez faire attitude associated with people who witness a crime but don't want to get involved. Wakeman said she believes this is especially true among younger people, who often adhere to a strict no-tattling code. She said that was the case with her recent alleged shoplifters, two Fort Lewis College students who were caught on a tip from a fellow student.
"That's a tough thing for kids to come and say, 'I know who did it,'" she said.
However, Smith said people who think stealing doesn't affect them are wrong.
"Businesses have to make up the profit somewhere, and that largely results in higher prices," he said.
Stapleton said he must sell several CDs to make up for one stolen one. He has not done an inventory since buying the store last spring, but an informal tracking system has so far turned up about 70 missing titles. He said he finds about one empty jewel case a week, ranging from Billy Holliday and Creedence Clearwater Revival to electronica.
"That leads me to believe it's different people," he said.
Like Smith, Stapleton, who has worked at Tower Records in both Southern California and Boston, said it is hard to stereotype the typical shoplifter.
"I've done this for 35 years, and I've never been more amazed at the types of people I've caught, from celebrities to kids to guys in business suits," he said.
Stapleton said although types of thieves vary, they typically do it for one of three reasons.
"Some do it for the thrill, some because they don't have money and some because they are plain evil," he said.
Capt. Smith said most shoplifters are caught after having done it for a while.
"Rarely are they caught on the first time," he said.
However, he said with most misdemeanor (up to $500) shoplifters, the prospect of up to a $1,000 fine and 90 days in jail is all it takes to get them on the straight and narrow.
"Once they're caught or charged or put into a diversion program or released to their parents, it seems to have a bigger impact,' he said. "They get the message it is a serious problem."
However, Stapleton wishes shoplifters would get the message a lot sooner.
"It's all for the thrill, but there's got to be something else out there that you can do," he said.