Surviving spring, Silverton style
Enduring the months of mud without money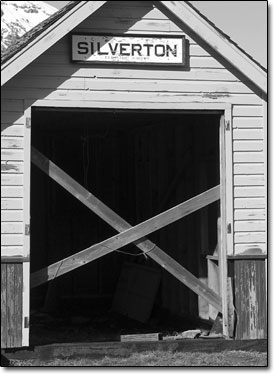 Two pieces of lumber inform tourists that an old out building at the Durango and Silverton
Railroad Depot is no longer in use. The train returns to Silverton on May 8./Photo by Todd Newcomer.
Spring in Silverton, sometimes referred to as "off season," sometimes cursed as "mud season," isn't really spring at all. It's more like...winter...held over for further engagement. You see, early on, you might get some pretty warm weather, and it gets that spring fever stirring. The snow begins to melt, parents (especially newcomers) put away the kids' snowsuits, and all those items hidden under the mounds of snow resurface reminding you they should have been put away last fall.
The streets begin to get a bit muddy, and then you get rivers, and even walking down the middle of the street the mud is well over the toes of your shoes, and people get out their seasonal wooden planks to make bridges between their cars and their front doors, and then the muck refreezes and becomes rutted and you can barely traverse the town streets by vehicle or foot.
Then you have the melting dog...uh...droppings that are a seasonal joke. It's not something most communities would even consider, but Silverton is a dog town, and all that "stuff" freezes and holds over, for months, 'til spring thaw. And THEN there's the perpetual beating winds of March and April. And by April, everyone is broke because it's been a long winter and the tourist season hasn't yet started, and the partner you chose last fall to keep you warm those long winter nights is beginning to get a little tiring...
And then, it snows all over again.
So how do people survive this perpetual winter? The slogging, the dreary days, the dashed hope of uncovering your meager garden to find not even a single green sprig pushing its way forth? The snow storms at the end of April?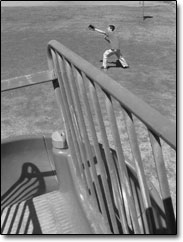 Matt Erickson, 16, plays a game of
catch during a warm Sunday afternoon in Silverton./Photo by
Newcomer.
"Beers, books and tropical beaches," says Scott Fetchenhier, proprietor of Fetch's Mining and Mercantile. "The fun begins for me in the off-season, because the store is closed and I can go on vacation." Fetch is also the author of Ghosts and Gold: The History of the Old Hundred Mine, and being a history buff, he uses the off-season for research. His next book is on the Caledonia, another local mine.
"You can't really get bored up here, maybe a bit lonely sometimes, but never bored," he says. "There's still some good skiing, and some places you can hike. I have fun spending time with my kids. There's always plenty to do."
It's not all great, though. By April, the melting snow has water pouring in his back alley door, the pot-holes are swallowing his little car whole, and his bank account is ready for that tourist dollar. Now there's a reoccurring theme.
"I'm broke," says Lisa Richardson who grew up in Bayfield and moved to Silverton 12 years ago. She works for the BLM during the summer and makes stained glass in the winter.
"It kinda sucks when you go out in the 'realworld' and see what the people out there have compared to what little you have," she shrugs. "But then, at the same time, that's what bugs me about the real world anyway, so..."
I'm sitting by the wood stove in the "glass shack" of Grenadier Glassworks, the business Lisa started two years ago, drinking a cup of tea while she creates a window of wildflowers and mountains. When I ask her how she survives mud-season/off-season, she laughs.
"It doesn't really cross my mind," she says. "It's just another season, part of living here."
Lisa loves Silverton. Her mother loved the mountains, her grandmother loved the mountains. A little mud? Not worth worrying about. Actually, she likes the off-season, saying, "With my summer job, I see the backcountry saturated with mechanized movement, manmade objects. In the off-season, there's none of that. It's quiet."
And April is a good time for preparation, both for her BLM job and for the real spring. "I get out my flower books and read up again," she says. "People are always asking what types of wild flowers we have up here."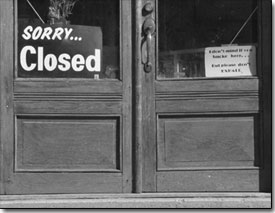 A pair of signs inform passersby on the current state of business in downtown
Silverton./Photo by Todd Newcomer.
And there is her own yard that needs to be cleaned up so the lawn and flowers can poke out when the last threat of freeze has come and gone. Just the day-to-day activities that everyone faces, except Silverton faces them with a view.
"What's an off-season?" Tommy Evans, local plumber, contractor, musician, ski bum, and poker shark, asks as he works in his back apartment during a cold, snowy day. Tommy's been in town off and on for 17 years. He grew up in Oregon and wandered thereafter until he found his place in Silverton and finally stayed.
"I think it depends on what you do on a daily basis," he philosophizes. "You kind of have to have momentum going into it, have plenty to do."
Dale Jaramillo, born and raised in Silverton and owner of Silverton LP Gas, agrees. "No off-season for propane," he says. "We're always busy. But it can get ya, cabin fever. There's that anxiety that comes on, feels like spring, like you should be doing something."
It seems that the "old timers" are less affected by cabin fever, since they seem to be less likely to run away to the Bahamas with the onset of April. But both Tommy and Dale have thoughts on this, too.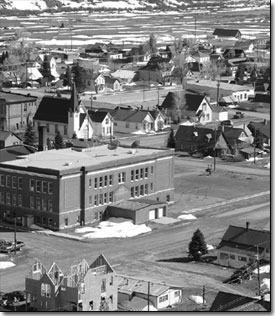 Cross streets see little use during a sleepy Sunday afternoon in Silverton./Photo
by Todd Newcomer.
"It's kind of preconceived (cabin fever)," Tommy says. "People kind of expect it. They see it coming." As far as old timers being less affected, he doesn't think so.
"I think those who've lived here longer probably just have jobs that force them to stay around. A lot of the newbies aren't as settled in; they're more footloose."
Dale counters, "Nah, people who've lived here longest are the ones that are the most crazy, because they know how long the bad weather's gonna last." Dale then leans back in the rocking chair, adjusts his cap and says, "But, that's an interesting question, because the new people have been out there in the world and they KNOW it's spring somewhere."
The best advice?
"Just stay away from the negative ones," says Dale. "They're the ones that will draw you down, really eat at you, complaining all the time. It's easier that way."
And the negativity does come about, one person joked that spring is when we recall most of our elected officials. And another said the best way to survive the season is divorce – she had her hand shaken by the woman standing next to us. Obviously, she concurred.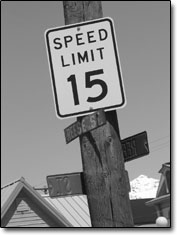 A speed limit sign rests securely
above weathered street signs on a
telephone pole along Reese
Street./Photo by Todd Newcomer.
It is also the season the stories begin. You find out who's been sleeping with whom through the long winter nights; who is leaving town; and who is moving in. It is the time to look for work or look for a new apartment. It is a time of flux, of movement after being holed up for several months and a time of separate vacations and of new spring love.
Silverton slogs through the mud into the season of chaos, and people, and music and money, long days, wild nights and preparation—for winter, for shoveling snow, for loneliness, for being broke, for mud, and the return again of spring.
"You gotta love it to live here," says Dale, getting ready to leave. "There are easier places to live for sure. But it's home."