Fort Lewis to graduate 41st class
Fort Lewis College will graduate its 41st baccalaureate class this Saturday, May 1, at Whalen Gymnasium. Joe Shirley Jr., president of the Navajo Nation, will deliver the commencement address to the 577 graduating students.
Fort Lewis College President Robert Dolphin, Jr. said that he is delighted to welcome President Shirley. "His leadership and commitment to educating tribal members and our heritage in educating Native Americans makes his presence today as our speaker of particular significance to Fort Lewis College and our students."
Dolphin said that since taking office as the sixth President of the Navajo Nation, Shirley has shown his commitment to serve the Navajo Nation and its people by giving power back to them. His presidential record shows a commitment to innovations in education, technology and economic development.
"Our children can obtain the best education available, so they can stand on their own and provide for their children and our grandchildren while retaining our valued traditions, language, lands and sovereignty," Shirley said in a recent address.
Ceremonies will take place at 9 & 11:30 a.m. this Saturday, and Shirley will deliver the commencement address at each. Receptions will follow at the Student Life Center.
In other Fort Lewis College news, members of the faculty recently elected Assistant Professor of Exercise Science Jim Cross as faculty representative to the Board of Trustees. Cross will begin serving his two-year term at the start of the 2004-05 academic year. Cross will replace Professor of Art Susan Moss, who served in that position since the inaugural Board of Trustees began governing the college on Sept. 1, 2002.
"Representing colleagues is an honor and the faculty has embraced me with open minds," Cross said. "I look forward to representing the faculty to the board and representing the board to the faculty."
In 2002, Colorado Gov. Bill Owens approved the creation of a stand-alone Board of Trustees for Fort Lewis College. The trustees make policies for the college and oversee its operation.
Counterfeit bills arrive in Durango
The Durango Police Department is warning area merchants and banks to be on the alert for counterfeit bills being circulated in the Durango area. Twenty-eight counterfeit bills have been reported in Durango since October of last year. Sgt. Tony Archuleta said that number definitely marks a spike.
"I'd say it's more than usual," he said. "Usually we don't get too many counterfeit bills."
Archuleta said that the numbers indicate that bills likely are being produced locally or in the region.
"The number of bills we've gotten indicates that they probably are being produced somewhere in the region," he said. "We've had 28 of them since October, and they've seen quite a few up in Grand Junction and Mesa County."
Archuleta said the Durango Police Department encourages merchants to look for the watermarks, micro-printing and colored fibers and said that counterfeit-detection pens likely will not work on the bills. People suspecting that they have received a counterfeit bill, should handle it as little as possible and contact the police department at 385-2930.
Telluride Ski & Golf taps new CEO
More changes are afoot in nearby Telluride. Chuck and Chad Horning recently purchased the majority share of the Telluride Ski & Golf Resort and now they have imported a new chief executive officer to head the company.
Raymond Jacobi will oversee all aspects of resort operations, sales, marketing and management as well as the overall growth and development of properties. Jacobi comes to Telluride with more than 28 years of hospitality experience, most recently serving as chief operating officer of Rosewood Hotels and Resorts, a global hotel company based in Dallas. Jacobi's other experience has been with higher-end hotels including the Phoenician in Scottsdale and the Waldorf Astoria in New York City.
"We are continuing our emphasis on providing and enhancing the overall guest experience, and Ray is the ideal fit for this company," Chad Horning said. "Ray is a proven hospitality veteran and has overseen the operations of several hotel, restaurant and resort entities with professionalism and finesse."
Jacobi started his new position April 19 and said he is looking forward to moving his wife Ashley, 13-year old son Jason, and Havanna, a Jack Russell terrier, to Telluride in early June. Jacobi said, "I am excited to be part of this well-regarded resort and community."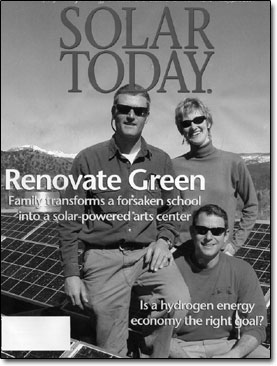 Solar Today profiles Smiley Building
Fresh on the heels of hosting Durango's 4th annual Earth Day celebration, the Smiley Building received national recognition this week. Brothers John and Charles Shaw and Charles' wife, Lisa Bodwalk, the founders of the local arts cooperative, were featured in a cover story in Solar Today magazine, a prominent, alternative energy publication.
Solar Today is the official publication of the American Solar Energy Society and is distributed to nearly 10,000 subscribers nationwide. The article focuses on the Shaws' and Bodwalk's renovation of the abandoned middle school into a solar-powered community arts center.
"If the word revolutionary' can be applied to something 68 years old, then the efficient, solar-powered Smiley Building is exactly that," opens the article by Scott Graham.
Graham goes on to detail the building's conservation and solar energy innovations mentioning solar thermal panels, a photovoltaic array, high-efficiency boilers, motion detectors, compact fluorescent lighting, low-flow faucets, tubular skylights, on-demand water heaters and wastewater heat exchangers.
"We do have a plan to produce all of our own energy," John Shaw commented. "Right now we're producing about 40 percent of our electricity and 30 percent of our heat by solar power."
Charles Shaw added, "We're still on track for that. Our target is in approximately five years from now to be able to do that. I don't see that as a problem."
Charles noted that the reason the Smiley Building landed on the cover is the homespun nature of the renovation.
"I think what they recognized is the difference between us and a lot of other stuff," he said. "They're mostly dealing with multi-million dollar projects. They seemed pretty attracted to the fact that it was the three of us doing it on a small budget and making it pay for itself."
John said that the trio was pleased to see the article and is looking forward to the buzz it will generate.
"We're really proud of the article and proud of the building and it's nice to get some national recognition," John said. "A big part of Smiley is getting the word out about solar energy and conservation and having it in the magazine really helps accomplish that goal."
Charles agreed, saying, "I hope it rubs off on some people."