by Mike Sheahan
S pring, at long last, has sprung in many ways. The early bulbs are up and deciduous trees are leafing, the promise of one last inexplicable snow storm seems far off, and young ladies everywhere are walking around town often wearing nothing more than short pants and cleverly arranged bandanas. Spring, though called an off-season here in the Four Corners, has to be in the top three on the list of the best of the four seasons. Baseball season is close to reaching full stride, the NBA and NHL are about to finally become exciting, and the Animas River looks to be fun for one last year before A-LP drains it to a trickle.
Local pessimists will endlessly complain that the Animas will soon run dry, the Rocket Drive In will close its gates, and surely the only live music to be heard in town will be a jazzy-funk-bluegrass-rock combo at one place with the only competition a bluegrassy-funk and jazz-with Latin grooved hybrid somewhere else. These pessimists may be right: the Animas will soon run like my kitchen faucet, the Rocket will soon be a Target and eventually all Durango bands will sound exactly alike. There really isnmuch evidence to refute any of these ideas.
That is why, and this is the important part, we all must make concerted efforts to see that none of those things happen. I'm not exactly saying you should monkey wrench A-LP, but I am saying you should support that which makes our small town lifestyle worthwhile. Go to the drive-in, shop downtown before Wal-Mart, and try a locally owned eatery before heading for a bloomin' onion for chrissake. If Durango is to carry on with the charm that brought us all here, it will take a revolt against the bloomin' onion and all other forms of cookie-cutter public satisfaction. After all, Farmington is just a skip down the road if that's what you want.
The important local activity begins tonight, April 29, at the Diamond Circle Theatre with a benefit for Melissa Crabtree . Some of our personal favorites including Durango's best bluegrass band The Badly Bent and local troubadour Sand Sheff will entertain crowds starting at 7 p.m. The Wild Blooms and Benny Galloway and the Wayward Sons round out a bill that rightfully should raise a pile of dough for Ms. Crabtree.
The very next night, Friday, April 30, presents something of a scheduling challenge. My personal favorite local band, The Lawn Chair Kings , now fortified with eight essential vitamins in the form of lead guitar work from Steve Stokes, play at Storyville.
The LCK's switch from a trio to a quatro has predictably led to a new depth in the band and has added more melody to the Kings' rhythmic sound. If, like me, you find yourself settin' around and complaining about the current state of entertainment in our burgh, this is a great chance to check out to an old favorite wearing a slightly new face.
On the same night, the Abbey Theatre hosts the farewell, at least for a while, show by another favorite Freewill Recovery . Many, many will join the boys on stage to make the night akin to one of Sand Sheff's old time revivals. Members of many local bands will sit in to create a freestyle party atmosphere.
My advice on Friday night? Pay cover at both places and work off the Jager or kamikaze shots by jogging back and forth up and down Main.
If your idea of a good time is watching a squeaky clean Harlem Globetrotters-like basketball team from Fort Collins perform basketball trickery, then the Harlem Ambassadors are the ticket for you. On Tuesday, May 4, The Whalen Gym at FLC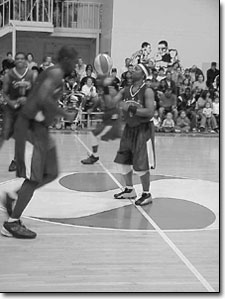 will host The Harlem Ambassadors , who combine acrobatic basketball skills with a life affirming message. I have never been to the Harlem section of Fort Collins but if the "old town" section of Fort Collins is any indication, I never will dig farther north. The Front Range, I mean, Harlem Ambassadors take the court at 7 p.m., the evening is a benefit for Habitat for Humanity. They do good things.
Album of the Week: Before Elvis Costello earned the angry young man tag and Nick Lowe was the sole voice of English mod-pop, Graham Parker and the Rumor were making their own splash. At his best and with albums like "Squeezing Out Sparks" or "Mona Lisa's Sister," Parker has been, along with Billy Bragg, one of the true post-punk pop trend setters. Parker has never been one to hide his influences; his latest "Your Country" nods at his decades long attempt to mock and simultaneously pay tribute to American rock and country styles. Does it work? Depends on the song.
The lead-off track "Anything for a Laugh" is as self- deprecating as anything Parker is famous for and makes me want to wake my neighbors. Later on, the unexplainable version of the Grateful Dead's "Sugaree" makes no sense. Here is the only man to come out of the late '70s making as few compromises as Neil Young or Elvis Costello and then this? A rote version of an already stupid song.
That tune marks Parker's career. Hit and miss; good here, bad there. If you can catch him at his best (the above albums but add "Live: Alone in America") there really is none better. "Your Country" will become a new country classic.
The new Loretta Lynn is in stores. Buy it now.