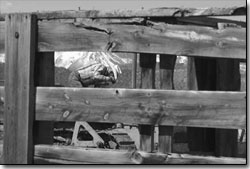 Fenced In: A local rancher fires up the dozer recently below the snowcapped peaks of the La Plata Mountains./Photo by Todd Newcomer.
Joe Colgan tapped as Durango's new mayor
Mayor Virginia Castro handed over the reins of the Durango City Council to Joe Colgan last Tuesday. The position rotates amongst the council members every year. Colgan has served on council for seven years and served as mayor during 1999/2000. Dale Garland was named mayor pro tem.
"I'm very happy to be elected mayor," Colgan commented. "This is a great city and we have some great opportunities and challenges ahead. If this term is as successful as my first effort, I'll be real happy."
Castro's term included the controversial denial of River Trails Ranch as well as the declaration of Durango as a Patriot Act-free zone and a fiery debate on parking issues.
"I feel like the past year went by very quickly, and yet when I look back at all of the issues and meetings, it was also probably one of the longest years of my life," she said. "In a word, I would describe the end of my term as mayor as bittersweet."
Castro said that the position goes into capable hands, particularly since Colgan has already served as mayor. "Joe has the rare honor of serving as the mayor previously," she said. "He definitely has the first-hand experience of presiding over the meetings."
Colgan said that Durango faces many of the same challenges as it did during his first term.
"The issues never seem to change growth, affordable housing, providing the infrastructure needs to keep the city functioning well," he said. "A new library is going to be an important issue in the near future."
Major water users ready for drought
For the second year in a row, major water users of the San Juan River Basin are preparing for summer water shortages. Ten participating entities in northern New Mexico have signed a shortage-sharing agreement in case flows in the San Juan and Animas rivers are sub-par.
The New Mexico Interstate Stream Commission described both the 2003 and 2004 agreements as unprecedented examples of tribal, governmental, agricultural and industrial cooperation. The agreement should enable users like power plants, municipalities and irrigators to address shortages without lawsuits.
"The possibility of priority administration on the San Juan River was averted during 2003 because major water users on the river in New Mexico developed recommendations for sharing shortages," explained New Mexico State Engineer John D'Antonio.
D'Antonio added that this year's agreement should accomplish the same goal.
"I support the efforts of water users to work toward cooperative solutions," he continued. "These solutions are preferable to state or court-imposed actions."
The parties to the shortage-sharing agreement are the Navajo Nation; the Jicarilla Apache Nation; PNM (operator of the San Juan Generating Station); Arizona Public Service (operator of the Four Corners Power Plant); BHP Billiton; the Hammond Irrigation Project; the City of Farmington; the Jewett Valley Ditch; the Farmers Mutual Ditch; and the Bloomfield Irrigation District.
As part of the agreement's principles, the entities have agreed to reduce water consumption to protect the critical level at Navajo Reservoir. The San Juan Generating Station, the Four Corners Power Plant and BHP Billiton, another energy company, have also contracted to lease an additional 16,000 acre-feet of water from the Jicarilla Apache Nation during 2004 for use at the power plants and coal mines.
Locals to March for Women's Lives
Local residents will join thousands of others nationally in the continuing fight for women's rights this Sunday, April 25. In Washington, D.C., the March for Women's Lives will he held in support of reproductive freedom. Durango will add its support to this massive public demonstration with a sister march beginning at Rotary Park at 1:30 p.m. and marching down Main Avenue.
"Now is the time to stand up and be counted in the fight for women's rights," said local National Organization for Women (NOW) Coordinator, Cynthia Aspen.
Aspen said that women's reproductive rights are currently under attack more than they have ever been in the last decade. She added that march organizers seek to demonstrate that an overwhelming majority of Americans believe that they, not the government, should have the right to make deeply personal health decisions.
"This historic demonstration aims to send a clear and resounding message to George W. Bush and to the United States Supreme Court that we will fight to protect women's self-determination and reproductive freedom, including birth control and abortion," Aspen said. "It is time to send a wake-up call to our leaders that Americans will fight to protect women's fundamental reproductive rights."
Aspen concluded, "Reproductive freedom is a human right that all women worldwide must be able to exercise. That's why we plan to make our voices heard on April 25."
"The global gag rule' is just one more reason why hundreds of thousands of women's rights supporters will converge in Washington, D.C., to march for women's lives," said Aspen.
NOW is one of nearly 1,000 organizations nationwide that will participate in the March for Women's Lives.
National Monument receives boost
The integrity of the Canyons of the Ancients National Monument improved this week. The Trust for Public Land and Bureau of Land Management announced the purchase of a 440-acre parcel within the boundaries of the relatively new national monument west of Cortez. The formerly private land will become part of the monument and conveyed to the BLM.
The parcel is the final piece of the original 2,000-acre Trail Canyon Ranch, which was owned and operated by Reece and Leslie Ann Malles. On an adjacent part of the ranch sold previously to private buyers, a conservation easement has been placed to protect an important Anasazi site, including one of only a dozen great kivas known to exist in Southwestern Colorado. Work also is under way to stabilize and restore a historic rock cabin on the parcel, and conservation easements are being pursued on other portions of the ranch.
"The Malles have been sensitive to the cultural resource values of their property for many years, and we are pleased they expressed interest in making this last piece of the Trail Canyon Ranch part of Canyons of the Ancients National Monument," said LouAnn Jacobson, Monument Manager.The acquisition, about 7 miles west of Cortez, includes Morrison Canyon and a mesa overlooking adjacent Trail Canyon. It contains 10 important archeological sites, according to a survey conducted by the Fort Lewis College Anthropology Department, including a pithouse, village sites, a pueblo, a granary and a field house constructed by Puebloan peoples.
"Working to protect a place like this with the landowner, the BLM, and the community is gratifying and immensely important," said Doug Robotham, director of TPL's Colorado program.
Canyons of the Ancients encompasses 164,000 acres of federal land west of Cortez and was designated as a monument in 2000 by presidential proclamation.