by Mike Sheahan
A fter the craziness of the last two weeks (the Meltdown most recently and the widespread euphoric madness of the week before), this week's marked slow-down actually comes as something of a relief. Even for seasoned veterans such as yours truly and, presumably, most of y'all, to keep up such a pace would eventually require serious therapy or even a little time in the thug jug. Maybe both. It is with that thought in mind that The Goods' major recommendation this week is to chill out for a couple of days. The thought of staying home in order to befriend your television set, or as a last resort, your roommates or family, is no news on this page. This week, though, most of us need the rest as much as Donald Trump needs a haircut. After a day or so of crashing at 10 p.m. and sleeping until noon, you'll be ready to hit the bricks again, and there will be no shortage of diversion.
The lightened atmosphere of this week lends itself well to the two-night stand. For example, if you passed on the first night of nighttime fun because "Caddyshack" and "Blazing Saddles" were being shown on one of your uncensored movie channels, you can always catch the second night. This week finds us with two-night stands galore.
Local rockers Freewill Recovery will hold court at the Summit on Friday, April 23, and Saturday, April 24. Assurances have been made that each night will provide entirely different shows all the way down to wardrobe. Wardrobe, eh? That might mean that on Saturday someone different will be wearing the David Letterman t-shirt. Although this next fact smacks of payolla or at least plug-olla, I have it on solid authority that this little bit of promotion has earned me the right to request and, in all probability, force the band to learn any song at my fancy. That said, be on the lookout for Freewill's interpretation of the Bachman-Turner Overdrive classic "Takin' Care of Business." That alone will be worth the cover price for both nights.
The two-fer week of fun continues at Scoot 'n Blues on Friday and Saturday. The seemingly just post-pubescent Santa Fe guitar virtuoso Alex Maryol will make what seems to be his monthly stop. Maryol is much more than just a dude to check out because of his youth and ability to rock. With a style that seems to come firmly from the Stevie Ray Vaughan world of blues, everything I know of the guy says that he can play that Texas blues style with enough originality to avoid being called derivative. Shows at Scoots usually get running around 8 p.m.
One of the biggest fantasies of nonathletic, prepubescent boys (and some other people for sure) is to one day emerge bleary-eyed from one's basement or garage, storm some local stage and kick major ass at the battle of the bands competition. Thanks to Storyville and another two-night run, you have the chance to hear what many of our local bands sound like in person rather than from a garage two houses over just as you got your kid to sleep for the night and were digging into the couch with a really big vodka drink, only to be ripped from your reverie by simultaneous screams from the baby's bedroom and that evil garage. For example, that is. This two-day event happening on Friday and Saturday will be the perfect chance for many of us to check out the Amazing Larrys or Ralph Dinosaurs of Durango's tomorrow while also affording some the chance to do a little creative bulldozing with the knowledge none is actually in that blasted garage.
The winner of the contest gets 10 hours of recording time at Eagle Sound and the chance to open for a "mainstream band or artist" at the FLC Community Concert Hall. The label "mainstream band or artist" could range anywhere from John Tesh to Ozzy Osborne, so I've pinned my hopes on the heavy metal piano band called "Mercyful 88."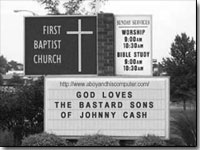 After the big fun at Storyville on Friday and Saturday, the hard-working crew gets a day break before having to do it all again on Monday when The Bastard Sons of Johnny Cash make a return to the venue. The April 26 show marks a long-awaited return to Durango since the cancellation of a show a couple of months ago. Not only do the Bastard Sons deliver a night filled with sincere, straight-from-the-heartland country rock and roll, but they are some of the nicest boys you'll ever meet. To paraphrase a line from The Blues Brothers, the BSOJC play songs that cover all three types of music: country, western and rock 'n' roll. This is the don't-miss billing of the week.
Album of the Week: A quick two-part disclaimer: The minute I heard that Jack White (of "White Stripes" fame) had been hired on to produce an album of songs wholly written and sung by Loretta Lynn , I was convinced it was a winner; and it should be known that I am reviewing this album based solely on a six-song advance copy of the 13-track final album that will hit the stores April 27. Exceptions aside, and with

little hyperbole, I can say that the album "Van Lear Rose" will go down as the most important marriage between country music and rock 'n' roll since Jerry Lee Lewis hitched up with his 13-year-old cousin. The second lady of country music (Patsy being the first) is imbued with new life under the direction of the current reigning king of alternative guitar. On her own website, Ms. Lynn cautions fans to be warned that this new album sounds "a little more rock and roll" than long time fans may be used to, amounting to a classic country music understatement. Jack White's Stripes-ish guitar riffs aside, Lynn sounds more raw, unfettered and, most importantly, more real than so-called punks like Courtney Love.
When you buy the album that will certainly top the best of 2004 lists of most music lovers, remember that while Jack "Mr. Alt-rock" White produced and arranged the record, in the end Loretta Lynn wrote every single song. Including the lyrics "I'm almost drunk from the drinks I turned down" and "I looked at him, he looked at me, I knew right then we were takin' it free." This and so much more from a woman who has owned herself for the better part of six decades. This album will win Grammies and cause youngsters like Sheryl Crow and Shania Twain to flee Diva galas in embarrassment.
As it should be. Real country was punk long before there was a thing called punk. This album shows that.
Loretta Lynn is a ham sandwich in Hungry Town. mpsheahan@yahoo.com