I'm certain my old bosses, both generations of them, rolled over in the cabs of their Ford pickups. Granted it had been a decade since I'd served one of their orders, but the connection was still there. And those Colorado cattlemen were the first thing that popped into my mind as I accepted a job at (horror of all horrors) a Colorado hobby ranch.

As a fresh arrival to Durango, I faced the same stale, local job market as most fresh arrivals. Though tempting, the night janitor shift at McDonald's held a limited future, and unfortunately, I'd already maxed out my dance card for schlepping construction supplies. When things were looking bleakest and someone suggested they could get me a job stocking at the now defunct Big Kmart, daylight broke.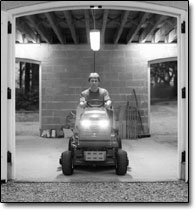 "Ranch Worker Wanted," the listing read. "Must be accustomed to hard work. No housing available."
I promptly picked up the phone and explained my qualifications. During all four years of high school, a particularly nasty case of teen-age rebellion made me shed my Telluride skin and take a job on a working cattle ranch in nearby Norwood. And after stringing hundreds of miles of barbed wire, bucking tens of thousands of bales, logging hour after hour behind the wheel of a tractor, and branding, castrating and vaccinating thousands of Herefords, I learned a little something about land management.
During my Durango job interview, it was these credentials that shined. My graduation with double majors, time working at a Washington, D.C. think tank and tenure as a newspaper editor and publisher were insignificant. And the following day, I began work at a ranch well up Florida Road. It would open my eyes to a new era of ranching.
After all, I had traded a rough and tumble 1,800 acres on the west end of San Miguel County for 80 manicured acres just east of Durango. I swapped rusty barbed wire for upscale electric fence. The once-giant herd of 800 beef cows had been transformed into 14 horses at the top of their breed. And I exchanged two crusty cowboys descended from homesteaders for a couple who had recently relocated to La Plata County from California and purchased a piece of a now-defunct cattle ranch.
What can I say? The ranch was beautiful. The work promised to be interesting. And the wages were worlds ahead of anything available downtown. I happily slipped on my work gloves and got down to it. Immediately I was challenged in new ways.
Three days into my job, I received an unusual request. "We're going to shoot some video of one of the horses," I was informed. "We need you to remove the pine needles from the southwest pasture."
The southwest pasture contained no fewer than 60 Ponderosa Pines and these 60 mature trees had probably been shedding needles since shortly after Paul Revere made his famous ride. Still, I hunkered down and did my best to undo well over a century of history.
This standard held for the entire property, and I found myself removing thistle and trimming brome with a gardener's precision and picking every piece of rock larger than a jaw breaker.
Several weeks later, the pace of work changed when the happiest of mother nature's cycles arrived breeding season. While many consider breeding the highest of all endeavors, the equine version can be a little rough around the edges. My job was to hang onto and somehow control 1,200 pounds of stallion made crazed by mares in heat. During the courtship and seduction process, I was to introduce the future couple either over a fence or the "teasing wall." Through a process of kicks, snorts and rearing, the lovers would become acquainted. Then the lady would be temporarily taken away, only to mysteriously reappear for the grand reunion. Occasionally, the connection needed a little assistance and naturally it was my job to help out. My old bosses were certainly still rolling over but this time on the ground in laughter. Still, after about six months I started to overcome the sense that I was somehow betraying Colorado's heritage. Yes, I started to get the hang of gentleman ranching, and the owners and I started seeing more eye to eye. I happily kept the fences ship-shape, the fields maintained and the horses fat and happy. I even started looking forward to breeding season in the same cavalier way I'd awaited branding season. Somehow that hobby ranch/gentleman's farm held my attention for nearly two years.
And while I didn't always agree with the methods, it was comforting to know that a piece of La Plata County wasn't being overrun with noxious weeds or worse yet, further subdivided and covered with housing.
Every day I arrived at work the adjacent property spoke to another sobering reality. There on a piece of that now-defunct cattle ranch, barbed wire sagged along the fenceline, Canada thistle blanketed the field with a giant hue of purple, and rust slowly consumed an old piece of farm equipment. I only hope my old bosses, both generations of them, are still finding a way to gas up those Fords, keep the fences up and drive the cattle to the upper ranch every spring.