The grass is bluer for Hugh Felt
Bluegrass icon reflects on picking in Durango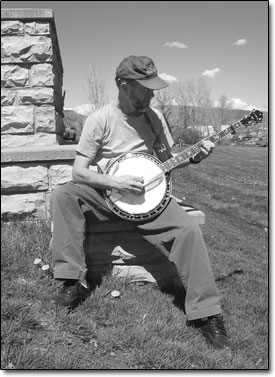 Hugh Felt, local bluegrass musician and D.J. for KSUT's "The Grass is Bluer," enjoys a warm
afternoon of pickin' in Schneider Park during his lunch break Tuesday./Photo by Todd Newcomer.
He seems like a mild-mannered postal worker, friendly and polite. But beneath Hugh Felt's calm exterior lies the heart of a bluegrass fanatic. Felt is the host of KSUT's bluegrass show "The Grass is Bluer," plays banjo and mandolin in two bluegrass bands, and has been involved with the Durango Bluegrass Meltdown since its inception 10 years ago.
For this year's Meltdown, Felt and his bands "Down the Road" and "Big Timbre" will perform, and Felt will host the "Reeltime Travelers" playing live at KSUT, but he'll also spend plenty of time enjoying the 10th anniversary of what he calls "a picker-friendly festival." Many bands that played the first Meltdown will return for the occasion, and one of Felt's heroes, Alan Munde, will be playing this year.
"We've seen a lot of the biggest names in bluegrass come through town for the festival over the last 10 years," Felt said. "They believed in our little festival and knew what fun it was. It's a very personal kind of gathering."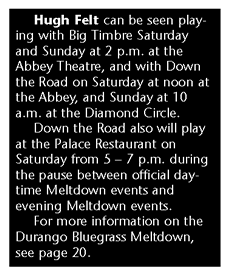 Felt's passion for music has grown steadily over the years. He started playing the guitar during college after attending a Van Morrison concert in his hometown of Los Alamos, N.M. One song in particular affected him.
"I thought, 'E, E minor, D, A – I can do all of those (chords)!'" Felt recalled. "I drove my roommate crazy playing 'Gloria!'"
It was the '60s, so Felt added some simple folk songs to his repertoire. Then in the fall of 1969, a few months before being sent to Vietnam with the army, Felt saw bluegrass great John Hartford. Felt was impressed with how many instruments Hartford played, even creating sound by "shuffling around on a piece of plywood."
"That planted the seed," Felt said.
Felt was discharged from the military on July 4, 1971 – "a whole new meaning of Independence Day for me" – and became a schoolteacher in Brighton, a town 20 miles northeast of Denver that is about a half hour drive from the Adams County Fairgrounds. In spring of 1979, Felt drove that half hour to the fairgrounds and the Rocky Mountain Bluegrass Festival (now RockyGrass), where he heard Lester Flatt and a young Hot Rize and had a "bluegrass epiphany."
"I just thought, 'This is so cool,'" Felt said. "I began to gravitate toward the banjo and this new kind of folk music called bluegrass."
Felt moved to Durango shortly thereafter and began teaching kindergarten in the 9-R School District, where his oldest daughter, Emily, was one of his students.
"I still have kids around town who look down on me and say, 'Mr. Felt?'" he laughed.
Felt finally bought his first banjo in 1983.
"I was just crazy about it," he said.
Felt started playing music with fellow teacher and guitarist Jack Tallmadge, and they soon formed the Rusty Razor String Band with Pat Dressen (Badly Bent guitarist) and bassist Larry Boyce. The band got its name "because we all had beards," Felt said.
"I was just a fledging banjo player, but they let me play with them anyway," he said.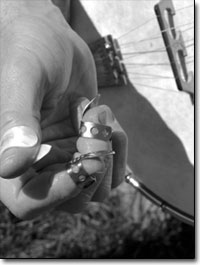 Hugh Felt displays the picks he uses for playing his banjo. Felt, who now plays with two local and regional bands, started playing the banjo in 1983./Photo by Todd Newcomer.
At that time, there was hardly any bluegrass being played in Durango, a "bit of a hole" in the music scene, Felt said. But then Michael Burke started producing a Sunday night folk and bluegrass series at Farquahrts, and the band suddenly had a regular venue for gigs. Burke helped build the local bluegrass community by "importing" regional bands as well, Felt said, and increasing numbers of people grew interested in playing bluegrass. 4
"It was pretty fun being within that group of people beginning to share their love of the music," Felt said. "We all had a kind of growing knowledge and were experimenting with ways to make it more interesting."
Over the years, those musicians have played together in different bands for different reasons, from benefits to weddings.
"There's an expression about bluegrass being incestuous," Felt chuckled. "Incest was alive and well in those days, musically."
Felt has continued his love of bluegrass by playing as well as singing and songwriting. After a brief stint on a dairy farm before starting work at the post office, he wrote a song called "Bovine Wine."
"I like those little hooks that have some hilarity about them, especially for lighter songs," Felt said.
Felt started producing his radio show "The Grass is Bluer" on KSUT in the fall of 1994, about six months before the first Durango Bluegrass Meltdown. Ralph Stanley gave the festival a boost and piqued interest in bluegrass by playing the Diamond Circle Theatre just a few weeks prior. He also was a guest on Felt's show.
"It was a real shot in the arm to have someone of his stature show up," Felt said. "Suddenly I'm interviewing him on the radio and chauffeuring him around."
The chauffeuring aspect was in line with Felt's style: "I borrowed a van so he wouldn't have to squeeze in and out of my Subaru."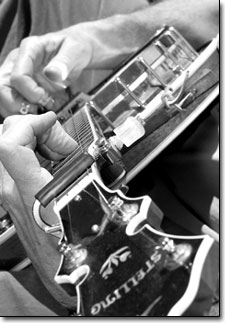 Hugh Felt's fingers move effortlessly over the
strings and frets of his banjo as he practices for his upcoming appearances in the Durango Bluegrass Meltdown, this weekend./Photo by Todd Newcomer.
Steve Rauworth, KSUT program director, said Felt's program has been an important part of KSUT's line-up for more than 10 years. "He has a dedication to bluegrass music that preceded its recent rise in popularity," he said. "and that dedication will help take bluegrass to new levels in the Four Corners. Hugh cares a great deal about what he does and it shows."
In fact, Felt spends six to eight hours a week preparing his show, which airs Thursdays from 9 to 10:30 p.m. He said he invests that much time because he wants to keep the show interesting for his listeners by having a theme-based show with elements of continuity and contrast, changes in key and rhythm.
"I've always had the mind that the music speaks for itself, but you can't just throw it out there," Felt said.
Though he's passionate about music, he is utterly devoid of pretension.
"How do you know when the bluegrass stage is level?" he joked, "The banjo player drools out of both sides of his mouth!"
He said his band mates (Big Timbre: Paul Scott, fiddle; Eric Jones, mando; Robert Rosenberg, guitar; Larry Boyce, bass. Down the Road: Dave Sime, guitar; Connie Morse, bass; Don Cooke, mando and fiddle) share his attitude.
"Our ambition is to share the music," Felt said. "Nobody imagines that we're gonna make it big time, but it's an opportunity to share the music."
Felt added that he is thrilled to be playing bluegrass with his friends at the Meltdown.
"It's very much, as Joseph Campbell would say, following my bliss," he said.