Diving 'Utah's Inland Ocean'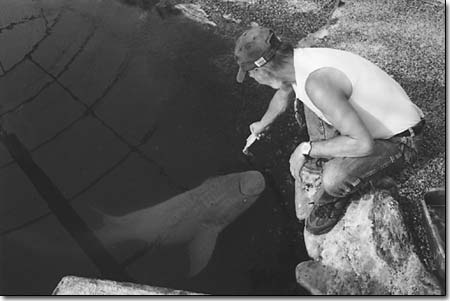 Shannon Caudill feeds frozen squid to a six-foot nurse shark at Bonneville Seabase, a budget vacation destination for Durangoans who need a taste of the ocean without the pricy plane ticket. / Photo by Jen Reeder
We Coloradoans may be far from an ocean, but we don't need to spend a lot of money to fly to one – we can go SCUBA diving at Utah's Bonneville Seabase. Seabase, which is about 40 miles west of Salt Lake City, is a dive park that features warm, spring-fed ponds stocked with tropical, subtropical and temperate fish from around the world. And because of its naturally warm waters, Seabase is open year-round for diving certification classes, snorkeling and "fun dives."
"Everything you want is right here," says Cliff Campbell, a Utah resident who has dived at Seabase about 30 times. "It's not the Caribbean, but I can only afford that every other weekend."
Seabase was the brainchild of spouses Linda Nelson and George Sanders. As owners of a Salt Lake City dive school, Neptune Divers, which started in 1979, they wanted a special place to hold their open-water certification classes. In preparing Seabase, they dealt with "huge" red tape and expenses involved with stabilizing the boggy ground. Some were skeptical of the endeavor and believed fish would not be able to live there.
DIRECTIONS: From
Salt Lake City, take
I-80 West to Exit 84.
Exit on your right. At
the stop sign on the
frontage road, turn
left. Take the second
left under the freeway
onto Highway 138.
Drive 5 miles south;
Seabase will be on
your left.
"They told me (the geothermal water) was good for putting out fires," Nelson says with a laugh.
Despite the odds, Seabase opened in 1988.
"We didn't plan on a resort," Nelson says, "just an open water site for those divers to certify."
But through word of mouth, Seabase grew into a dive center. Although it is 900 miles from the nearest coastline and 4,220 feet above sea level, it hosts about 100 visitors a week. Of course, the main attraction is the fish – namely sharks. Seabase visitors can watch staff members feed the resident nurse sharks at no extra charge (though an appointment is required). Snorkelers and divers who may be intimidated by the sharks' size – some are 8 feet long – should listen to public relations manager Shannon Caudill.
"They're mostly tail," he said as he slipped a frozen squid to a 6-foot nurse shark.
There are about 70 species of fish at Seabase, including puffers, angels, damsels, tangs, groupers, triggers, jacks, a snowflake moray eel named Bob and a large hippo tang named Willy. The fish adapt to life at Seabase extremely well, Nelson says, though there are occasional mishaps.
"They've done very, very well, but sharks just ate my angelfish," she says.
The biggest challenge facing Seabase is keeping the water clear. Staff members use a vacuum to clean algae, and sea squirts, small filter feeders, were recently introduced with the hope that as they multiply, they will clean the ponds naturally. So far, the program has been successful.
"They might just be the answer to our visibility problems," Nelson says.
The clearest days are during the week, when there are fewer visitors to stir up the clay bottoms and algae, and during the winter, when colder temperatures stunt algae growth.
Despite the colder temps, winter sees an increase in dive classes at Seabase. A covered area called the "Aquadome" provides a warm place for divers to suit up, and at the end of the day, swimmers can soak in the park's hot tub.
But the amenities are hardly luxurious. The restrooms consist of two Port-a-Potties, and snack bar offerings are mostly microwaveable products like burritos. However, though they may seem Spartan to some, the hot showers and on-site dive shop are a draw for visitors used to diving in lakes.
"Normally, you go to a lake to dive, but there's nowhere to rinse off, so you stay scuzzy all day," says Doug Kildoo, who has dived at Seabase about 20 times since he was certified there. "And in winter you can still dive, and there's a lot more marine life."
Marine life is also a draw for children, who are given the chance to feed romaine lettuce to the fish.
"You should not feed animals in the ocean, for their sake, but here they have to eat anyway," Nelson explains.
Other attractions at Seabase include a sunken ship ironically named "Sheer Joy"; a tunnel that connects main sites White Rocks Bay and Habitat Bay; and bubbles that rise from the floor (and, incidentally, from a statue of a naked boy named "Pierre." Get it?) There's also a 60-foot-deep hole called "The Abyss" which is available for deep dive certifications (for divers with "Advanced"-level certification) and for fun divers who make a reservation.
But Seabase isn't just for divers; snorkelers have fun there, too. When Don McClenny and his wife, Darlene, visited Seabase for the first time in July, he held his breath for a free dive and found himself eye-to-eye with a nurse shark. He urged his wife to dive down and find the shark, and when she surfaced, she exclaimed, "There's a shark down there!" He said the next words out of her mouth were, "How long does it take to get certified?"
Seabase is open Thursday through Sunday, and Monday through Wednesday by appointment. There is a $15 area use fee. Snorkel packages cost $10.75, and SCUBA packages (regulator, BC, tank and weights) are $21. Handicapped Scuba Association instruction is also available. For more information, visit www.seabase.net.