Extreme endeavor
Durango-based AdventureXtream race series takes off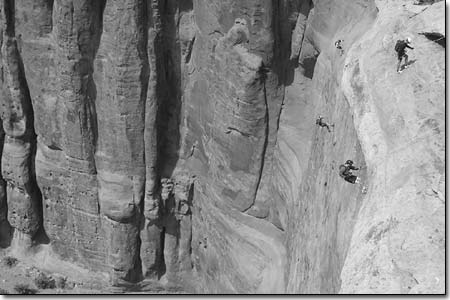 Teams descend the 250-foot rappel during the first race of this year's series, held last month in Moab./Photo by Todd Newcomer.
Will Newcomer is somewhat of an extremist. He's familiar with epic mountain bike rides, massive crag scaling and torrential river crossings – all in a day's work.
He'll do this, mind you, in Canada, Hawaii or Colorado. If the terrain supports his enthusiasm for outdoor sports, he's there when he can be. In previous years, this was often. But these days, Newcomer is too busy conducting events that he puts on for other like-minded extremists.
Newcomer is an adventure racer. It's a fast-growing "sport" that gained fame in the mid-1990s, when Mark Burnett – the guy you can thank or admonish for bringing reality television shows to the small screen – created and directed the Eco-Challenge, a multi-day event that requires participants to wend their way through nearly 300 miles by hiking, biking, paddling and canyoneering. With a lot of media attention and savvy marketing, this worldwide adventure race opened up a whole new outlet for people willing to push their bodies, minds, souls and patience to extreme limits. Though the Eco-Challenge was not the premiere adventure race of its kind, many in the industry credit the competition for introducing this type of challenge to the masses.
That includes Newcomer. Having worked for 10 years in the recreation industry – as a sales and marketing director for Dean Bicycles in Boulder and then as an event coordinator – Newcomer participated in the de rigueur sports for Colorado residents. As his skill and interest flourished, he began participating in such adventure races as the Sea2Summit and Power Bar series. After years of doing these races successfully, Newcomer wanted to break away from being solely a participant and put his own ideas to work.
"I've never been a real competitive racer," Newcomer says. "I was doing it mostly because I love the outdoors and enjoyed doing those sports."
So in 1999, Newcomer and his wife, Jenny, founded Gravity Play Sports Marketing and based it in Durango. A year later, Newcomer began planning the first adventure race that his company would produce. It took a full year of figuring out logistics, funding, sponsorship and permits before the event came to fruition. But in 2001, the first AdventureXstream race took place in Moab, Utah. It was a 12-hour race that was the first in a series that eventually spread to towns in Colorado.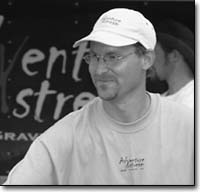 AdventureXstream race organizer, Will
Newcomer, congratulates a racer at a race in Vail last year./Photo by Todd Newcomer.
Now four years later, Newcomer's AdventureXstream Race Series is one of the fastest growing events in the West. It's the buzz on the adventure racing circuit and is often used as a 4 stepping-stone for people who are just entering the world of brawn and braveness, often hoping to go on to more grueling races like the Eco-Challenge, Raid Gauloises or Mild Seven Outdoor Quest.
"This is where I hoped I'd get it," Newcomer says about the series' success and status.
Since its inception, the race has gone from three events to five events. The AdventureXstream races incorporate either 12- or 24-hour courses and take place in Moab, Durango, Vail and Breckenridge – towns with terrain fit for such quests. Early on, Newcomer capitalized on what these towns offered. He filled a niche in the Rocky Mountains that was only budding upon his arrival to the scene.
"These locations are a draw themselves. They are also towns where people want to do outdoor stuff when visiting. So now they can do a race too," he says.
Depending on the course and location, the AdventureXstream series requires participants to mountain bike, paddle, trek, inline skate, navigate or use their rope skills to make it to the finish line. There are cut off times. There is support. There is organized information. There is schwag. There is prize money.
There is also agony, frustration, defiance and defeat. But Newcomer believes that this is what racers expect when participating in such challenges because they combine the thrill of nature, recreation and talent.
With his series, Newcomer strives to create courses with enough variety that racers feel they have built strength and confidence. He believes that this adds to the number of people wanting to do his series, because most of the growth has come by word of mouth.
In the first year of the series, which had three events, Newcomer says about 300 people participated. Last year, which featured five events, about 750 people raced. This year, Newcomer expects about 1,200 people vying for thousands of dollars of cash and never-ending memories.
Part of the growth is attributable to the events that Newcomer has added over the years. Last year, Gravity Sports introduced the Durango Mountain Bike 100, a 100-mile ride that rises nearly 6,500 feet and drops again, providing a lung-busting experience that racers won't soon forget.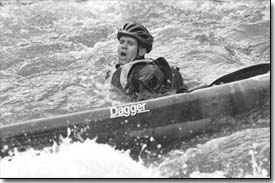 A kayaker takes in a deep breath trying to avoid sampling a portion of the Upper Colorado River during the 2003 Vail race./Photo by Todd Newcomer.
This year, Newcomer and his wife also have started women-only and co-ed clinics and retreats that teach participants various outdoor sports. This is their effort to introduce people to things they might not indulge in without some encouragement and instruction. The retreats run the gamut of self-disciplined activities, including biking, hiking, yoga, kayaking, swimming and more.
To boot, proceeds from the retreats benefit various nonprofit groups. Newcomer says that because the outdoor recreation industry is so dependent on various organizations that teach people how to treat the earth, the donations are the least they can do.
"We want to give back to organizations that are doing good things to the outdoor community," he explains.
This year, Gravity Sports will give proceeds from retreats to the Grand Canyon Youth group, which provides experiential education on the river. Newcomer believes in giving back to communities that advocate the type of recreation he essentially sells. He sees this as a way to support organizations that might introduce people to adventure racing.
Also, this year, Gravity Sports will be doing its first expedition race. The course is yet to be defined – or at least made public – but racers will make their way through a 250 to 300-mile course over six days in Canyon Country near Moab. Racers who win stand to gain an $8,000 award. They also will be back near the scene of the first Eco-Challenge – the race that gave a face and name to adventure racing. This will be an extraordinary treat since the Eco-Challenge took a break last year and the fate of it going on this year is still up in the air.
"This race will be similar to the Eco-Challenge in terms of mileage," Newcomer says.
And, with this epic adventure, he says his company has come full circle.
"Even though we are still a grassroots organization, we've gotten to the point where we don't want to do more races, but rather just improve on what we have. I think we can do that, especially since we make it hard to make it worthwhile."