Stuck in thick traffic behind a four-wheel-drive Mercedes, staring at another new set of luxury townhomes and catching the distinct whiff of new leather, I had a taste of dreaded Aspenization in my mouth.

Fresh from a few days on the backside of Utah, Rachael and I were happily rolling back into town. Our short-term memories were of flea-bitten backwaters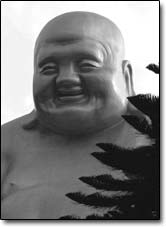 founded on Mormonism and sandwiched between brilliant, technicolor canyons. In sharp contrast, our reality was of that shiny, three-pronged Mercedes emblem and a Durango that seemed almost glitzy by comparison, nearly Aspenized in a way. The resulting emotion was a disappointed shade of confusion.
We broke out of that traffic, got home and almost immediately I dug through my files for my standard antidote to feelings of Aspenization. This same paranoia has been known to strike from time to time since I have the dubious distinction of having entered this world in the Aspen Valley Hospital. More than occasionally I get the sense that the glamorous resort is reaching out, spreading into my home towns and trying to find me.
There at the top of the pile sat the 1999 clipping from the Aspen Times , and after a quick read, I breathed a comfortable sigh. Durango is still hundreds of miles and hundreds of years away from Aspen.
The yellowed piece of newsprint told of a drove of well-known celebrities gathering with well-heeled Aspen locals at a "Tibet Fund Party." Plastic surgery masterpiece and former Donald plaything Ivana Trump was one of the evening's headliners. Kevin Costner and his daughters were on hand for the noble cause, and Sally Field tossed on the evening gown with the Dalai Lama in mind. Some guy named Count Roffudo Gaetani rounded out the ensemble with a little royalty and made the picture of wealthy Caucasians pulling for suffering Asians nearly complete.
The evening climaxed when the second annual "Spirit of Freedom" award was bestowed on actress Goldie Hawn. Diamonds, fresh dye-job and six-figure evening gown aside, Goldie described herself as an "avid Buddhist." Decked out in leopard print, past recipient Ivana bestowed the award, which honored Hawn's compassion for the Tibetan people.
The Times then related how Goldie "had the audience in tears as she told how she visited Tibet and found a beautiful child in an orphanage. She explained that she had adopted the boy, but is leaving him in Tibet because she wants him raised in his own culture."
After the gathering finished weeping, slender models paraded the latest in Christian Dior as well as fur coats designed by a guy named Dennis Basso. Apparently checkbooks flashed high numbers, Basso sold some ermine, caviar and cocaine were consumed, and the celebrities went home feeling a little more Buddhist than when they walked in.
I returned the clipping to the top of my file and a couple hours later, Rachael and I dropped back into downtown Durango. This time, my eyes took in a different view. At a stoplight, I glanced at the classic Ford logo proudly adorning the wrinkled hood of a 15-year-old work truck. We parked, and a few bars from the Grateful Dead met my ears as they leaked out of an eatery where $15.95 was the highest number of the menu. We strolled by storefronts selling items like shoes, clothes, books and jewelry with locals in mind. Passers-by smiled and nodded. Once again, my magic newspaper clipping had done the trick.
As often as we bemoan rising real estate prices and the impacts of growth, Durango still has something that places like Aspen have been missing for more than 30 years. They're trying to find it in high dollar fund-raisers and parading fur for a cause. They're up there striving for a little piece of paradise and a little taste of soul. They're just having trouble finding it.
In Durango, we don't have to reach quite as far. That soul is still slinging hash browns in our restaurants, taking in the view on the River Trail, working our cash registers and walking the streets freely. Sometimes you just have to wait in traffic for a little while before you can get to it.