Diver,
I have this friend who only acts "environmentally conscious" when it's Earth Week or when he's trying to impress a girl. Otherwise he litters and sprays his smelly aerosol deodorant all over the place. Would it be right of me to call this guy a hypocrite?
– Lance, via e-mail
Dear Lance,
I'm not sure why your friend pretends to be more aware of his surroundings during this specific week, but surely a young buck like yourself has misrepresented himself to gain the fancy of a young philly at one time or another. Don't hold that against him, it's been a long, cold winter...
–Thanks, Diver
---
Dear Diver,
I feel like I am constantly being put down by my older brothers. They got better grades than me, did better at sports, and everyone lets me know it! What can I do? I'm starting to get angry.
– Mike in Bayfield
Dear Mike in Bayfield,
We can definitely relate...to your brothers. Like them, we have cast shadows over the under achievements of our siblings. One sure-fire way to win back the respect of friends and family would be to tape an episode of "Jeopardy" and study the hell out of it, and at the next family gathering slip it in and blow 'em away with your knowledge, maybe even place some bets with your brothers. To quote a mentor, "take the money and run."
– Good luck, Diver
---
Diver,
There is this family that lives across the street from me. They flip out every time someone parks in front of or close to the space directly in front of the house. This is starting to really make me mad, especially because the woman who yells is old. I don't want to yell at an old lady, but I'm close. What should I do?
– Matt, via e-mail
Dear Matt,
If this woman is as old as you say then certainly she must understand the concept of taxation, show her your tax returns and put that baby to bed. Makes perfect sense huh?
– Diver
Diver: Steve Morris from Homeslice
Facts: Diver, pizza guy and Freewill Recovery frontman, Steve reveals that the Steve Miller Band is responsible for his talents in the sink and on stage.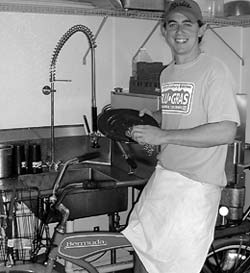 Got a dirty little secret?
Looking for guidance to remedy a sticky situation?
Seek help from the master of the kitchen! The Dish Diver has solutions to life's little messes. Send your problems to "Ask the Diver." - By mail to Durango Telegraph - Attn Diver -534 Main Ave., Durango, CO 81301; by email at telegraph@durangotelegraph.com, or by fax at 259-0448.
Diver,
The kids across the street from me throw rocks at cars. Their parents are never home, and when they are, they could care less. Should I take the law into my own hands and beat them with a wooden spoon, or just call the cops and social services?
– Laura
Dear Laura,
Let us not forget the invaluable lessons from "Police Academy 5." Under statute 86753-09, a citizen should not change your number, Jenny, I got your number on the wall, Jenny, Jenny, you're the only girl for me, You don't know me but you make me so happy, I tried to call you before but I lost my mind...call the cops.
– Thanks, Diver

---