Footloose and fancy free
It's April Fool's Day, and across the world toilets will be blowing up, tops on salt shakers will be loosened and pizzas will be delivered to houses that didn't order them. While this is all good and fun, as stewards of the common good, we here at the Telegraph aspire to a higher moral standard. As much as we would like to fill these pages with stories about the "Bureau of Recreation"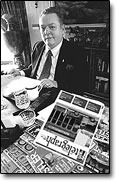 scrapping the Animas-La Plata project in favor of another dog park, the "Colorado Department of Transformation" building a double-decker highway from Durango to Bayfield or Ben Nighthorse Campbell coming out with his own line of men's Western wear, we feel it would be a disservice to our readership. The forefathers of this country bestowed upon the press a great right with the First Amendment, and as journalists, it is our duty not to abuse that right.
It is upon this premise that fellow editor and publisher, Will Sands, and I have founded the Telegraph . And I know if Will were here today, he would agree with me wholeheartedly. However, Will left town last week under the guise of a well-deserved "family vacation." But now that he's not here, I can spill the beans and tell you that he actually has taken the week off to compete in the world ballet skiing championships, being held at some place in France that I can't pronounce. Will has put in many long hours training for the event, doing lap upon lap on the Six Pack spurred on only by the "Footloose" soundtrack on his headphones and dreams of a gold medal dancing in his head. We wish him godspeed.
Although Will's contributions are greatly missed, his absence has allowed me to sell the paper for a ridiculous sum without his knowledge. From here on out, the Telegraph be wholly owned by Larry Flynt Publications. The first move of the new management will be to change the spelling of "Telegraph" to "Telegraf," because "it sounds more rad and is easier to spell." Other than that, Mr. Flynt has promised to keep everything the same, with the exception of the centerfold, which now will feature a pin-up of the weekly Diver. The roles of editor/publisher now will be filled by Miss July 2003 and Miss December 2004, respectively. They promise to fulfill all the duties heretofore performed by Will and myself, with the exception of typing, because "it's hell on acrylic nails." Oh, and you also can forget about paper delivery. Do you have any idea how hard it is to get newspaper ink out of lingerie? Instead, you can now look for us in the plain brown wrapper at your friendly neighborhood convenience store.
The change in ownership has been a mixed bag. For Mike Sheahan, resident night owl and author of our weekly entertainment guide, "The Goods," it has resulted in upward mobility. After intense negotiations and an extreme makeover, Sheahan has been appointed to write a column on men's grooming and fashion, called "Four Corners Metrosexual." Look for his first column to offer tips on getting a really close shave and dressing up flannel, baseball caps and Chuck Taylors for a night on the town.
Bryant Liggett, our "Ask the Diver" coordinator also was retained by the new administration. Based upon his success with local TV's "Frames Per Second," his duties will be expanded to include adult movie reviews as well. For Ligget, this is the realization of a lifelong dream, which could possibly springboard him into further involvement in the industry.
As for the rest of our staffers, they will be replaced by an automated drone, er, phone system. Our newest hire, Seth Wagner, has taken the news as an opportunity to reunite with his former all-male country band, whose name is not fit to print but is a variation on the "Dixie Chicks" theme. The boys have already landed their first gig as the opening act at the Aztec Speedway, and they hope to go into the studio this summer to work on an Alan Jackson tribute album. We wish the boys luck and hope Seth recovers from his mechanical bull riding accident soon.
Jen Reeder, our employee of the month for 18 months standing, was reportedly despondent over the news of the takeover and the fact that the Telegraph will be replacing its "thumb" icons with those cute little e-mail emoticons. She was last seen taunting drivers at the Main Avenue and College intersection, and we have reports that she was abducted by the traveling Jagermeister bus and has been forced into a life of servitude as a "Jager girl."
Unfortunately, not all of our employees are success stories.
Star freelancer, Amy Maestas, was assigned to staff the Telegraph 's new Yukon bureau. Although reportedly suffering from an acute case of seasonal affective disorder, she has become quite adept at caribou hunting and dog mushing. Todd Newcomer, our promising young photographer, has been battling a raging case of trench foot and Dengue fever after shooting a 12-day adventure race in the jungles of Bora Bora. Word is the hallucinations have stopped, and we expect him to be back on his foot in no time.
Which is a good thing. Because when the Bureau of Rec starts filling in that great big hole next to the river, we'll need lots of pictures.