Choreography and carabiners
"Romancing the Stone" combines dance and climbing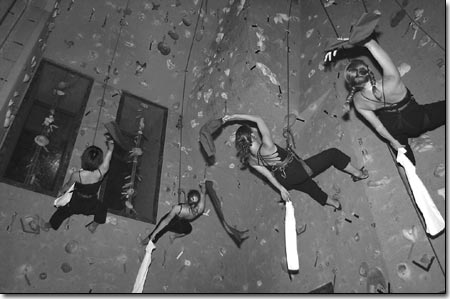 Members of the Fort Lewis College dance group, Dance Co-Motion, rehearse at Animas City Rock on Sunday night. The performance, "Romancing the Stone," will be done entirely on ropes and is the first of its kind in Durango./Photo by Todd Newcomer.
It's not every day that Durangoans have the chance to lie on the floor at Animas City Rock and gaze up at dancers suspended from climbing ropes and moving in unison to music. But for the next two weekends, Dance Co-Motion's production "Romancing the Stone" will provide just such an opportunity.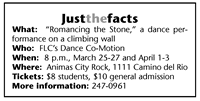 "This is the first time Dance Co-Motion has done anything like this," says Kindra Landram, director, group president and FLC sophomore. "I'm a pioneer!"
"Romancing the Stone" does indeed combine dance and rock climbing to create a unique art form. To that end, 16 dancers (and several belayers) have practiced several nights a week since January to perfect seven choreographed pieces.
"Each piece is a statement of the choreographer's own personal style," Landram says.
For example, Landram's piece, the last of the show, is about "standing up to the challenges of life and relying on others to overcome them – sometimes it's OK to fall," she says.
In contrast, choreographer Joan Grant describes her piece as "a fun, funky piece with a carefree style."
As many as 40 audience members will lie beneath five female dancers in harnesses suspended above them as Grant's piece begins. The dancers gracefully dance with their feet on the wall, then lean backwards to look into the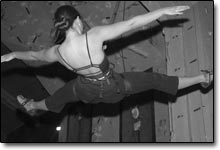 Choreographer Joan Grant strikes a pose
after a powerful thrust from the wall of the climbing gym./Photo by Todd Newcomer.
eyes of the audience below. Then they're upside down – an uncommon sight in climbing, of course – ending the flip to grip the wall to do splits. Later they break into an athletic climb up the holds, turn upside down again and spiral head-first down their ropes.
This creates an unusual sensation in the viewer, to say the least.
Though audience members do have to sign waivers at the door, Landram says safety has been a primary focus in practices. There's even a "safety liaison," Bill Grasse, to ensure that carabiners are locked, anchors are backed up and so on.
"Bill Grasse has definitely kept us alive and safe," Landram says. "Climbing is a dangerous sport, and what we're doing is not recommended by climbing gear companies. Don't try this at home...you'll get kicked out of most gyms!"
A less serious challenge to the production is gear changes between numbers, and the fact that the dancers can't change clothes for each piece as they would in a normal dance performance because of the harnesses. Instead, dancers wear black pants and leotards throughout the show.
Then there's the practice space.
"Usually we can rehearse anywhere that's flat," Landram says. "With this, we could only practice here."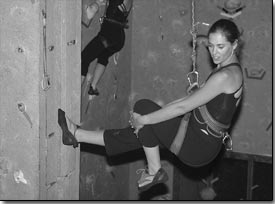 Sadie Landram rests against the climbing wall before the start of dress rehearsal for "Romancing the
Stone" on Sunday night at Animas City Rock gym./Photo by Todd Newcomer.
Fortunately, Animas City Rock owner Anne-Britt Ostlund appreciated what Dance Co-Motion is trying to accomplish, and has let the troupe practice there for free.
"Anne-Britt has been awesome with the gym," Landram says. "I definitely give her props for being so supportive – and her staff!"
Members of the gym didn't seem to mind sharing space with the Dance Co-Motion team.
"They're always here – they've put a lot of work into it," says ACR member Guy Yaklich, during the group's rehearsal Monday night at the club. "It's pretty creative, the whole concept. I've never seen anything like it before."
But Landram had, because her younger sister Sadie performed in a similar show in Arizona while attending a performing arts high school. Sadie joined her sister at FLC and is now the assistant director and a dancer in "Romancing the Stone." Conveniently, she's also the secretary of the FLC Rock Climbing Club.
"Sadie and I are both big into climbing and dancing," Landram says. "(The show) is combining the two passions in our life."
She's also enjoyed watching the dancers – many of whom had no climbing experience when they auditioned in January – learn to incorporate the two skills. She describes a dancer who, at the first rehearsal, was gripping the rope for dear life.
"Look at her now – she's beautiful!" she says gesturing at a dainty woman straddling the wall.
Landram hopes audience members will come away from "Romancing the Stone" with a newfound passion of their own. She says dancing and climbing compliment each other, and that using a dancer's grace in climbing has made her stronger.
"I hope people can learn to appreciate both sides of these sports," she says.
"Romancing the Stone" will show at Animas City Rock on March 25-27 and April 1-3 at 8 p.m. each night.