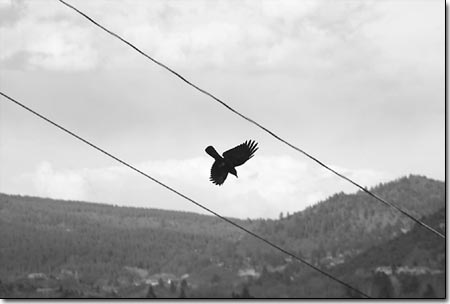 Asthecrowflies: A crow alights from his perch on a high wire above Durango./Photo by Todd Newcomer.
Blackout sweeps the entire region
Lights went out all over La Plata County and spread as far as Telluride, Silverton, Mancos and Pagosa Springs last Tuesday night. The source of the hour-long outage has been linked to the power supplier Tri-State, but its cause remains a mystery.
David Waller, spokesman for the La Plata Electric Association, said that the outage was widespread.
"Basically everything from Mancos in the west to the base of Wolf Creek Pass and from the New Mexico border north to Silverton and Telluride was out," Waller said. "Pretty much everybody was out for about an hour."
Waller said that 100 percent of LPEA's coverage area was impacted by the outage, but that the local electrical cooperative was powerless to doing any about it.
"There wasn't really much we could do about it other than wait for Tri-State to bring it back it up," Waller said. "It affected our entire service area plus some."
Waller concluded that weather may have been the culprit, but that the cause of the outage will not be know for some time.
Missionary Ridge Road still closed
At least one of the impacts of the 2002 Missionary Ridge fire is still lingering. Two years have passed since the devastating blaze northeast of Durango, and Missionary Ridge Road remains closed to hikers, bikers and hunters. However, the Forest Service is hoping to be able to open the road by the start of archery season in late August.
"If the road isn't open by then, it will be because of an act of nature," says Dave Baker, long-term restoration team leader.A contractor has completed about half of the hazard tree mitigation needed along the road but is currently unable to work because of soft ground conditions. The Forest Service has estimated that the contractor has 45 days of work left on the project.
"Our plan is to open the road as soon as the contract is complete and our recreation staff has a chance to make certain the travel management signs and gates are all in place," says Baker.
Forest managers also said that they do not anticipate needing to close the road if Colorado Wild's lawsuit is resolved and the proposed timber salvage sale is allowed to proceed.
San Juan boosted for the summer
San Juan River users will benefit from increased flows this spring and summer. In spite of low levels in Navajo Reservoir, the Bureau of Reclamation has announced that releases into the lower San Juan will be raised to a minimum of 350 cubic feet per second this year. The increase of 100 cfs is particularly good news for anglers.
"When you bump up the current, it helps the entire fishery," said Steve Linn, president of the 5 Rivers Chapter of Trout Unlimited. "More water means more bugs and oxygen content and easier and better fishing, really."
Minimum flows had been set at 250 cfs while the Bureau worked on an Environmental Impact Statement to address threatened and endangered fish. However, that level has been raised for the summer to prevent impacts to nonendangered fish trout.
Pat Page, the chief of the Bureau's water management group, commented, "Because we've identified significant impacts to the trout fishery, we have to go to a higher release."
In spite of the boost to 350 cfs, Page noted that the preferred alternative in the EIS calls for minimum releases of 250 cfs along with a large spring release to mimic run-off. This type of flow dynamic should help restore the endangered razorback suckers and Colorado pike minnows.
Linn said that local anglers should enjoy a strong river again this summer. "It's always going to be a world class fishery, but with more water, more people will go and fish, and more people will be catching fish, and it'll get back on the map again."
Forest Service taps artists, teachers
The San Juan National Forest has announced the winners of its 2004 Artist-in-Residence Program at the Aspen Guard Station. Judges from the Durango Arts Center, Cortez Cultural Center and Mancos Valley Arts Association selected the following artists to stay in the historic ranger station near Mancos: Erica Olson, of San Francisco, for writing; Tom Bartels/Jennie Dear, of Durango, for virtual reality photography/oral histories; Deborah Ford, of Prescott, Ariz., for black-and-white photography; Rick Stoner, a Cortez native now living in Longmont, for painting; Galina Franz, of Flagstaff, Ariz., for pine needle basketmaking; Sally Shuffield, of Durango, for singing/songwriting.
The alternates for 2004 are: Chad Colby, of Durango, for painting; Janet Emmons, of Dolores, for Middle Eastern dance/poetry; Kathleen Steele, of Basalt, for painting.
The Teacher-in-Residence for 2004 is: Deb Pavich, Animas Valley Elementary kindergarten teacher, Durango.
Those selected will stay at the rustic cabin for one to two weeks in the summer or fall of 2004 and share their talents with local communities through open houses, workshops and at an art show. Teachers are asked to integrate their experiences into the classroom. The program's goal is to enhance awareness of natural and cultural resources on public lands in creative ways.