Event highlights 'biological pioneers'
First-ever Bioneers in Durango conference launches next week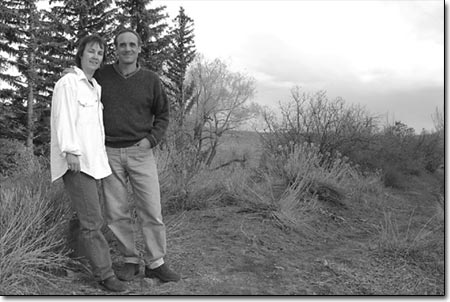 Kate Grace MacElveen and Will Hays, seen here at the Durango Mountain Park, will be hosting the firstever Bioneers in Durango conference, along with the FLC Environmental Center, on April 2-3 at the Smiley Building. The event will feature workshops, lectures, films and other activities centered on finding solutions to social and environmental problems./Photo by Todd Newcomer.
Will Hays counts his attendance at the annual Bioneers conference in San Francisco as one of the most inspiring and thought-provoking experiences he's ever had. He first attended the global gathering of "biological pioneers" in 1999 and saw firsthand efforts to create practical but visionary solutions to the globe's social and environmental problems. Hays and his partner, Kate Grace MacElveen, hope to bring some of that same inspiration to Durango next week. On April 2 & 3, the pair with the help of the Fort Lewis College Environmental Center will host the first Bioneers in Durango, a combination of workshops, films, presentations, information booths, food and more.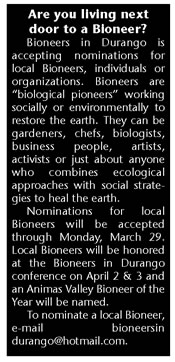 Bioneers was founded in 1990 by Kenny Ausubel with a mission of encouraging environmental restoration and traditional farming practices and rescuing biological and cultural diversity. Since that time, Bioneers has developed a strong social justice component as well as an international reputation. "It clearly started as an environmentalist oriented organization focused on healing the planet," Hays said. "Along the way, they figured out that social ills are a big part of that problem. You can't heal the planet when extreme poverty and injustice are widespread."
And while talk of the ills associated with growth dominate much of Durango's conservation scene, don't expect to hear about them at next week's Bioneers in Durango. Hays stressed that the greater conference and its local offshoot are positive and solution oriented. "There's quite a bit of awareness about the problems," Hays said. "There are also solutions out there, and we know how to fix a lot of the problems. We don't necessarily need more science. We need action."
At the core of Bioneers in Durango is the fact that there are numerous "biological pioneers" currently doing good work in the local community, according to MacElveen. In this spirit, MacElveen and Hays are taking nominations for local Bioneers who will be recognized at the conference.
"This is a regional opportunity to network Bioneers and spread the message so that the local community can understand the efforts at sustainability being made by their friends and neighbors and to share information," she said.
Hays talked about sustainability, saying: "First you have to talk about restoration because we're behind the curve. The other component is creating systems and choices and ways of living that go into the sustainable realm."
As for the often-used term "sustainable," Hays explained: "It creates a situation where all needs are met in the present and the condition for meeting those needs in the future are all addressed. It also hinges on the premise that I can't meet my need unless you're meeting your need."
MacElveen added that the major direction of Bioneers in Durango is that this equation is being satsified on numerous fronts locally and that knowledge should empower the community. "People will understand that it's possible," she said.
As evidence, MacElveen pointed to a growing, local sustainable agriculture movement, increasing numbers of alternative fuel-sources for buildings and automobiles, growth in natural building techniques, and the viability of nontraditional justice and sustainable business practices as well as other examples.
"We want to say this is where we live and this is happening here," she said.
And while the event may seem to have a green bent, Hays stressed that there should be something of value to everyone in the community. "We want anyone and everyone to come," he said. "This is not exclusive or just one political viewpoint. There will be ideas that should be helpful to everybody in the community."
At the heart of the Bioneers in Durango will be the screening of actual Bioneers conference presentations. They range from California Redwood activist Julia Butterfly Hill discussing "Direct Action on Behalf of the Earth" to activist and writer Maude Barlow speaking on protecting and conserving water. Other topics include genetic engineering, ecological design and the value of social justice to environmental protection.
"All of the presentations are relevant to Durango," said Michael Rendon, FLC Environmental Center director. "Although they're people talking on general subjects, we're all dealing with the same issues."
Off the screen, local Bioneers will lead workshops and discussions on a variety of social and environmental justice issues. Currently slated are discussions on wild food, permaculture, sustainable design and efforts to help sustainable growers become a viable part of the local economy.
"The idea is to have some fun with it," Hays said. "It's not all a downer. We want to connect these people with the community. One of Bioneers' major thrusts right now is networking and providing avenues for people to connect."
Hays added that anyone attending the conference should walk away equipped with new tools for handling life in La Plata County and the world at large. "There's inspiration, and there are practical ideas," he said. "Personally, I want to be inspired, and I want to know what to do with that inspiration."
And Bioneers in Durango is already shaping up to be a success. "What has been really thrilling to me is to feel the community support with which this event has already been met," MacElveen concluded. "As soon as people hear about it, they're very excited and immediately want to be a part of it."
Bioneers in Durango will take place at the Smiley Building on the evening of April 2 and all day April 3. A complete schedule of events will be published in next week's Durango Telegraph. KDUR also will air the Bioneers Radio Series at 5 p.m. on Friday, March 26, and Friday, April 2. KDUR can be found on the FM dial at 91.9 or 93.9. For more information or to volunteer for Bioneers in Durango, call 375-1170.