by Mike Sheahan
It may just be me, but it sure seems as if the world has become a lot more surreal the last few weeks. Our lives roll along with their regular problems: war, more war looming, our country building another huge budget deficit, and everybody's NCAA basketball brackets completely worthless and most likely burnt in effigy. All this strife, and what is the trigger topic of the day? Whether or not gay people should be allowed to marry. It's baffling. World War III could be around the corner AND Syracuse may win another national championship, yet people are still chanting the "God made Adam and Eve, not Adam and Steve" tripe. If the religious right wants to ultimately end gay sex, then they should by all means support gay marriage. Nothing kills a sex life like a marriage certificate. This is the 21st century; same sex partners should have every right to be just as miserable as their opposite-sex married neighbors.
All of this national nail biting goes on while Martha Stewart heads to prison for a relatively minor SEC violation, and the CEOs of Halliburton, Enron and Tyco are more worried about making their tee times this weekend. This is your reality people, a little weird, right?
If you are like me, you find yourself in constant need of a diversion from thinking about the paradoxical nature of our world. Few stones are left unturned in my search, and if the result comes with the possibility of enjoying a frosted brew or two, then all the better. Follow these suggestions, and you will be relieved from fearing Armageddon for another seven days.
Most of you are familiar with Durango's Freewill Recovery , many of you know the boys in the band and some of you may even know that the local rockers suffered a huge loss in a fire early in the morning following St. Patrick's Day. A couple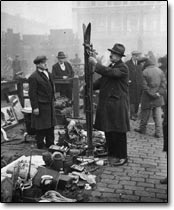 thousand dollars' worth of equipment went up during the blaze, and there will be a benefit show at the Abbey Theatre on Friday, March 26, to help the boys recover from their unfortunate loss. Along with the usual spectacular rock show, the evening also will feature a silent auction with donations from many local businesses and both of the cool local radio stations. Plus, Homeslice Pizza is providing free slices at 9 p.m., and Ska Brewing has kicked down a keg of beer to be raffled. The cover is five bucks, but feel free to drop a couple more bones to help one of Durango's best acts get back into Final Four form. Show time is at 10 p.m.
As a member of Allison Krauss' band Union Station, Jerry Douglas is one of five stellar musicians that make up one of the best collections of players working today. As a solo player, Douglas is the obvious winner of the "world's best Dobro player ever" award. He has won five Grammys for his work with the guitar-like instrument, and we all have our chance to see Mr. Douglas work it on Saturday, March 27, at the Community Concert Hall at Fort Lewis College. The Dobro is a brand-specific lap guitar with raised strings generally played with a steel bar on the frets. It turns out that Jerry Douglas is extremely adept at this instrument, and the chance to see for oneself should not be passed up. The show starts at 7 p.m. This is a super opportunity to see an incredible musician that you might be most familiar with in a supporting role take the lead.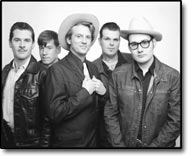 The country-tonk band BR549 , touring behind its brilliant recent release "Tangled in the Pines," will make a triumphant third return to Storyville on Tuesday, March 30. Usually when a band, like BR549, suffers the loss of founding members, the result causes fatal wounds. Ironically, such a loss proved the opposite for the Kansas-based honky tonkers. The new blood has infused the group with renewed energy and left the band with an even deeper and more diverse song writing pool than before. BR549 has been consistently delivering top-drawer American roots music coupled with unmatched professional showmanship for more than 10 years, so to expect less from this visit would be foolhardy. Expect this show to sell out.
Earth Week begins this week, and by way of celebrating the resource-conscious national occasion, you may want to take part in, or at least visit, the event called Barter Fest 2k4 at Schneider Park. Schneider Park is that park that lives between Roosa Avenue and the Animas River starting at the Ninth Street Bridge. The Barter Fest will happen between 8 a.m. and 5 p.m. March 27 and 28, and is the perfect time to find out whether your Bay City Rollers lunch box from 1972 is worth trading for a macram`E9 lion's head from 1967. (Hint: keep the lunch box.) People from all over Durango will be willing to trade your trash for their treasure, or vice versa. Any questions should be directed to Laura at 946-6126.
Website of the Week: If all this talk of gay marriage and religion entering our constitution via an amendment has got you freaked out, just wait till you see what could be next. It turns out the Bible has a really big beef with the eating of shellfish and the Website www.godhatesshrimp.com is there to inform you of the Bible's distaste for all hard-shelled invertebrates. As a vegetarian, I happen to be on the Bible's side this time. Shrimp and its ilk are the insects of the ocean, and since I don't eat spiders, there is no real reason to eat prawns either. That said, if the eating of sea bugs is serious enough to be sin, can we take the rest seriously?
Album of the Week: May or may not return next week.
Next week: Another album review, maybe.
Should the album review return? mpsheahan@yahoo.com